Wallet found on Madrid Metro with $2-million check inside
"He's a lucky guy," says maintenance chief of mystery Californian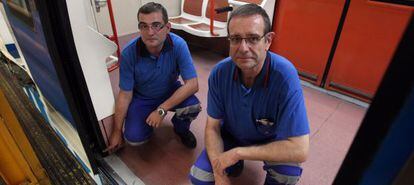 It was a normal, brown leather wallet like pretty much any other that arrives at the office of maintenance chief José Manuel del Cura, either lost or stolen and then discarded on the Madrid Metro system. "You should have seen our faces! We had to count the zeros several times. We couldn't believe that someone has so much money and others so little. The world is full of inequality."
Inside the wallet, said Del Cura, was a "Californian driver's license, several credit cards… and a check made out to the same person for two million dollars!"
The discovery was made late on Wednesday when a subway car was taken out of circulation for maintenance because the doors refused to close. In the shop, a mechanic found the wallet stuffed into a small gap between the door and the pinion. "You can only see it when the doors are open," Del Cura said. "It is the favorite place for pickpockets to leave stolen wallets."
"I can't remember the man's name but he was from California, 49 years old with some gray hairs. He's a lucky guy. Wallets tend to turn up with everything still inside; documentation, cards, licenses… all they steal is what interests them: cash."
The wallet and the check are in the hands of the police, who are trying to locate the US citizen.
Second least-honest city
New York-based magazine Reader's Digest on Thursday published the results of an honesty test carried out globally: wallets containing 40 euros or the same amount in local currency, a telephone number, a family photo and business cards were left in cities across the world to see how many would be returned by good Samaritans. Madrid was the second-least honest city of the 16 involved, behind only crisis-hit Lisbon. In the Spanish capital two of the 12 wallets were handed in to the police, while in Lisbon just one was returned. Helsinki took the honors with 11 wallets handed in, with Mumbai (9) and Budapest (8) joining the Finnish capital on the podium.