One giant leap
Eusebio Cáceres records best marker of day on first try to reach long-jump final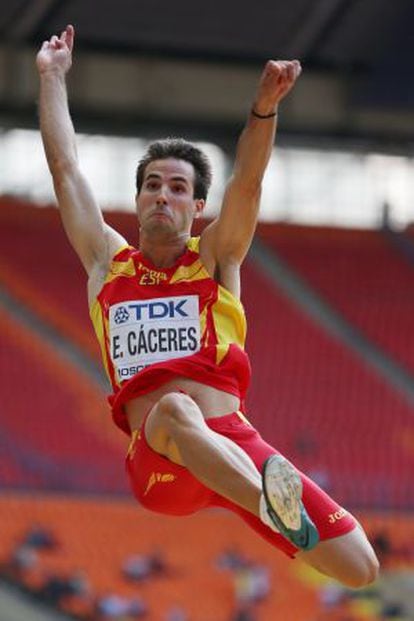 With a smile almost as wide as his spectacular jump Eusebio Cáceres said it all. It was 10.30 on Wednesday morning, a time not normally liked by long jumpers, but with the sun shining after the rain and not a bit of wind in Moscow's Luzhniki stadium, the Alicante-born athlete stepped straight out and jumped 8.25 meters, enough to ensure he would be in the fight for a World Championship medal in Friday's final. Later he found out that it was also the best jump of the day.
"I've never jumped so far so soon, but the feelings were good from the start," a euphoric Cáceres said afterwards. "I was very nervous, which is how I like to jump."
The leap was so good, so beautiful, that you could see so as he was in the air; even Cáceres realized everything was going well. "I felt very loose and I also managed to fall well, so I already knew it," he said.
The Spanish team's clearest medal hope even before flying to Moscow, Cáceres did not have everything go his way prior to Wednesday morning's qualifying — he slept badly the night before, the victim of a minor cold that he hopes won't become anything more.
I've never jumped so far so soon, but the feelings were good from the start"
Even though he is young at 21 and in excellent form — he has jumped over eight meters three times already this season — Cáceres talks like a veteran and already knows not to talk about medals. "Nothing, nothing. What I wanted was to reach the final, to have the opportunity, but the final is another day, another moment and anything could happen."
On Friday he will meet local favorite Aleksandr Menkov, as well as the US's Dwight Phillips, who has already laid down the gauntlet by saying he has come to Moscow to take home his fifth World Championship gold, a feat that would make him the long jumper with the most titles in history. But he has spent the last two years plagued by an Achilles' tendon injury and, despite achieving his best result of the year in qualifying (7.95 meters), looks a long way from the athlete he was.
Cáceres may choose, and perhaps ought, to be conservative and not talk about medals — taking away some of the pressure in the process — but euphoria is now in the air and badly needed in a Spanish team that has suffered a run of disappointing results elsewhere.
Even though Miguel Ángel López's bronze in the 20km walk on Sunday gave a certain amount of comfort to team chiefs because it meant the result in Daegu two years ago had been equaled, the results in Moscow have been modest. Depressing, even, in the case of the 1,500 meters, the event in which Spain has the most pedigree. After 2011 bronze medalist Natalia Rodríguez's failure to reach the final of the women's event on Tuesday, David Bustos could not even get beyond the first round of the men's discipline after tripping in the latter stages of his qualifier on Wednesday.
"I was looking good with 200 meters to go, but the first knock used up a lot of my strength and after that I couldn't produce it," the young Mallorcan explained.
Also on Wednesday morning, 43-year-old Jesús Ángel García Bragado finished 12th in the 50km walk. A gold medalist in his World Championship debut in Stuttgart back in 1993, he finished in 3:46.44 in a race that was won by Ireland's Robert Heffernan. At the same time mother-of-two Dolores Checa qualified for the semifinals of the 5,000 meters.
On Thursday Ruth Beitia will be hoping to improve the mood in the Spanish camp by qualifying for the women's high-jump final. The reigning European champion, the Cantabrian athlete finished fourth at last summer's Olympics in London and will be trying to go at least one better in Moscow and take home her first World Championship medal.