LA LIGA
Barcelona defender Éric Abidal given emotional send-off
Packed press conference pays tribute to hugely popular Frenchman who overcame tumor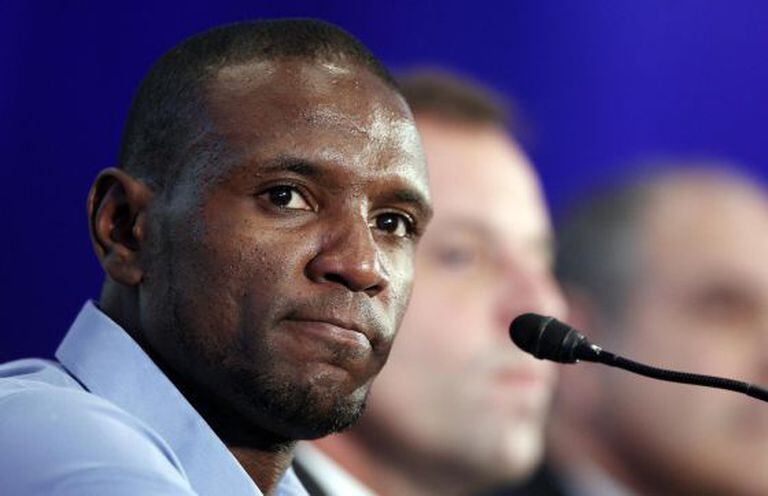 Barcelona defender Éric Abidal bade a tearful farewell to the club he has represented for six years on Thursday. "I want to thank my extraordinary teammates, the coaches and the medical staff, who helped me a lot at difficult moments," Abidal said at a packed press conference. "But above all I want to thank Doctor Medina and my family: my cousin, my wife and my daughters."
The France international underwent surgery to remove a tumor from his liver on March 15, 2011 and exactly a year later the club announced that a transplant had been performed with part of an organ donated by his cousin. He returned to action six weeks after the first operation and was handed the captain's armband by Carles Puyol in the 2011 Champions League final as he accompanied the Barcelona players up the steps at Wembley before being handed the trophy before his teammates.
Although he is leaving Barcelona, Abidal has no intention of hanging up his boots just yet. "I had two objectives: to fight to see my kids grow up and to be with my wife. But I also fought to play soccer again," he said. "I want to carry on playing, because it has been my passion since I was a child. I would have liked to have stayed at Barcelona but the club sees things differently and it is a decision I have to respect. I'm leaving, but I will be back because I have a very interesting offer from the club."
I would have liked to have stayed at Barcelona but the club sees things differently"
Barcelona president Sandro Rosell explained that Abidal had been asked to become the technical director of Barcelona's academies worldwide. "Abidal has been with us for six years and he is a very special person. He won our hearts," Rosell said.
Andoni Zubizarreta, the club's sporting director, said that making the decision not to extend Abidal's contract had been a difficult one. "It was not taken overnight," the former keeper said. "We are talking about a person and there is a medical part, as well as the sporting, institutional and contractual elements. But we are not here to talk about soccer today. Today we are here to talk about life, the example that Abidal has set and that will always remain. We have laughed, cried and celebrated with him."
Barcelona coach Tito Vilanova has also been absent on several occasions during this season as he traveled to New York for treatment on parotid gland cancer.
At the end of the conference Abidal embraced all of his teammates, coaches and medical staff. "Thank you to the fans, who were always concerned about me and my prognosis. Visca el Barça," the defender said, to rapturous applause.