Pardons for politicians
Both sides of the political spectrum use governmental power to acquit public office holders for financial crimes Since 2000, 226 have been issued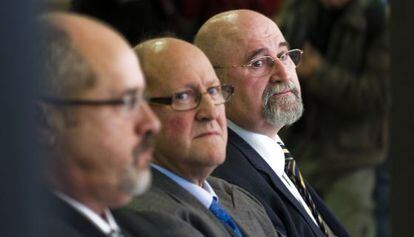 The court conviction in the Treball corruption case showed that during 1994 and 1995, with the CiU nationalist bloc in power in Catalonia, then-secretary general of the regional government's labor department, Josep Maria Servitje, embezzled 46,157 euros by ordering eight labor law studies that were found to be copies of earlier reports and of no public interest whatsoever.
In 2009, the provincial High Court of Barcelona sentenced Servitje to four-and-a-half years in prison. His accomplice, Víctor Manuel Lorenzo Acuña, whose company was given the contract to produce the bogus reports, got two years and three months.
Neither went to prison. In March of this year they were pardoned on the advice of Justice Minister Alberto Ruiz-Gallardón for "humanitarian reasons."
In the context of Spain's ongoing economic crisis and the hundreds of politicians charged with financial offenses in recent years, the pardons of Acuña and Servitje have been the most controversial in the fiscal sphere. Four Mossos d'Esquadra police officers sentenced to jail terms for torturing a suspect were also pardoned. Their sentences, ranging from more than four to two years and three months, were commuted to fines. The government did not explain its reasons for this decision.
Mariano Rajoy's Popular Party (PP) administration is not alone in issuing arbitrary pardons. Since 2000, the Aznar, Zapatero and Rajoy governments have quashed 226 court convictions for crimes against the public administration: 25 for corruption, 107 for embezzlement of public funds and 16 for bribery. In the last 13 years, 4,500 pardons have been issued in total.
All acts of government power are controlled by the courts; this is the essence of democracy" José Luis Rodríguez Zapatero
In legal terms, a government pardon does not represent absolution but is designed to keep the guilty individual from going to prison. But in the case of politicians and civil servants, a pardon can also serve to revoke a court's decision to bar the person from public office. This means that politicians pardoned of crimes of corruption or embezzlement can return to office with the slate wiped clean. In all the cases of pardons issued for financial crimes over the past 13 years, more than half also allowed their recipients to continue in their posts.
Take the case of mayor of Barcelona municipality Santa Susanna, Joan Campolier of CiU. A court sentenced him in 2003 for corruption after granting a building contract to a personal friend. Campolier was barred from holding office for eight years and seven months. Without resigning his post, he appealed the sentence. The courts were unmoved, but in 2006 the Zapatero government reduced his punishment to four years. Campolier did not step down until 2007. When his sentence had expired he ran for office again. In 2011, he returned to the mayor's seat.
"It was a purely administrative matter. The residents of the town asked for the pardon because it was unjust, and I accepted," the former prime minister told EL PAÍS. José María Peña San Martín's case was similar. The former PP mayor of Burgos was sentenced to 12 years' suspension from office on charges of corruption. The investigation uncovered irregularities in the awarding of municipal licenses in the so-called Burgos building case. In 2000, the Aznar government reduced San Martín's sentence by two-thirds. He ran again for office and although he lost the mayoral race he returned to politics as a councilor.
Experts consulted by this newspaper say that the practice of pardons has been adulterated over the years. While conceding that the use of stays to spare people prison on humanitarian grounds is logical, they believe that disqualification from office should not be revocable.
The United Left (IU) and Compromís parties have presented proposals in Congress to end the practice of pardoning financial crimes. So have the Socialists, despite failing to limit the scope of pardons during its eight years in office. "Pardons are being used to change court convictions when they should be used only in exceptional cases," says Mónica Oltra, a regional deputy for Compromís in Valencia. "Those in power cannot be permitted to pardon politicians or members of the security forces. The government cannot be judge and jury."
Zapatero continued the practice of issuing pardons in the same way as his predecessor Aznar
In 2000, José María Aznar handed down more pardons than in any other prime minister: 1,732. His justice minister, Ángel Acebes, explained at the time that there was a backlog of petitions. The same year, the leader of the opposition, José Luis Rodríguez Zapatero, asked the government for an explanation over the pardon of Javier Gómez de Liaño, a judge sentenced for corruption.
"All acts of government power are controlled by the courts; this is the essence of democracy," Zapatero said when Acebes argued that nobody should meddle with the right to grant pardons.
But when he came to office in 2004, Zapatero continued the practice of issuing pardons in the same way as his predecessor, without any form of external control and without offering explanations. His government granted over 100 pardons for crimes against the public administration. Excluding the bumper year of 2000, the figures for pardons issued by the PP and the Socialists are similar.
Rajoy's government has so far wielded its pardon privilege nine times for people convicted of financial crimes. In the case of former PP mayor of Abdalajís, Tomás Gómez Arrabal, and three of his councilors charged with corruption, the Justice Ministry said they had been pardoned because they had not profited from their infractions. On Servitje and Acuña, the PP administration would say only that "it is a case inherited from the previous government."
The Justice Ministry has said that the Rajoy government, as a general rule, will no longer issue pardons for financial crimes. So far this year it has not done so, although it did include the removal of disqualification from a public service job from the four Mossos d'Esquadra, in addition to sparing them jail.