Joyce comes under comic scrutiny
Spanish prizewinner among books examining writer's checkered personal life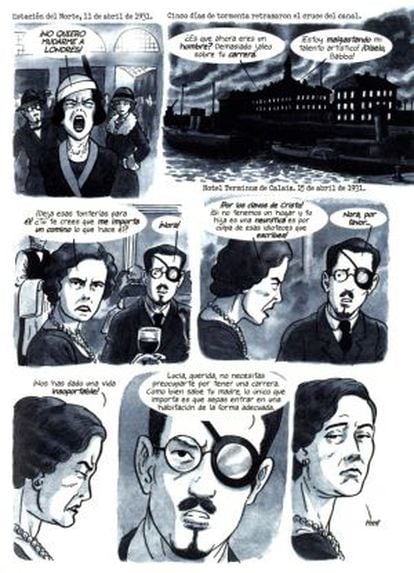 We can only assume that James Joyce despised comic books. He also despised Yeats. "We've met too late: you are too old to be influenced by me," he reportedly told him. The Irishman was long on talent and arrogance. Besides that he was a heavy drinker, a regular fixture at brothels, a fan of Dublin though an enemy of patriotism, and a professional scrounger. Inside the great creator there lived a larger-than-life character.
But comic book authors do admire him, and have yielded to the biographical intensity of the author of Ulysses and his family. Besides two works signed by Alfonso Zapico, Dublinés and La ruta Joyce, both of which are being re-printed by publisher Astiberri, there is now a Spanish translation of Dotter of Her Father's Eyes, by Bryan Talbot and Mary M. Talbot, herself the daughter of a Joycean scholar. This crude and vibrant graphic novel explores the psychological breakdown of Lucia Joyce, the writer's daughter.
Whether he was aware of it or not, Joyce wove a universe of unique beings around himself - or perhaps they became singular after coming into contact with him. A few traits displayed by his wife Nora Barnacle (who has been derided in various ways, including charges that she was illiterate, that she did not know her husband's work, and that she was not worthy of the demi-god) seem more unreal than the fictitious character Molly Bloom in Ulysses. When she became a widow, Nora Barnacle was asked for her opinion of the French writer André Gide. And she replied: "Undoubtedly when you've been married to the greatest writer in the world, you can't remember all the little men."
The genius's father, the genius's children, the genius's wife... Alfonso Zapico's Dublinés, which has won the 2012 National Comic Book Award, reconstructs this erratic family atmosphere, which teetered between financial anorexia and bulimic money squandering, disregarded certain social conventions (James and Nora were married when they were about to be grandparents) and thought nothing of crushing female ambitions owing to sexist prejudices.
Mary M. Talbot, a British researcher who has published books on language, gender and power, was fascinated by a secondary figure: Lucia Joyce, the relegated daughter, the woman without a right to a life of her own, the fleeting star that faded inside a universe of madhouses and sinister residences, where she spent 40 years. In a way (though without the bitter end), she was a kindred spirit of Mary M. Talbot, the daughter of James S. Atherton, an Irish writer who loved and studied Joyce so much that he wrote his entry in the Encyclopedia Britannica. Atherton was a sullen, irritable man who substituted the screams for sarcasm when his daughter grew up.
Mary M. Talbot spent her whole life looking at herself in the mirror of other hurting daughters like Lucia Joyce or Sylvia Plath
Mary M. Talbot spent her whole life looking at herself in the mirror of other hurting daughters like Lucia Joyce or Sylvia Plath, whom she quotes in her first graphic novel: "Much later, when I read Sylvia Plath's poetry, I was able to identify with part of it. Plath presented her poem Daddy on the radio [Daddy, I have had to kill you. You died before I had time] shortly before committing suicide."
In Dotter of Her Father's Eyes, Mary and Bryan Talbot recreate Mary's own story, and in parallel, the story of Lucia Joyce, a promising choreographer and performer. At age 21 she was a rising star. "It may be that by the time she develops all her talent for rhythmic dance, James Joyce will end up being known as his daughter's father," wrote the French press.
As far as their daughter is concerned, James and Nora come out of Talbot's book worse than in Zapico's. The British author partly blames them for their daughter's mental unbalance, because they deliberately crushed her talent to ensure greater comfort for her illustrious father. Zapico, for his part, lets them off the hook and paints Lucia as an unstable woman who breaks down after a failed love affair with Samuel Beckett, then James Joyce's personal secretary.
Lucia, who had created a professional life for herself in Paris, was forced to move to London against her will in 1931. Dotter of her Father's Eyes recreates a shattering conversation between Nora, Lucia and James. As they are waiting in Calais for the ship that will take them far from France, Lucia complains that her career is being cut short.
"You can leave all that rubbish to himself! Do you think I care a rambling damn about any of it?" the mother exclaims. "Well sufferin' Jaysus! It's because of your idiotic writing that we have no home, that your daughter is neurotic!"
"Nora, please..." the writer entreats.
"The life you give us is unbearable," Nora continues.
"Lucia, dearest, you needn't trouble yourself about your career," says Joyce. "As your dear mother knows, as long as you know how to walk into a room properly, that is all that matters."