A sharp tongue that ignited outrage
PP politician still under fire for Congress outburst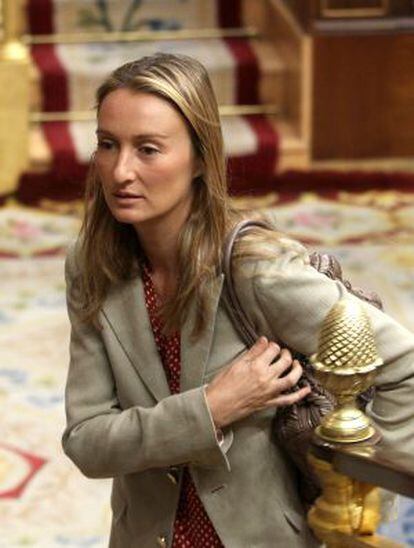 Three words have made Andrea Fabra famous. It was those words in Spanish - basically telling the unemployed to go "screw themselves" - that have sparked a mixture of interest, anger and outrage among many Spaniards.
The little-known Fabra would not have made international headlines this week if it had not been for her outburst in Congress. It occurred the moment after Prime Minister Mariano Rajoy announced on July 11 that his government was scaling back unemployment benefits for the jobless as part of severe package of austerity measures that was eventually passed by the House on Thursday.
The Socialists and other opposition parties began to jeer, and Fabra was captured on camera shouting ¡que se joden! or "screw them!" Criticism immediately poured in.
Many asked: How could a lawmaker be so insensitive to the more than five million people unemployed?
This is very negative conduct for any citizen," said PP whip Alonso
The Popular Party (PP) politician said later that she was addressing her remarks to her opposition colleagues who were booing Rajoy during that session, and accused the Socialists of manipulating the incident. But not everyone was convinced and the Socialists and other parties demanded that she step down.
"She isn't the official spokesperson for the government," said Enric Millo, a member of the Catalan PP (PPC), who explained why there was no need for Fabra to resign.
By the middle of the week, the internet was awash with songs parodying Fabra. Spray-painted graffiti with her famous words began appearing on PP signs, banks and other places across the country.
House Speaker Jesús Posada publicly admonished her at the start of Tuesday's session. "I hope that incidents such as this one, which objectively damage the prestige of this chamber, never again take place," he said.
Earlier that day, Fabra sent a letter of apology to Posada.
I made a mistake I am not proud of," Fabra wrote in a letter to Congress
"I made a mistake that I am not proud of," she wrote. "I have sent a letter to the Socialist bloc asking for forgiveness as well as the rest of the chamber, and I am not going to say anything more about this."
Fabra refused on Tuesday to speak to journalists who pressed her on the issue.
Alfonso Alonso, the PP whip in Congress, said that his party had also scolded Fabra in writing. "This is a very negative conduct for any citizen," he said.
After the public chastisement in Congress, many top PP members, including Alonso, who had criticized her publicly, and Esteban González Pons were seen outside the parliament building with Fabra, offering their support. Fabra is an influential PP member - not because of who she is but because of her father.
Carlos Fabra, the former provincial administrator in Castellón, is an incombustible PP power-broker in Valencia who is under investigation for alleged fraud and influence-peddling. He is famously known for claiming that he won two million euros in the Christmas El Gordo lottery draw - an issue still being investigated in court and not the only time he has been so lucky as to "win the jackpot." He is also the man behind the 150,000-euro international white-elephant airport in Castellón that remains closed.
Last Saturday as he addressed party members in a farewell speech before handing over the PP provincial leadership to Javier Moliner, Fabra spoke highly of his daughter.
My daughter, those of us who know you are aware of your courage"
"Andrea, my daughter, those of us who know you are aware of your courage, ethics and social responsibility. I just want to send you this kiss," he said.
Andrea Fabra was born in 1974 and is also the daughter Amparo Fernández Blanes, Carlos Fabra's former wife. She graduated with a law degree and began a career at Telefónica as head of the international relations department. Fabra reportedly got the job with the help of Arturo Moreno, the former PP deputy secretary who was forced to resign after he was implicated in an illegal party financing scheme in the 1990s known as the Naseiro case.
A member of the PP's youth organization Nuevas Generaciones, Fabra began her quick rise through the party ranks starting in 1990. Her father handed her seat in the PP provincial committee's executive board.
In 2008, Francisco Camps, the former Valencia regional premier who resigned last year in disgrace over corruption charges, included the then 34-year-old Fabra in the PP lists of candidates for senator to the local parliament.
She is married to Juan José Güemes, who served as health commissioner for Madrid regional premier Esperanza Aguirre, and is the mother of two children.