The Latin American paradox: A leading food producer with expensive groceries
While the cost of feeding a family has risen everywhere, the UNDP says prices in Latin America and the Caribbean have surged the most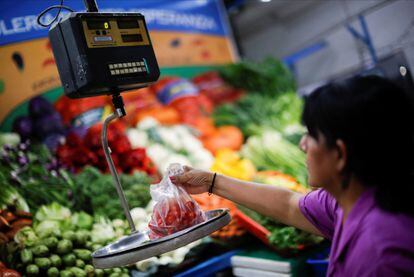 It's yet another Latin American paradox. The region is a world leader in fruit, vegetable, fish and meat production, and annual food exports rake in hundreds of billions of dollars. But it's also an expensive place to feed a family, and nearly 57 million people suffer from food insecurity. The Covid-19 pandemic exacerbated the problem and exposed vulnerabilities like the chronic underinvestment in developing its own fertilizers.
Although food inflation has surged worldwide, the rate of increase in Latin America and the Caribbean is much higher than in other regions, according to the United Nations Development Programme (UNDP). The average food inflation rate for the region reached 43.9% in September 2022, well above the 30% recorded in Asia, the region with the world's second-highest rate.
Experts point to multiple causes: currency depreciation makes imported food more expensive, and soaring fuel prices affect transportation and distribution. Russia is a primary supplier of fertilizers to Latin America, and the war in Ukraine has disrupted their production and sale since February 2022.
The region is a net exporter of food. Latin America accounts for 14% of global agricultural and fishery production. Brazil and Argentina are using transgenic technologies (introducing foreign DNA into a host organism's genome) to increase crop yields, while Mexican agribusiness giants have spent heavily on advertising abroad to position their products, including avocados. The Economic Commission for Latin America and the Caribbean (ECLAC) reported that the region's annual food exports bring in $160 billion; only 13% of these exports are to other Latin American and Caribbean countries.
The ECLAC report cites these huge export numbers as one reason 49.4 million people in Latin America and 7.2 million in the Caribbean go hungry. On April 5, Mexico led a video call with six heads of state and two ministers from the region aimed at reducing tariffs to lower commodity prices. The idea was to seek "joint solutions to [food] price pressures and scarcity in the region," as well as to "strengthen regional integration and trade."
A recent report by the United Nations Development Program (UNDP) said, "To address a potential food security and hunger crisis, countries can implement a range of integrated policy initiatives… Agricultural support programs, such as providing farmers with seeds, fertilizer and tools, as well as training and infrastructure such as irrigation systems, can help improve food production." The UNDP also recommended social protection policies like school meal programs, and vouchers or cash transfers to help low-income people buy nutritious food, as well as price regulation measures to ensure that food is available at affordable prices.
Sign up for our weekly newsletter to get more English-language news coverage from EL PAÍS USA Edition