Benicio del Toro: 'I still fear that the phone won't ring. Rejection is part of an actor's training'
The Oscar winner talks to EL PAÍS his first cinema experience, the roles he would love to have played and the stereotypes that surround Latino actors
This weekend in Madrid, Benicio del Toro received the Honorary Platino Award at the Ibero-American film ceremony — an accolade previously bestowed on the likes of Antonio Banderas, Ricardo Darín and Carmen Maura. "I'm delighted to be part of this group," he says. Thirty years have passed since the release of Huevos de oro (Golden Balls), the first film he made with a Spanish director (Bigas Luna), and he recounts that to play that role, which gave him the chance to meet one of his "favorite actors," Javier Bardem, he had to sneak away from another shoot in Pennsylvania. "Huevos de oro was being shot in Miami and the other one was in the middle of winter, so I had to wear a Mexican hat to shield myself from the sun." During the award ceremony, the audience laughs at the anecdote given by the 56-year-old from Puerto Rico, whose dark under-eye circles are the most distinctive in cinema. There are also roars of laughter when he says that he would like his country to match "the incredible success it has obtained with reggaeton" or when, in saying that he would like to do other things — "producing, directing, maybe" —, he compares himself to SpongeBob — "since I became a father, everything has changed a lot."
In an interview with EL PAÍS, he says that he would like to take his daughter to visit the Alhambra palace in the Spanish city of Granada: "She's 11 now and it's the perfect time, but I have to be in New York on Monday and there's no time for sightseeing this time. It will have to be on my next visit." The actor, who earned an Oscar for Traffic (2000), is of Basque descent: "On my father's side, one of the surnames is Irisarri; on my mother's side, my grandmother's, one is Bengoa. I grew up in a place called Santurce and I'm a big fan of the group Eskorbuto." His latest film, a thriller called Reptile, starring Alicia Silverstone, is due to be released soon on Netflix.
Question. In The Fabelmans, Steven Spielberg describes the fascination of his first time in the cinema as if he had experienced enlightenment when he stepped into the darkened room. Do you remember that first time?
Answer. The first film I remember seeing was James Bond, Live and let die [1973]. My old man and grandfather loved the cowboy ones, the westerns, but that feeling of being in the movie theater, being surrounded by people, with the movie about to start and people going "shhh," that's ...
Q. You don't get that from Netflix.
A. No. And I'll always remember that. Another film that really influenced me at the cinema was Papillon [1977], with Steve McQueen and Dustin Hoffman. That impacted me.
Q. And as someone as famous as you, can you still have the ritual of going to the movies, buying some popcorn and immersing yourself into a story without anyone disturbing you? Does fame deprive you of your freedom?
A. Fame takes away a bit of that, the privacy. I mean, it doesn't exactly take it away, you just have to fight for it a bit. It becomes something you have to prepare, to cook, to organize. And that takes time away from you. But I still go to the movies. I recently went to see Air. I also watch movies at home and I show movies to my daughter.
Q. What was the last one you showed her?
A. (Laughs). My daughter and her friend had seen Scream 2, a horror film that scares me. I asked them if they wanted to see a proper good movie and I played them Sunset Boulevard [1950].
Q. And did they like it?
A. At first, they were like: "oh, in black and white," but yes, they liked it.
Q. Until you won the Oscar, your family was insisting on setting you straight, i.e., sending you to law school, which is what your parents and godmother had studied.
A. Yes. I'm sad that they're no longer with us and I miss them. If I could bring them back, I'd be studying law right now.
Q. Where do you keep the Oscar?
A. At home.
Q. In what part of your home? Do you forget that you have an Oscar?
A. Yes, you do forget.
Q. In Spain, people speak of the curse of the Goya film awards: you stop working after winning the award. Can an actor get used to success and relax at some point?
A. No. If you got used to it, it means you believed it. Success is like a cloud or like smoke coming out of the car. It's like the smell of the flower, I'm starting to get poetic. It can provide you with opportunities, but it can't do your job for you.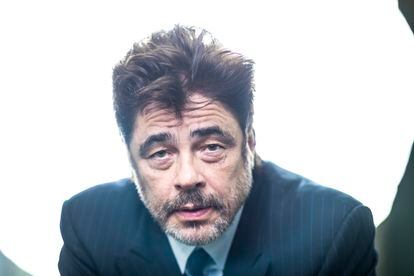 Q. Do you still fear that the phone won't ring?
A. Yes. Rejection is part of an actor's training. It's something that stays with you, it's always there. You feel that perhaps you're not going to work anymore. But you can't despair and just accept anything or do something that doesn't really interest you, that doesn't excite you, because you're afraid you won't get work. There are ways to keep yourself busy without having to be filming all the time.
Q. Do you remember what your first paycheck as an actor was and what you did with it?
A. Yes, the first thing I did was buy a suitcase (laughs).
Q. That's some metaphor, isn't it?
A. Yes. The paycheck was a bit more than that, but that was the investment I made: to be able to travel. It was the first time I ever bought a suitcase because I always had the one that passed from cousin to uncle, to grandfather. That was around 1988 or thereabouts. And it didn't have wheels.
Q. There's a Spanish comedian, Raúl Cimas, who has a joke about that: we sent a man to the Moon, but it took us many more years to put wheels on suitcases.
A. (Laughs). Yes, that's right. Suitcases didn't have wheels until the nineties!
Q. When he was in his 70s, director Kaneto Shindo, someone you admire, dedicated a film to his mother, who he had lost at the age of nine. Your mother also died very young.
A. Yes. I lost my mother at the same age as he did and when I had the chance to meet him, we discussed it. I asked him, after making the film, whether any of that emptiness that you get when you lose your mother at such a young age had changed. He told me: "No, I made the movie, but nothing changed." Memories are always lingering. I think of my mother every day.
Q. Do you remember how you felt when you got to her age?
A. Yes. I felt like I was just a child when she passed away. I was so young.
Q. Ricardo Darín turned down a Hollywood role to play a Mexican drug trafficker. Do Latino actors still experience these kinds of clichés? Especially in your early days, was it easy to tell when the offer was related to your origins or features and when it was related to your acting skill?
A. I think the clichés and stereotypes have changed a bit or maybe there's a bit more sensitivity, but they're still there and they're still problematic. Narco movies have made a lot of actors' careers, I'm one of them. There are series, like Breaking Bad, Narcos... and movies, like Traffic and Sicario. Clichés exist, but like in gangster movies and Westerns, for instance, you can explore a lot of things about the human race, the extremes and that bring us to Shakespeare: revenge, love.... As with everything, it should be in the hands of a good team of filmmakers. I've had the chance to make films like this with first-class crews, like Sodeberbergh's on Traffic. Now, if a role comes along for a narco, you know the director and they don't seem to be sensitive or don't venture to make changes, then it's not worth it. But sometimes when you sit down with the director, it becomes something different. I've made several films that were one thing in the script and then turned out to be something else. You talk, you look for angles, nuances....
Q. What role, from the entire history of cinema, from all the films you love, would you have liked to play?
A. Right, if I were seven years old, it would be Frankenstein. If I were 15 or 16, John Travolta in Saturday Night Fever or Rocky. But when I see Marlon Brando in Viva Zapata! [1952], for instance, I can only admire him. I don't think I'd like to play that role. I wouldn't have the guts. The movie is in English, the guy was from Nebraska and Zapata was from deep in Mexico, but still, I watch that movie and I believe it, he convinces me, I'm on his side. That's amazing.
Q. Over the years, some stars have confessed to regretting turning down roles in iconic movies. Has this happened to you?
A. Okay, one time, I turned down a role and then I found out that Bob Dylan was in the movie [Masked and Anonymous, 2003] and the scenes were with him.
Q. And that frustrated you.
A. Yes. I would've loved to shake his hand, to meet him, to be able to say that I met him.
Q. You worked with the likes of Bigas Luna, Fernando León de Aranoa and Javier Bardem. Are there any Spanish directors, actors or actresses you would like to work with?
A. Many. I'd like to work with Antonio Banderas, with Penélope Cruz... And I really like Carlos Vermut's movies.
Sign up for our weekly newsletter to get more English-language news coverage from EL PAÍS USA Edition