All 12 times that Penelope Cruz lit up the Oscars
Penelope Cruz, the only Spanish actor to have won an Oscar, will attend the Academy Awards next Sunday for the thirteenth time. Her appearances over the years are a living history of the most important red carpet in the world
1 of 12
In 1994, a very young Penélope Cruz stepped out on the Oscar red carpet for the first time as part of the cast of Belle Époque, which won the statuette for best foreign film that night. As she told reporters at the time, she was feeling "very good, but a little nervous".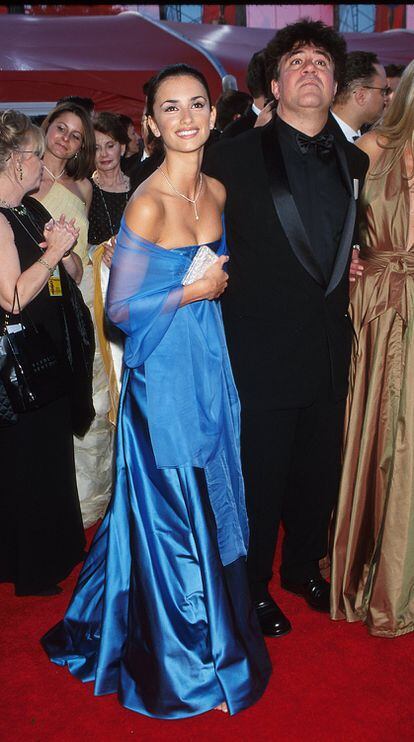 2 of 12
The Spanish actor famously shouted "Peeeeedroooo!" and presented Almodóvar with the Oscar for Best Foreign Language Film for All About My Mother, wearing a Ralph Lauren gown with a strapless neckline and matching shawl in electric blue.
3 of 12
Cruz attended the awards for the third time in 2001 and her appearance on the red carpet was engraved on our eyeballs thanks to this simple but very elegant Ralph Lauren gown with lace and crystals. A star was born and her stylistic choices were proof of it.
4 of 12
Oscar de la Renta was behind Cruz's strapless gown, a style she has worn on many special occasions, when she attended the 2005 gala.
5 of 12
The media at the time said that in 2007 Penelope had made it clear she would attend the gala wearing a gown designed by John Galliano. However, a last-minute zipper breakage had her deciding on the fly to go for plan B: this powder pink Versace design with a large train that immediately went down in the history of the Oscars red carpet.
6 of 12
In 2008 Penélope Cruz attended the Academy Awards for the first time dressed in Chanel, with a spectacular blue evening strapless design with feathers on the neckline. She accompanied Javier Bardem to collect the Oscar for his role in No Country for Old Men.
7 of 12
The 2009 Awards was one of the most important nights of Cruz's career, when she became the first Spanish actor to win an Oscar, earned for her role in Vicky Cristina Barcelona. The Madrid-born actress bet it all on this 70-plus Pierre Balmain design, which Cruz herself bought at the glamorous Beverly Hills vintage store Lily et Cie. "I fell in love with this dress eight years ago and I told myself that someday I would come back for it; I saw it again last week and it looked good on me, so I thought it was a good sign," the actress told the press after she'd collected her statuette.
8 of 12
In 2010, Cruz again went for a strapless neckline, wearing a Donna Karan draped satin dress with a train. She was nominated, for the second year in a row, for best supporting actress for her work in Nine, but on that occasion she left the gala without an award.
9 of 12
Ms Cruz attended the 2011 Oscars just one month after giving birth to her first child, Leo. Javier Bardem was nominated for his work in Biutiful and the two Spanish actors walked the red carpet together for the first time. She chose a sequined tube dress by L'Wren Scott for the occasion.
10 of 12
In 2012 the star of Parallel Mothers opted for the ash blue silk of this haute couture Armani Privé dress. She pulled her hair back into a faux bob with the ensemble completed by Chopard diamonds.
11 of 12
Ms Cruz sought Hellenic inspiration for the 2014 ceremony, at which she presented two awards alongside Robert De Niro. She consulted prestigious Hollywood stylist Cristina Ehrlich (who has also dressed Jane Fonda, Tina Fey and Laura Dern) who combined a Giambattista Valli couture dress with Chopard jewelry and a high bun.
12 of 12
2020 has so far been Penelope Cruz's last walk down the industry's most celebrated red carpet. For this look she put her trust in Chanel, having signed on two years earlier as an ambassador for the French fashion house. The black asymmetrical dress was decorated with a pearl belt - a 1995 piece made by Karl Lagerfeld, chosen from the Chanel archive.