Country music, movies, TV and preachers: How white Evangelicals fractured the United States
A devastating book reveals how these religious Americans have created a consumer culture that advocates white supremacy, patriarchy, racism and xenophobia
On January 20, 2017, a historic change occurred at the White House. One president — Democrat Barack Obama — was replaced by another, Republican Donald Trump. The two represented antagonistic models: one was the country's first black president, progressive and open to dialogue; he was replaced by a reactionary, ultraconservative and white supremacist billionaire. How could that happen? This question was repeated nonstop on talk shows and in the press. That question receives an interesting answer in Jesus and John Wayne: How White Evangelicals Corrupted a Faith and Fractured a Nation, a devastating book written by historian Kristin Kobes Du Mez, a frequent contributor to The New York Times, The Washington Post and NBC News.
"81 percent of white evangelical voters backed Trump, according to national exit polls, and proved crucial to his victory over Hillary Clinton," writes Du Mez. The author asks how it was possible for a character like Trump — who is the antithesis of a savior inspired by Jesus and has violated each and every one of the principles according to which evangelicals claim to be governed — to win so much support from millions of "family values" conservatives. From a detailed review of the evolution of American evangelicalism in the 20th century, the historian, who specializes in gender studies, religion and politics, shows how a political and social environment conducive to such a radical change has been developing over the past few decades.
That culture emerged through determination and discipline and only needed a leader, like Trump, who represented the fulfillment of the most deeply rooted white evangelical values, such as patriarchy, authoritarianism, aggressive foreign policy, fear of Islam and opposition to the feminist movement, Black Lives Matter and the LGTBIQ+ community.
In this way, the book provides a detailed study of popular evangelical culture, which is "a system of authority more powerful than traditional evangelicalism." In other words, parish pastors ceased to be influential as a result of the entire network of evangelical consumption that operates throughout the country. Religious products such as magazines, books, records, movies, radio stations, television programs, ministerial conferences, blogs and merchandising follow one after the other within a conservative, sexist ideology that defends violence. In this regard, the system has been so pronounced since the 1970s that any critical voice that may emerge is left out of it. For example, LifeWay Christian Stores, the largest Christian wholesale chain, withdrew products that represented an opposition to conservative orthodoxy related to sexuality, gender and race.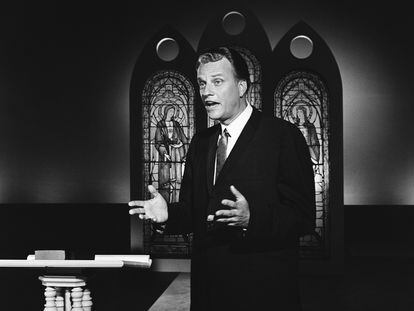 Du Mez reviews this evangelical culture replete with divisive figures like Billy Graham, the showman and influential preacher who was the first to connect with tough, aggressive masculinity. He is perhaps the most symbolic representative of the entire system that eventually developed over the years. From the 1950s, Graham made his influence felt throughout the United States and in many parts of the world through his religious conviction and astute stage presence. In fact, he was seen as a role model for evangelists: many wanted to copy his preaching cadence, his gestures and even his hairstyle. In this way, he took his role as an evangelist to another level, from preaching in small places covered by tarpaulins to the podiums of packed stadiums in several of the world's major cities.
The book also discusses associated music. Du Mez's analysis is especially illuminating in its discussion of country singer Pat Boone, a figure who competed with Elvis Presley for dominance on the music charts in the 1950s. There was never any rivalry between them, but they represented two very different aspects of American society in the mid-20th century, before Presley was devoured by Colonel Parker's decisions and stripped of almost all of his rebellious spirit. Boone was such a model of conformity to postwar American values that some journalists saw him as the antidote to the virus with which Presley threatened to infect the nation's youth. Boone had a squeaky-clean image and was known as an actor who "wouldn't kiss a woman on screen who wasn't his wife." His role within the Church of Christ (a large congregation) was key to pushing for the acceptance of evangelicals in the country, beginning in the 1950s and 1960s. To this day, Boone still performs and also gives talks as an evangelical motivational speaker and conservative political commentator.
John Wayne was another key figure. The actor was the silver-screen incarnation of a heroic cowboy and idealized soldier. Despite not being an evangelical Christian himself — and not leading a moral life according to such standards — he nevertheless became an icon of the "militant evangelical masculinity [that] went hand in hand with a culture of fear." Others who help to understand the consolidation of this identity include baseball player Billy Sunday, pastor Bob Wells, TV host Oliver North, politicians Barry Goldwater and Ronald Reagan... and so on until Donald Trump, who remains at the forefront of politics and ready to continue setting the United States on fire with his white supremacist, racist, sexist and xenophobic messages.
Sign up for our weekly newsletter to get more English-language news coverage from EL PAÍS USA Edition