Michael Jackson and Lisa Marie Presley: The 20-month marriage of the strangest couple in pop
The couple married secretly in a hotel in the Dominican Republic in 1994, but less than two years later, it was over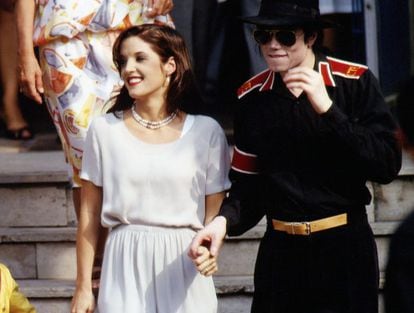 Lisa Marie Presley met Michael Jackson when she was seven years old. The year was 1975. Lisa Marie Presley, Elvis's daughter and a fan of Michael Jackson, the youngest of the Jackson Five, had gone to one of the group's shows in Las Vegas. They crossed paths again 17 years later. She was nine years younger than Jackson and had two children from her first marriage. Friends say that they met because Presley wanted Michael Jackson to produce one of her records. But critics note that their love affair happened just as Jackson was embroiled in a scandal over allegations he sexually abused 12-year-old Jordan Chandler – allegations that were silenced with a $20 million settlement.
Coincidence or not, the so-called "most bizarre marriage in history" was forged during that period via constant phone calls. In fact, Lisa Marie told Rolling Stone magazine that Jackson proposed over the phone. Later, Jackson would invent a story of a much more romantic proposal, but Presley repeatedly denied this version.
On April 29, Lisa Marie officially divorced her husband, Danny Keough. Just three weeks later, on May 26, 1994, Michael and Lisa were married. They got married secretly, in a hotel in the Dominican Republic, although some say that Michael thought that the wedding would take place on his private jet. No friends or relatives attended the ceremony. Jackson did not dare to tell his adoring mother; and Lisa Maria did not tell her family. Her mother, Priscilla, was furious: she thought it was nothing more than a marketing ploy for Jackson.
The officiant had not finished pronouncing the words "you may kiss the bride" when the problems began. Only they know what happened next. Some claim that Michael Jackson never had sex with a woman. His alleged "girlfriends" Tatum O'Neal and Brooke Shields claimed that he never even tried to kiss them. According to Michael's former PR, Bob Jones, "Michael had no attraction to women." But Lisa Marie's version differs completely. According to Elvis's daughter, the first time they slept together was at Donald Trump's mansion in Florida. According to a 1995 article in the National Enquirer, Presely allegedly said: "It was absolutely wild. He was slow getting started, then he just wanted more and more."
To silence the gossip about their relationship, the couple appeared on television in June 1995, to promote Michael's new album, HIStory: Past, Present and Future, Book I. This time Lisa Marie took the lead, stating emphatically that they intended to have children. But the children did not come. J. Randy Taraborrelli, Jackson's childhood friend of 40 years, wrote in his book Michael Jackson: The Magic And The Madness, that "He [Michael Jackson] and Lisa appear to have had an intense and active sex life."
One of Lisa's friends reportedly said: "The great sex continued but when they weren't in bed making love, they were fighting. Lisa started to wonder if she'd made a mistake in choosing him as a life partner."
Shortly after the 1995 TV interview, Lisa Marie was seen frolicking in Hawaii with her ex. According to news stories at the time, Presley decided to put an end to what many considered not just a marriage of convenience, but rather a farce. She was fed up with Michael being absent and constantly trying to make her jealous with a supposed relationship with Lady Di.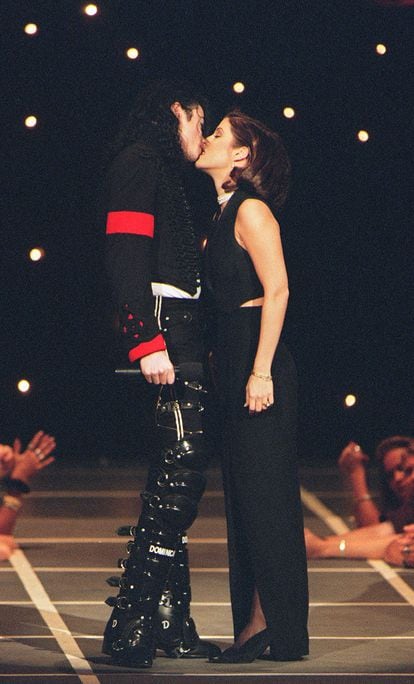 In September 1995, although the couple were unofficially separated, Michael begged Lisa Marie to come to the MTV Awards gala. Michael was going to be the big star, with a 20-minute medley. Everything went more or less according to plan until the kiss. Lisa Marie's discomfort was more than evident to viewers. She later told Playboy: "It looked awkward because I wanted out of my skin." "I was terrified. It was his manager's idea. I thought it was stupid. All of a sudden, I became part of a PR machine," she told Rolling Stone magazine.
Their marriage lasted 20 months. The man who had defined himself as "the loneliest person in the world" returned to Neverland, his mansion, with Bubbles, his chimpanzee, to hide from the increasingly frequent reports of sexual abuse. That same year he would marry Debbie Rowe, his nurse and dermatologist, who would soon become pregnant.
Sign up for our weekly newsletter to get more English-language news coverage from EL PAÍS USA Edition