How The Rock fit into a Peel P50, the smallest car in the world
Dwayne Johnson, who is 6 ft 5 in, drove the Peel P50, a vehicle that is only 54 inches long
The actor Dwayne Johnson, known in the film world as The Rock, is touring Spain to present his new superhero film Black Adam, in which he plays the titular DC Comics character.
His promotional tour included a visit to the television program El Hormiguero, where host Pablo Motos had him get into the smallest car in the world.
The actor, who weighs around 260 lbs and is 6 ft 5 in tall, managed to drive one of the most popular mini-cars in the world.
There are many ways to make automotive history. The Peel P50 got its name in the Guinness Book of Records as the smallest car in the world. The vehicle has a long history, and now it can be driven at home.
Its story begins in 1962, when Cyril Cannel decided to create a car that would allow him to navigate around traffic jams.
He did so by creating the smallest car possible: it is 54 inches long and 39 inches wide.
By its side, a BMW Isetta, which is already fairly small, looks huge. And with a weight of only 130 lb, it is as portable as a rolling suitcase.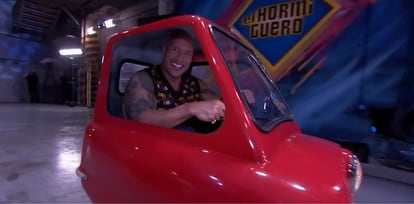 The design of the smallest car
The Peel P50′s appearance is fairly peculiar, with three wheels, a single circular headlight, a windshield wiper attached to its roof and a completely flat trunk, thereby maximizing the interior space.
In its day, it was not a popular model. Only 50 units were manufactured. But today the company has put the car on the market once again, now with several different mechanisms and even a version to assemble at home.
Peel P50: Variations and prices
The brand offers variations on the P50, including the Saloon, or standard version; the Spyder convertible version and the Trident. The latter is the only two-seated model, and it has an even more idiosyncratic design, with a bubble-shaped roof.
The most accessible option is to assemble the car at home. The company estimates that the process involves 50 hours of work.
It is available in the United Kingdom starting at $8,600, not including taxes. Once assembled, taking it to the street shouldn't cause any problems: it fits in an elevator.
Motor options
The Peel P50 is available in a limited-edition version with a 49cc two-stroke heat engine. It has a torque of 5.0 Nm and a power of 3.1 kilowatts and reaches a speed of up to 38 mph).
The car is best suited for urban environments. The brand also offers two electric versions.