The mystery of Molly Ringwald, the 80s star who abandoned her career because of 'the other Weinsteins'
It seems the actress has finally decided to return to the spotlight, after announcing she will play Joanne Carson, Johnny Carson's wife, in the new season of the show 'Feud'
Just a few days ago, FX announced a new addition to the cast of the second season of its show Feud. Joining Demi Moore, Calista Flockhart, Naomi Watts and Chloë Sevigny, will be Molly Ringwald, the American actress best known for her roles in popular teen romantic comedies of the 1980s, such as 16 Candles, Pretty in Pink and The Breakfast Club, which were all written by John Hughes.
The second season of Feud will focus on the scandal that broke out in New York high society when Truman Capote (played by Tom Hollander) published a preview of his long-awaited book Unanswered Prayers, in which he revealed the darkest secrets of some of the city's most important socialites.
The role is another step forward in Ringwald's Hollywood comeback. The 54-year-old has never stopped working – she is currently playing the stepmother of the murderer Jeffrey Dahmer in the TV show Dahmer – but for many years, she had fallen off the radar.
American teen films of the 1980s cannot be understood without Ringwald. Her red hair, smile and intense gaze marked an entire generation. As journalist Michael Agger recalled in an article for New York Magazine in 2004, the actress had something special that film and television critic Pauline Kael described as "charismatic normality."
"If you were white and suburban and insecure, you came to the theater and saw yourself," Agger wrote. That made both Ringwald and her co-stars, especially in The Breakfast Club (Judd Nelson, Ally Sheedy, Emilio Estevez and Anthony Michael Hall), into automatic superstars. They came to be part of the so-called Brat Pack, the group of emerging actors that marked the cinema of the mid-1980s, which included Rob Lowe, Demi Moore, Kiefer Sutherland, Charlie Sheen, John Cryer, Christian Slater, Robert Downey Jr. and John Cusack, among others.
Ringwald became a style icon, ubiquitous on magazine covers. Her signature look, characterized by baggy second-hand clothes, hats, brooches, bracelets, beaded necklaces, old boots and crimson-red lips, became the de facto uniform for thousands of eccentric high school girls who didn't quite fit in. She also influenced the most select circles of the fashion world. She may have been responsible for making vintage cool for the first time.
Echoes of that look still exist today. Ringwald told the Los Angeles Times that her look, a mixture of the style of Madonna and that of Diane Keaton in Annie Hall, was the result of necessity: her parents gave her a limited allowance that only left her the option of shopping at Los Angeles thrift stores.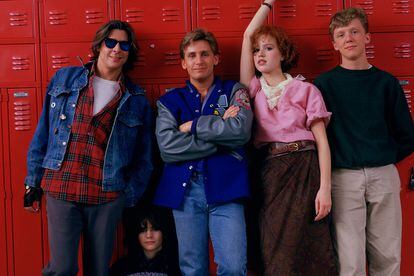 But for many, the greatest mystery of Molly Ringwald's career was why she left Hollywood and the United States and went to live in France for almost a decade at the height of her career. She returned from time to time to work on occasional projects that went practically unnoticed.
The actress never quite fit the stereotype of the classic Hollywood star, but why did she refuse to continue filming with Hughes? And why did she turn down the leading roles she was offered in Pretty Woman and Ghost, which would have definitively established her as a superstar? It took nearly 20 years for the actress to explain what happened.
The answer came in two articles that appeared in the pages of The New Yorker. The first was published in 2017 and was titled "All the Other Harvey Weinsteins." In it, Ringwald recounted how she was sexually harassed at various times throughout her career. "When I was thirteen," she wrote, "a 50-year-old crew member told me that he would teach me to dance, and then proceeded to push against me with an erection. When I was 14, a married film director stuck his tongue in my mouth on set."
She then explains how, at age 20 and after a series of hits, she was forced to wear a dog collar in an audition. Ringwald hardly remembers the moment: she assures that she experienced it as an out-of-body experience. Once the test was over, she sat in her car and started crying. She called her agent to tell him, and he laughed, telling her that she now had material for her memoir. "I fired him and moved to Paris soon after," the actress wrote.
A year later, in 2018, the actress published another article in the same magazine titled, "What About 'The Breakfast Club'?" The piece reflected on what it had really been like to work with John Hughes and how she now felt about those long-mythologized films.
The relationship between Ringwald and Hughes was very close, almost symbiotic, for several years. In the piece, the actress says that he wrote the script for 16 Candles in a weekend after seeing a photo of the then 15-year-old in her agent's office. He took the photo home, pinned it to the wall and wrote the story inspired by her face. "The studio loved the script, perhaps because, in form at least, it had more in common with proven successes – [teen comedy] Porky's et al. – than it did with The Breakfast Club," she wrote.
That film made them both famous. From then on, he only wrote with her in mind. The Breakfast Club and Pretty in Pink, released in 1985 and 1986 respectively, were huge hits, but in 1987 the actress turned down the role Hughes had created for her in Some Kind of Wonderful. She wanted to do different things. The director took it poorly. He cut off almost all contact from then on. He passed away in 2009 at just 59 years of age.
But although she acknowledges that her career would have been very different had she not crossed paths with Hughes, today she does not feel particularly proud of those films. Nor has she watched them with her children. Today, she wrote in The New Yorker, they "could also be considered racist, misogynistic, and, at times, homophobic." She cites specifically how in The Breakfast Club, the male lead, played by Judd Nelson, "Bender sexually harasses Claire throughout the film. When he's not sexualizing her, he takes out his rage on her with vicious contempt. … He never apologizes for any of it, but, nevertheless, he gets the girl in the end."
In the essay, Ringwald reflects on how Hughes was able to write sensitive scenes that still move women today, but at the same time, he mocked many of their problems. That trait, according to her, appears in the texts that the author published in the 1970s for the satirical magazine National Lampoon. The actress recounts how she came to buy old issues of the magazine on eBay, to discover with horror texts by Hughes that made fun of sexual harassment, violence against women and eugenics.
In her article, Ringwald is aware of all the contradictions she raises, as when she explains how The Breakfast Club has brought consolation to people whose lives little resembled those of the film's white, heterosexual protagonists.
"How are we meant to feel about art that we both love and oppose?" she writes. "What if we are in the unusual position of having helped create it? Erasing history is a dangerous road when it comes to art – change is essential, but so, too, is remembering the past, in all of its transgression and barbarism, so that we may properly gauge how far we have come, and also how far we still need to go."
The words reveal a mature Molly Ringwald who has come a long way since those teen movies. At 54, it seems that she still has an interesting road ahead of her.