Jennifer Lawrence admits she 'lost sense of control' after 'The Hunger Games'
The award-winning actress says her sudden rise to fame took an emotional toll and that success turned her into a 'commodity'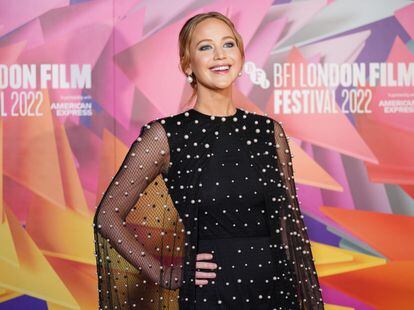 It's been 10 years since the first movie of The Hunger Games saga was released, which shot actress Jennifer Lawrence to global stardom. The dystopian film series not only broke box office records, it was also a launchpad for Lawrence, who was just in her 20s at the time. As she became an international star with The Hunger Games, she also took on smaller projects, such as the 2012 movie Silver Linings Playbook. She won the Oscar for Best Actress for her role in the film, becoming, at the of age 22, the second-youngest recipient of the award. Lawrence appeared to be living the Hollywood dream, but now, a decade later, she has admitted that success also took a toll.
While promoting her latest movie, Causeway, Lawrence spoke about the difficulties of her sudden rise to fame. "I think I lost a sense of control. Between The Hunger Games coming out and winning the Oscar [for Silver Linings Playbook], I became such a commodity that I felt like every decision was a big, big group decision," she said at the London Film Festival, as reported by Variety magazine.
Lawrence added that she still hasn't come to terms with her Oscar win: "I keep thinking: 'When will it hit me.' I don't think it ever will," she said. "When I reflect now, I can't think of those following years, [because there was] just a loss of control."
The actress, now 32, said that it wasn't until she took a break that she was able to regain perspective. That hiatus came in 2019, when Lawrence married art dealer Cooke Maroney and temporarily stepped back from the world of cinema. In February 2022, three years after getting married, the couple welcomed their first child, Cy. Not long afterward, Lawrence decided to return to acting with the Netflix movie Don't Look Up, co-starring Leonardo DiCaprio.
Motherhood has also given her a new perspective, she said. "The morning after I gave birth, I felt like my whole life had started over," she told Vogue magazine in October. "Like, now is day one of my life. I just stared. I was just so in love."
In the interview, the actress also said that she had two miscarriages before her first child: the first, when she was in her early 20s and had stepped back from the film industry, and a second, while shooting Don't Look Up. The four-time Oscar nominee also criticized the gender pay gap in Hollywood, pointing out that she earned $5 million less than DiCaprio for Don't Look Up. "It doesn't matter how much I do. I'm still not going to get paid as much as that guy, because of my vagina?"
More information