Liv Tyler: Why the actress who was born to be a star turned her back on Hollywood
At 45, after years of protesting sexism and ageism in the movie business, the 'Lord of the Rings' star has taken a step back from the industry
She had everything to be this century's great Hollywood star. She was the daughter of a rock legend, muse of Italian film director Bernardo Bertolucci and star of a legendary music video when she was just 16. Soccer icon David Beckham is the godfather of her son, and she has been part of one of the most successful film sagas in the history of cinema: The Lord of the Rings.
What's more, Liv Tyler, who is also known for her roles in Armageddon and The Leftovers, can boast of having given up her place in Hollywood of her own accord. At 45, the daughter of Aerosmith frontman Steven Tyler turned her back on the industry, after denouncing the sexism and ageism that she experienced first hand and that continue to mark the careers of women in film. While the female characters of The Rings of Power – the new series based on J.R.R Tolkien's trilogy – are no longer damsels in distress, Tyler – the elf who first rode through Middle-earth in Peter Jackson's saga – sits in her London house, waiting for the recognition of an industry that couldn't – or wouldn't – listen to a lament that today is a clamor.
Before the Harvey Weinstein sexual harassment case became public, and movements like #MeToo and Time's Up shook the foundations of the world of cinema, Tyler was already speaking up against sexism and ageism. In 2015, she spoke candidly about the issue in an interview with More magazine, describing herself at 38 as being treated as a "second-class citizen" in Hollywood. "When you're in your teens or 20s, there is an abundance of ingénue parts which are exciting to play. But at [my age], you're usually the wife or the girlfriend – a sort of second-class citizen."
As her career lost momentum, Tyler also addressed rumors that she was difficult to work with. "I am a feminist and proud to be one. In my life, I have had people call me controlling for being detail-oriented, ballsy for following my heart and taking risks, outspoken or even crazy for speaking my mind and not taking bullshit from people," she told Porter magazine in 2017. "It amazes me when this happens and motivates me to work harder to speak up for what I believe in for myself and all women."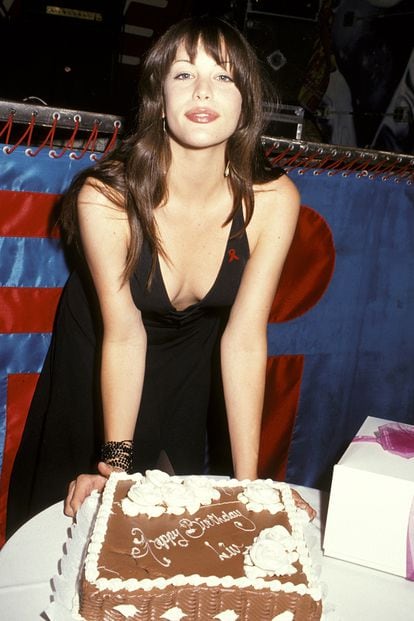 Indeed, Tyler has been calling out sexism in Hollywood for decades. Tyler rose to fame when she appeared in the music video to the Aerosmith song Crazy. She was compared to Audrey Hepburn and became a style icon of the mid-1990s. At the height of her career, just as Lord of The Ring: The Return of the King was winning public and critical acclaim, the 20-year-old started to be scrutinized for her figure. But she refused to pay heed to the criticism. "I've been told that if I lose weight I'd have more work, but I refuse to submit myself to Hollywood standards. To the rest of the world, I am slim, and I like the way I am," she said in a 2013 interview.
Tyler is now a mother of three children: she has a son with her ex-husband, musician Roy Langdon, and two daughters with sport agent Dave Gardner, who she separated from last year. She lives away from the public spotlight: in her Instagram account, which has more than 2.5 million followers, there are no glamorous photoshoot portraits, selfies at exclusive galas or tedious advertisements for fashionable perfumes. Instead, she shares photos of field trips, her young daughter's last missing tooth or an imperfectly made birthday cake. In 2020, she resigned from a multi-year contract with Fox network and left the series 911: Lone Star, fearing that the Covid-19 pandemic would make it difficult for her to return to London to see her family. And she has no more professional projects on the horizon.
Her withdrawal from Hollywood may have caused a stir, but she doesn't seem to miss it. As she herself said almost at the beginning of her career: "Life excites me. I'm not talking about appearing in movies or doing interviews, but just little, normal, everyday things. Getting out of bed. Getting dressed. Making food. I find it all exciting, you know?"