Nick Cave and grief: How touring, audiences and music help him heal from the deaths of two sons
The legendary Australian musician, who has lost two children, including one this year, has just released a new album, 'Seven Psalms,' and is continuing on his acclaimed tour
Few people would have survived what Australian singer Nick Cave has endured, and not only emotionally. When he was 21 years old, his father died in a traffic accident. His mother told him about it in a Melbourne police station where young Nick was arrested for robbery. He spent the 1980s and much of the 1990s hooked on heroin. In 2015, when he was living a peaceful, harmonious adult life on the outskirts of Brighton, England, one of his four sons, Arthur, died at the age of 15; he tried LSD for the first time and fell off a cliff. In May of this year, his oldest child, Jethro, 31, died in equally tragic circumstances. He had just been released from prison for assaulting his mother, model Beau Lazenby, and was diagnosed with schizophrenia. Jethro did not know his father until he was eight years old.
But it's easy to agree that, against all odds, Cave is doing his best work right now, amidst a turbulent aging process. Skeleton Tree (2016) and Ghosteen (2019), Cave's last two albums with his band The Bad Seeds, are probably the highlights of his long career. In addition, over the past seven years he has recorded two other albums – with his usual collaborator, multi-instrumentalist Warren Ellis – that sound like an inspired spiritual refuge: Carnage came out last year, and Seven Psalms, a work of spoken word and quasi-ambient music, was just released a few weeks ago. In recent years, the two have also produced seven soundtracks (including one for the masterpiece Comanchería); soon, an eighth soundtrack will debut for Blonde, the controversial Marilyn Monroe biopic directed by Cave's friend Andrew Dominik, which stars Spanish actress Ana de Armas. He has also written several opera librettos and music for theatrical productions.
Performing live: From confrontation to emotional exchange
Nick Cave's latest tours with The Bad Seeds have charmed his fans more than ever (and earned him new ones), as evidenced by accounts of his recent Primavera Sound tour. His concerts have become rituals of healing transcendence, where the vocalist transforms into a kind of deranged preacher leading his flock to the light. He has taken to mingling with audience members in the front rows and singing high above them, but Cave also acknowledges that there has been a fundamental change in how he approaches the songs on stage. Whereas his attitude was once threatening and meant to confront and disrupt the audience, now he appeals to a sense of community redemption, he sees a group embrace and a two-way flow of energy. "You know, the audience has been hugely helpful… I find it difficult to articulate this to them, onstage, but…I would just want to thank them for this" he declared in 2017, when he returned to the stage. "I've always felt as a performer a sort of combativeness. You know, the finger would come out and I would be here I am and this is fucking it and stand there and take it. And it was a very one-way kind of experience for me.… I come from a different school of frontmen. Full-on attack. It's an attack on your audience of some sort. It's just the way it's always been. Even though the finger comes out, it doesn't feel like that in the same ways it used to feel. It feels much more that there's something coming back.… Something different has been happening with the audience – a kind of dynamic, emotional exchange – that is quite beautiful. There's just some kind of communal feeling. Maybe this is what it's like to be in Coldplay or something."
Not like a Rolling Stone
Cave's transformation on stage is only one part of a deeper process. At 64, he has refused to look back creatively or to give in to the nostalgic temptations that are so common among musicians of his age. At the same time, he has ventured into new stylistic directions and delved into the search for the unfathomable, the mysterious that he has always highly valued. "After a while, there's something perverse about just carrying on. You see yourself as an experiment in longevity. Like the Rolling Stones, there's something that has become quite wonderful about that band because we watch and see how long it can continue. I'm different to them because I still make decent music. I still sit down and try to make records that are different from the last stuff," he said at a conference in Australia.
Cave's career has helped him to try to make sense of everything, to ask his own questions and reflect on our existence. Maybe, at the beginning of his musical career, when he was influenced by punk and gave his music a nihilistic, extreme and violent aura (with his band The Birthday Party, when he moved from Melbourne to London, and in the early days of The Bad Seeds in the 1980s, when he worked in West Berlin's dark underground scene), his inspiration came from chaos and disorder. But even then Cave's songs dealt with uncommonly important themes in the rock imaginary: God, death, love in absolute terms, punishment and forgiveness, evil..... It is as if his life finally responded to, or was influenced by, the topics he wrote about, like a self-fulfilling prophecy.
From punk to the canon of mature singer-songwriters
By the mid-1990s Cave was no longer that self-destructive punk rocker. He was welcomed into the canon of the great mature singer-songwriters who have twisted personal universes. Cave joined the company of Bob Dylan, Leonard Cohen, Tom Waits, Van Morrison, Scott Walker, Patti Smith, Serge Gainsbourg... For his fans and music critics, albums like Let Love In (1994), Murder Ballads (1996) and The Boatman's Call (1997) represented the high point of his career; he could never top them. That notion seemed to be confirmed when Cave released his first two weak albums: No More Shall We Part (2001) and Nocturama (2003). Their release came with an astonishing revelation: Cave was now composing music at his new home in Brighton strictly from 6am to 5pm, as if he held an office job. On top of that, the Bad Seeds' most charismatic member, German Blixa Bargeld, had left the group. Nobody gave a damn about Nick Cave anymore.
Then the unexpected happened: He released his ambitious and accomplished double album Abbatoir Blues/ The Lyre Of Orpheus in 2004; formed a new dirty and delirious rock band, Grinderman; authored a novel, The Death of Bunny Munro and wrote a strange poetic work on airplane sickness bags, The Sick Bag Song; composed soundtracks with Warren Ellis like crazy; and even wrote two scripts – one for his friend John Hillcoat, The Proposition, and another for Gladiator 2, which Russell Crowe commissioned. The latter never made it to the screen, and even Cave himself has said that it was really foolish.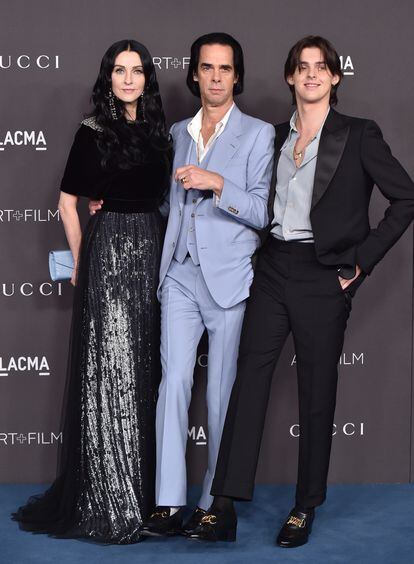 Rebirth in the 21st century
Since then, Cave's trajectory and creative inspiration have continued to grow, validating his extremely hardworking creative method. For Cave, working continuously was a way of feeling connected to the world. In fact, following the loss of his son Arthur, the process that had been going on for more than a decade continued, although the tragedy drove and changed it. It would have been normal to fall into a creative funk, but Cave says that the words and songs came to him more easily. He never contemplated doing anythng else but continuing to work.
His album Skeleton Tree was already halfway done when his son passed away, and the Andrew Dominik-directed documentary One More Time With Feeling captured the moment when that whole process was transformed, how the musician's grief led him toward a strangely lucid serenity. "I said to Warren (Ellis) a week after Arthur died : It just goes on, you know. I didn't even know what I was talking about… It was not like an act of courage or anything, it was just that I didn't know what the fuck else to be doing. All I knew is that what I do is work, and that kind of continues. I think I knew, fundamentally, that if I lay down, I would never get up again," he confessed in 2017 to GQ magazine. He acknowledged having a newfound confidence in his lyrics and he felt that he could go anywhere with them.
Cave is not one to exploit pain, so he was extremely concerned about the image he might convey in Dominik's documentary. He told the director that he would only authorize the film if he had control over the final edits. In the end, he did not change anything: he was moved and accepted the filmmaker's abstract tribute to his family and his lost son.
Trademark black humor
In recent years, the author of Your Funeral... My Trial has also survived the loss of numerous fellow musicians and close friends, including Jeffrey Lee Pierce of The Gun Club; Michael Hutchence; Grant McLennan of The Go-Betweens (with whom Cave shared an apartment in London and formed a side band); his partner in The Birthday Party, Rowland S. Howard; his ex-girlfriend and Bad Seed band member Anita Lane; and his first punk idol, Chris Bailey of The Saints... Cave's awareness of mortality has not weakened him at all; rather, it seems to have been a source of strength and inspiration for him.
Cave's contact with the public also seems to have been therapeutic, even beyond his live performances. In recent years, for example, he has been very active on his website, where he has created a blog, the Red Hand Files; there, he corresponds directly with his followers and answers their questions. He also has a section called, Cave Things, on which he sells some of his most unusual artistic materials: ceramic figurines, drawings, various items with Warren Ellis's face on them, religious stamps, and other hilarious objects that attest to his desire to fight death by embracing life as the only possible way forward. In fact, his genuine dark sense of humor remains intact. In the middle of his Primavera Sound concert, he dedicated a song to Luke and Earl, his two surviving sons, joking that they were probably waiting for the Bauhaus concert to start (Bauhaus was Cave's rival goth rock band in the early 1980s, which he always said he found laughable and ridiculous). "That's my advice if anythng terrible ever happens to you. Form a band and go on tour," he said recently