Life after porn: Simon Rex, the actor reliving his past to redeem it
He was a forgotten teen idol and an industry pariah, but 'Red Rocket' has brought him awards and the best reviews of his life. Fact and fiction blend in a film that also considers how pornography has leapt from screens to life

Actor Simon Rex, 47, may be the last person in the history of Hollywood who believed he could shoot four porn movies, find fame and live in a world where this past wouldn't come out.
It started in 1993, when he was 19 years old and cleaning tables. Desperate to stay afloat, he answered an ad in a Los Angeles newspaper seeking models to pose nude. That resulted in four tapes with not exactly cryptic titles (Young, Hard and Alone, for example, or Hot Sessions I, II and III) which, when Rex became a celebrity in the United States, were re-released a few years later and saw the light of day thanks to the internet.
Rex thus became the epitome of the star born at the dawn of a new era, who has a hidden past that catches him by surprise: a new era in which nothing that has ever been recorded, written or said can be forgotten. That Rex is talking again about the subject he avoided for years, as if it were an exorcism, is because he plays a porn actor in Red Rocket, the new film by Sean Baker, who in Tangerine (2015) or The Florida Project (2017) portrayed the dreams and hopes of the lumpen who survive behind the neon lights of Las Vegas or Disneyland. Red Rocket, which opens in Spain in May, has brought Rex - who at the height of his fame was a pretty face, in his decline a joke and during the last few years a pariah - some of the best reviews of the year, the award for best actor at the Independent Spirit Awards and, incidentally, a reconciliation with the murkiest part of his past.
Three coincidences in a row
With the exception of porn, Simon Rex's biography resembles that of many other photogenic young people in the right place at the right time. Accompanying his childhood sweetheart to a model casting, an agency director noticed him. The [ensuing] dialogue is so commonplace as to be cliché: "Who is he?". "He's not a model, he's just here with me." The next scene is another cliché: Simon Rex flies to Milan.
In 1995 he posed in campaigns for brands like Tommy Hilfiger and coincided in fashion shows and parties with Mark Ronson, then also a model. That same year, the MTV network asked Markus Schenkenberg, one of the most famous models of the 1990s, to audition as a host, but as he was unable to attend, his agency sent Rex instead.
For two years, Rex became a popular figure who introduced music videos (when they were still being broadcast on TV) and interviewed artists, often [while] shirtless, in order to show off a superior physique obtained a little bit from the gym, a little bit from genes.
Rex was used to the eccentric life: born in San Francisco to hippie parents (his mother was an environmental activist; his father a photographer), you would think he was just carried on a gentle breeze of opportunity from the restaurant where he bussed tables to MTV parties. Having demonstrated his brilliance as a host on the music network that defined the aesthetic and youthful feel of the 1990s, acting soon came knocking at his door. As revealed in an interview with New York Magazine, Gus Van Sant was one watcher who fell in love with Rex's mix of Greek-god body and boyish character and called him for an audition for a supporting role in Good Will Hunting (1997). It was a disaster, but sensing some potential in the boy, Van Sant recommended he go to acting classes before looking any further.
That was the period of time when those early videos came to the light. The production company that owned the original films found a vein in having an unexpected star in its stable and at a time when file sharing, especially pornographic content, after the leak of the Pamela Anderson and Tommy Lee sex tape, was on the rise. Individual scenes in which Simon Rex could be seen masturbating while elevator music played in the background became very popular on the internet.
The consequences? It could have been worse. As Rex stated in an interview on Allegedly audio, Disney canceled a project he was working on with the young star. But television gave him the opportunity to play a supporting role in successful series such as Jack & Jill (a spoof of Friends) or Felicity. Although those tapes were aimed at a gay audience, there was no contact between Rex and other men. In the conversation with Allegedly, the actor confesses that, after the tapes came to light, MTV asked him: "Do you have sex with other people in them [the tapes]?" If Rex had been shown having sex with other men, his career probably would have ended there.
Between Hollywood and the San Fernando Valley
The mystique of porn has seduced Hollywood since its beginnings, ever since it was whispered that someone had seen Joan Crawford or Marilyn Monroe in supposedly explicit pirate films (then called stag films) before they became famous. Greta Garbo's route went in reverse: the last film she appeared in was a gay porn tape called Adam & Yves, from 1974, but she didn't know it (she was filmed walking down the street in a flashback scene that obviously has nothing pornographic about it). Shortly after that Rocky (1976), the film that made Sylvester Stallone a star, was released, and it sparked interest in a low-budget, pornographic product he had shot six years earlier, Party at Kitty and Stud's. In 2022, Pam & Tommy, the series distributed internationally by Disney about the TV Star and the rocker's aforementioned [sex] tape, is triumphing. And when porn has reached Disney, it's a sign that porn has already permeated everywhere.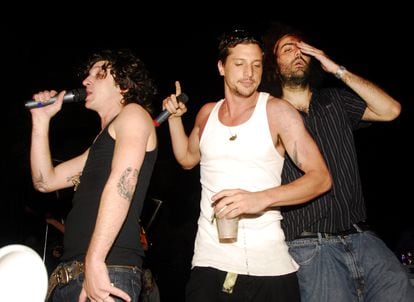 "This series reflects the massive fascination with thieved images of sexual content generated in privacy, as opposed to the apathy that can be aroused by sexual images created expressly to be consumed," say Elisa McCausland and Diego Salgado. Both are film critics, she specializing in popular culture, he one of the authors of the treatise Porno: Come and See. "Viewing people famous for a consensual and accepted codification of their image on a public level involved in a situation of strict intimacy immediately links them to ours".
And what about the enormous success that Simon Rex's scenes, blurry in quality and monotonous in content, continue to have, when there are millions of better-quality scenes and more explicit stunts? "We attach a greater degree of reality to a poor image compared to the simulacrum we associate with the too-perfect image. When we consume industrially filmed videos, to climax to orgasm what we look for almost desperately are the moments of truth; a shudder, a smile, a tear."
This is borne out by a key moment from those Rex videos, which Michael Ferguson captures in the book Idol Worship: A Shameless Celebration of Male Beauty in the Movies and is so prophetic that today it seems like part of a script: after Rex finishes one of his scenes, and apparently unaware that the camera is still rolling, he says to someone on the crew, "I hate to do this, but the bills have to be paid; I can shake it off for money. I don't care. As long as no one touches me, it doesn't matter. I hope this doesn't come back to haunt me when I'm famous!".
"Let's make a little movie"
Simon Rex's role in Red Rocket is one of the most unexpected triumphant comebacks in Hollywood in recent years. Nobody remembered him and, if they did, it was not with a good feeling: in the 21st century Rex became a rapper, the star of infamous commercials that he only accepted for money and a tabloid character more famous for hanging out with Paris Hilton than for his movies. He had success with a couple of installments of the Scary Movie saga, but when Part Five was released, he didn't even appear on the poster. When he went up to collect the award for best actor at the Independent Spirit Awards gala, which honors the best of independent cinema, the first thing he exclaimed was: "What the fuck?" He then dedicated these words to director Sean Baker: "You gave me a chance when I wasn't even getting called back for insurance commercials." "My career was in the toilet," he continued. "I had gone to live in Joshua Tree [a desert area in Southern California] and I thought it was all over until Sean called me and said, 'You're not going to make any money on this and neither am I, but let's make a little movie."
Movies about porn stars have provided an opportunity to actors that the industry had never taken too seriously. Simon Rex's case is reminiscent of Mark Wahlberg's in Boogie Nights (1997), with which Paul Thomas Anderson made a name for himself and gave the actor the best reviews of his career. After a series of stumbles and failures, Val Kilmer also got good reviews for giving life to the porn star John Holmes (famous for having a penis so big that it ended up ruining his life) in Wonderland (2003). All of them were complicated roles, sometimes with demands that would cause other actors to recoil (in both Boogie Nights and Red Rocket one sees the member the protagonist in detail, in each case a prosthesis) but which were ideal for someone who, like Rex, Wahlberg or Kilmer, had nothing to lose. The verdict is obvious: a desperate interpretation of a desperate role gives us, as viewers, an immediate sense of truth.
Comparing Red Rocket and Boogie Nights also serves as an index of how porn has invaded every aspect of culture and our intimacy. In one of the best sequences in Boogie Nights, in the first fuck between Mark Wahlberg's character and the one played by Julianne Moore, there is so much chemistry between them that they forget they are on a set and she effectively invites him to make love to her and forget the hijinks. In Red Rocket the opposite happens: Simon Rex's character only knows how to fuck like his alter ego would, turning intimacy into a choreographed and dialogued intercourse like on a film set. Alberto Mira, a film scholar and professor at Oxford Brookes University (who included Red Rocket in his list of best films seen in 2021), finds it curious that the film stars precisely an actor who lived and suffered the transformation from old porn to modern porn. "In the film, he is already a relic of the past. Porn stories have become outdated because the dynamics they proposed (the plot, the staging, the typologies) have become outdated. But porn culture in general continues and is everywhere. In an abstract way, everything, especially social networks, works like pornography. So the question we should ask ourselves should be: is porn still porn when it's already everywhere?"
"There are films about the current paradigm of the porn industry as celebrated as Pleasure (2021), by Swedish director Ninja Thyberg," that are, as McCausland and Salgado point out, "not exactly romantic in their depiction of the porn environment, especially the actresses. Nor is Red Rocket: the main character's comments on the industry speak of a world in crisis. If Boogie Nights could afford to be romantic, it is because, like it or not, pornographic cinema was synonymous in the 1970s with emancipation and freedom. Today, the industry can no longer clothe itself in those values." Red Rocket, in fact, does not speak of values. Its protagonist is as amoral as he is charming, and the viewer feels uncomfortable finding so much brilliance in him. As it happens, during the film, Donald Trump is running for office. Pornography and democracy.