Sedatives, orgies and bestiality: The documentary that shines a light on historical abuse at Hugh Hefner's Playboy mansion
Following the death of the magazine's controversial founder in 2017 and new allegations of sexual exploitation, the company is trying to reposition itself as a brand that promotes women's rights
Hugh Hefner always could smell opportunity. "His timing was perfect," said his obituary in The New York Times. Hefner emerged in the early 1950s as a young writer and cartoonist who married his first girlfriend and whose only experience with magazines was a children's publication. He later came up with a product and a character – himself – that became inseparable. He created an image as a smooth and seductive guy, who puts a little jazz on the phonograph and mixes a good Martini. He sensed where the sexual revolution would go and knew how to offer a transgression perfectly calibrated for popular taste, a capitalist and patriarchal bit of mischief that was perfectly adjusted decade after decade to keep rhyming with the times. But when he best demonstrated his gift of timing was when the moment came to die: the Playboy editor passed away on September 27, 2017. Eight days later, on October 5, Jodi Kantor and Megan Twohey published a story in The New York Times about Harvey Weinstein that sparked the #MeToo movement. Hefner died with his bathrobe on and there wasn't even time to cancel him.
A documentary called Secrets of Playboy premiered in the United States last week on the cable network A&E, and it unveiled what everyone could already sense: that the Playboy brand was not an agent of women's liberation and that there were dirty secrets inside the famous Playboy Mansion. If a 2018 documentary series about Victoria's Secret brought down the lingerie giant, how could a franchise as ubiquitous, recognizable and potentially problematic as Playboy not deserve one too?
The series is directed by Alexandra Dean, who has previously made documentaries about the socialite and businesswoman Paris Hilton and about the 1940s actress Hedy Lamarr. At the time of writing, only two chapters of the Playboy documentary had come out. The first is based mainly on the testimony of Jennifer Saginor, whose description of her experience is far darker than the one she wrote about in her memoirs Playground: A Childhood Lost in the Playboy Mansion. Jennifer is the daughter of Mark Saginor, a physician who was known as Dr. Feelgood because of his tendency to prescribe drugs and who was a close friend of Hefner's. In the documentary, Jennifer Saginor explains about her strange childhood. She was six when she first visited the mansion and 11 when she moved in semi-permanently when her parents split up. She was the house pet. She would run from the playroom to the pool and to the bedrooms, spying on everything that went on inside. The Playboy bunnies were especially fond of her.
"Dorothy Stratten was my babysitter", she says, alluding to the Canadian model and actress who was murdered by her ex-boyfriend in 1980, shortly after being named Playmate of the Year. At age 15, Saginor explains in the series, she fell in love with one of the three or four "official" girlfriends that Hefner always had on his payroll, a women she calls Kendall although that is not her real name. Both women began a romantic relationship in which, Saginor now believes, she was projecting her own lack of motherly affection. Hefner was aware of all this, because he often boasted about the fact that the house was full of microphones and cameras that recorded everything that went on inside. One day, Hefner called her to his room and invited her to participate in a threesome with Kendall, even though she had always viewed Hefner like an uncle, like a father figure who taught her how to play pinball and to assess women's breast on the photographs that kept coming to the house. Even though men and women lived in completely separate rooms (until they came together), little Jennifer was allowed to sit at the men's table and participate in the selection process. They would look at pictures sent in from all over the world and decide which doctors would operate on this or that young woman to make her breasts larger – she herself underwent that operation at age 15 – and which surgeon would be best for a nose job.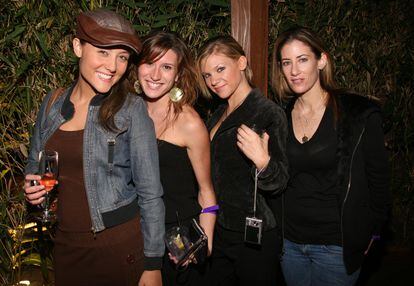 Despite the invitation to join them in bed, which did not happen because the other woman burst into tears, what made Saginor feel utterly betrayed was the fact that Hefner boycotted her interviews when her book came out, even though she had taken great care to not say anything bad about him.
In the docuseries, several former playmates describe Hefner as a "monster" and Playboy as "a sect." They list some of the scandals associated with the mansion that nevertheless did not affect Hefner's reputation, such as the death of Dorothy Stratten, the suicides and the overdose deaths of several young woman at the house, which barely received any press coverage. There was also the Bill Cosby case – the Playboy mansion was one of the places where the comedian began his activities as a sexual predator, drugging girls so he could rape them. There was also the suicide of Hefner's own assistant, Bobbie Arnstein, in 1984. If none of that brought down the Playboy brand, the documentary speculates, it was partly due to Hefner's close relationship with law enforcement and to the arsenal of tapes he kept with embarrassing material on every powerful figure who had ever set foot inside the mansion, and which he used for blackmail.
Sonda Theodore, who was Hefner's girlfriend in the 1970s, was 19 when the 50-year-old mogul selected her for Playboy. The relationship lasted five years, and during that time she took cocaine and Quaalude, a brand name for a sedative and hypnotic drug called methaqualone. She took it to be able to keep up with the pace of daily orgies with men and women that Hefner imposed on her. He enjoyed watching what she did with the guests that he brought over to her. One time, Theodore recalls, she caught him performing sex acts with her dog. It is not the only act of bestiality mentioned in the docuseries. A former playmate named PJ Masten said she watched Hefner force the actress Linda Lovelace to practice fellatio on a German shepherd. Masten herself said she was raped by Bill Cosby in 1979 in a Chicago hotel. In the docuseries, she explains in tears that she was left with blood running down her legs.
Besides highlighting these devastating testimonies, director Alexandra Dean also tries to analyze the Playboy empire in all its various incarnations. It is particularly revealing to observe Hefner's final period, well into the 2000s, when sales of adult magazines fell and the entrepreneur reoriented the franchise toward reality TV with a program called Girls Next Door, which offered a sweetened version of what was really going on inside the mansion. In it, he was shown with three young girlfriends; when all three left the program after five seasons, they were replaced with three others and Hefner ended up marrying one of them. Crystal Harris was 25 and he was 85.
Holly Madison, who played one of the original "girls next door," wrote a book in 2015 about her experience. She was one of Hefner's girlfriends from 2001 to 2008, and in the docuseries she offers a version of life inside the mansion that matches the nightmare scenario depicted by other women: constant abuse by Hefner, who took Viagra and continued to demand unprotected sex every day; the feeling of being trapped in a sect (all the girls had to be home before 9pm and were encouraged not to go out at all); the mandatory plastic surgery to look like the rest of the playmates. One time Madison decided to cut her hair short and Hefner screamed out that it made her look old and cheap. Before leaving the house entirely and seeking therapy, Madison entertained suicidal thoughts.
The truly remarkable thing is that the Playboy brand still exists, and it is desperately trying to distance itself from this past. Before the first two episodes of the docuseries aired, the company issued a statement that said it expected the film to contain "accusations of abhorrent actions" by Hefner and others. The statement went on to say that "we trust and validate women and their stories, and we strongly support the individuals who have come forward to share their experiences. As a brand with sex positivity at its core, we believe safety, security and accountability are paramount, and anything less is inexcusable."
The Playboy brand is now owned by the Mountain Crest conglomerate, which paid $381 million (€341 million) for the franchise. The magazine, the product that for decades gave meaning to the entire empire, no longer exists. The last issue was published in the spring of 2020, after 66 years in circulation with different versions of a risky combination: photos of naked women and powerful articles, some of which, during the magazine's golden days, were written by the most famous authors of their generation. These days Playboy is a product brand selling sex toys, clothes and video games that always feature the famous bunny.
Although the company statement seeks to reposition Playboy as pro-feminist and fighting to "redefine tired and sexist definitions of beauty," most of the photographs on its social media accounts continues to feature thin blonde women with enormous artificial breasts, just the way Hefner liked them. Playboy has a nearly impossible task ahead to split from its past. And there are still eight episodes left in the series.