Spain and UK in last-ditch talks to bring Gibraltar into Schengen Area
The move would improve transit of people and goods across the border, where long delays are expected if Britain crashes out of the EU without a deal when transition ends on January 1
Spain and the United Kingdom are racing to reach a deal to save residents of Gibraltar, as well as Spaniards who work in the British Overseas Territory, from having to cross a European Union external border twice a day when the Brexit transition period ends on January 1.
Parties are "negotiating fiercely," according to a source with ties to Gibraltar, which is located in the south of the Iberian peninsula, bordering the Spanish province of Cádiz. If talks are successful, Gibraltar would become part of the Schengen Area, an alliance of European countries that have abolished border controls. The British territory was not a part of this passport-free space even when the UK was still a member of the EU.
Such an agreement, which depends on the general Brexit deal, would represent a historic step forward for the 9,200 cross-border workers from Spain's economically depressed Campo de Gibraltar area, where livelihoods are heavily dependent on political decisions regarding sovereignty issues. Sovereignty over the territory and its waters has been a point of contention ever since "the Rock," as Gibraltar is popularly known, was ceded to Great Britain in 1713 during the War of Spanish Succession.
Eva María Norton, a 40-year-old native of Cádiz, has been crossing the border for the last 11 years to clean homes in Gibraltar. But she has grown weary of all the Brexit uncertainty of the last four years, and would rather take things a day at a time. These days, that often means waiting in line. "There was a queue going out yesterday, and come January I don't know what this is going to look like," she says. "I'm already looking for jobs in Spain, just in case."
Norton would be one of the people to benefit from what Spain's Foreign Minister Arancha González Laya has defined as an "area of shared prosperity," a term that she last used on Thursday in an interview on CNN. Neither González Laya nor her team have officially explained how this concept would be implemented in an area with an uneven economic relationship: 18.5% of Campo de Gibraltar's gross domestic product (GDP) depends on the British territory, according to a study by the Real Instituto Elcano think tank. The option sought for weeks by negotiating teams is one in which Gibraltar would enjoy free cross-border movement under Schengen despite not being part of the EU.
This is the scenario that Gibraltar's Chief Minister Fabian Picardo discussed on Friday in an interview on the Cadena SER radio network, and which he first proposed publicly in 2016, shortly after a Brexit referendum that paved the way for an exit from the EU that 96% of Gibraltarians disagreed with.
A few weeks ago, the Spanish Foreign Ministry revisited this idea, which in practice would mean that the EU's external borders would be established at Gibraltar's airport or seaport, but not its land border with Spain. But a red line was touched when it was proposed that Spanish customs officials could take on that task.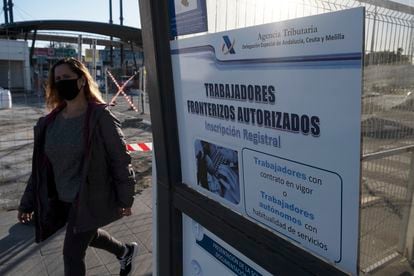 In recent days, negotiating teams have come up with an undisclosed Plan B that Gibraltar appears to favor. Picardo on Friday said that they were close to a historic agreement; the Spanish Foreign Ministry and the UK Embassy in Spain both declined to comment.
The agreement between Spain and the UK is independent, although it is tied to the general deal on post-Brexit relations. If Brussels and London were to manage a deal before January 1, it "would make things easier" for the Gibraltar pact, said Gibraltarian sources familiar with the talks. A key element in unblocking the Gibraltar talks was González Laya's willingness to leave aside the disagreement on sovereignty over the territory. "This is not going to change," said the minister in an interview with Sky News on Sunday.
John Isola, director of a food service operator and distributor named Anglo Hispano, which employs 300 people, was glad to hear González Laya's statement. "The main thing is for common sense to prevail, it would be a pity otherwise," he said, asking for border fluidity for everyone, not just cross-border workers.
For now, Gibraltar has created a registry to guarantee that the 15,000 European cross-border workers in the area – of whom 9,300 are Spanish – will be able to cross the border with just their DNI identity card. This in itself would not cover other border crossers, nor would it guarantee fluidity, as both Gibraltar and Spain would have to check documents more strictly than they do now.
If EU-UK talks fail, Gibraltarians with a holiday home in Spain, tourists, house cleaners working in the informal economy and self-employed people like Eva Norton who work in Gibraltar could be facing long delays and "wet-stamping" of passports at the border. Goods would also be subject to stricter controls, with hard-to-predict economic and labor consequences.
A few days ago, the Spanish Interior Ministry undertook renovation work worth over €5 million to upgrade the facilities of the National Police and Civil Guard. "It's a fact that no matter what happens, the crossing needs to be improved," said Gema Araujo, a Spanish lawmaker for the Socialist Party (PSOE) in Congress and former mayor of La Línea, a Spanish city near Gibraltar.
The 30,000 daily users (15 million a year, according to Picardo's estimates) are too many for a single border crossing to control extensively. The chaos that will likely ensue on January 1 could be avoided through a deal, but also through the mere desire to reach a deal: while talks are ongoing, it is possible to avoid implementing measures that might hinder a solution.
John A. Gaggero, chairman of the marine and tourism services business group MH Bland, is another Gibraltarian who is closely watching negotiations unfold. His businesses have been harmed by the coronavirus pandemic, and he figures that once outside the EU, only goodwill can avert disaster. "There is a vaccine against Covid, but not against Brexit," he said, remaining hopeful that authorities appear willing to "protect the rights of citizens and maintain border fluidity."
Prepared for the worst
For months, the government of Gibraltar has been publishing a series of Technical Notices informing citizens and cross-border workers about the practical effects of Brexit. If, on January 1, Gibraltarians become third-country nationals to the EU, there will be changes to aspects of daily life such as pet documentation, international driver's licenses and a ban on bringing certain food products into Spain. The Gibraltarian government has so far released 21 Technical Notices.
English version by Susana Urra.