Mother of missing Spanish children: "I want to disappear too, I've no more strength"
The maritime search continues in Tenerife, but Beatriz Zimmermann is despairing after three weeks without news of Anna and Olivia, who were taken by their father
Las Palmas de Gran Canaria -
Spanish police are still searching for Anna and Olivia, two little girls who went missing with their father on the night of April 27 in Tenerife, in the Canary Islands off West Africa. In phone conversations exchanged that evening, Tomás Gimeno told his ex-partner that she would never see the children again.
Civil Guard units are searching the sea in the area where Gimeno's boat was found shortly after their disappearance. The vessel contained traces of his blood.
On Wednesday, the boat was taken to dry land for a new inspection, said Civil Guard sources. The father's car, a white Audi A3, will also undergo a new search for any traces of biological matter that might shed light on the case. Two trained dogs were used on Tuesday during the fifth search of the family home.
Investigators are now focusing their efforts mainly on the maritime search. The Civil Guard and the Spanish Oceanographic Institute are considering the best methods to comb the seabed southeast of Tenerife, the largest of the Canary Islands. Their options include using sonar and an underwater robot.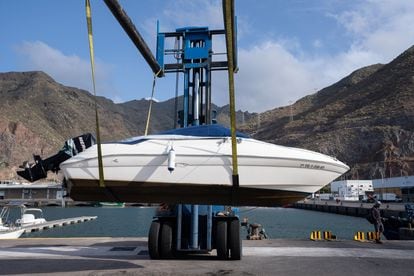 The children's mother, Beatriz Zimmermann, on Wednesday shared an open letter expressing her despair after more than three weeks without news of one-year-old Anna and six-year-old Olivia. "I almost can't find the words anymore. I want to disappear too, I've no more strength, this is torture," she wrote. "What hurts the most is thinking that I can't know how they are doing, not being able to talk [to them], not knowing when I'm going to see them again."
Zimmerman also expressed a firm desire to keep searching. "We can't give up, the girls need me and I need them," she wrote, urging people to keep sharing pictures of her children all over the world. "I know you all have your own lives, your own problems, and that hearing sad things will make you sadder...but can you imagine if we find them thanks to all our efforts? All together we can do it, if we act like one big family."
This is the second public letter released by Zimmermann. The first one, published on May 2, was more optimistic and asked people to "send a lot of light and love to the girls, who I'm sure are fine. "
But there have been no news of either one since their father took them away on April 27 for what was meant to be a short visit, as the couple were separated and had come to an informal agreement on visitation rights.
According to the Civil Guard report filed by Zimmerman, at 9pm she went to Gimeno's house to take the girls home, but nobody opened the door. When she phoned her ex, he said that he'd gone out to dinner with the kids and that he'd drive them home later.
Shortly before 10pm, the mother phoned Gimeno again. This time, he told her that she would never see either him or the children again, but not to worry because he would take good care of them.
Later that night, security cameras captured images of Gimeno loading bags on his boat, which was berthed at the local marina. He sailed away at 12.30am, and the empty vessel was found the next day off the east coast of the island. Traces of the father's blood were located on board. On Thursday, a child safety car seat was found floating in the sea, and the Civil Guard has confirmed that it belonged to Anna, the youngest.
English version by Susana Urra.
More information