CORONAVIRUS
Spain extends restrictions on travel from UK, Brazil and South Africa until March 30
The Spanish Cabinet says the measure is aimed at containing the spread of new coronavirus variants first detected in those countries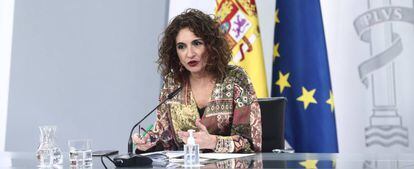 Spain has extended travel restrictions from the United Kingdom, Brazil and South Africa until 6pm on March 30.
The Cabinet on Tuesday agreed to keep the measures in place on air and sea arrivals from Britain, as well as on flights from Brazil and South Africa, due to concerns about coronavirus strains first detected in those countries.
At a press conference after the Cabinet meeting, government spokesperson María Jesús Montero said that the only goal of this measure is to extend the restrictions for two more weeks in a bid to contain transmission of the new variants.
Restrictions on passenger travel from the UK by air and sea have been in place since December 22, following alarm over the B.1.1.7 strain of the coronavirus that was first detected in the English county of Kent. Spain introduced further restrictions on travel from Brazil and South Africa on February 2 after more infectious variants of the virus were also identified in those countries. The measures were due to end on March 16.
Under the rules, the only flights from these countries allowed into Spanish territory are those "transporting exclusively Spanish citizens and residents of Spain, as well as nationals and residents of Andorra, and passengers in international transit to a non-Schengen country with a stopover of under 24 hours and who may not leave the Spanish airport's transit area."