Cold snap awaits for Madrid after the chaos caused by Storm Filomena
Four people were killed by the arrival of the weather event in Spain, with 20 provinces still on alerts due to more snowfall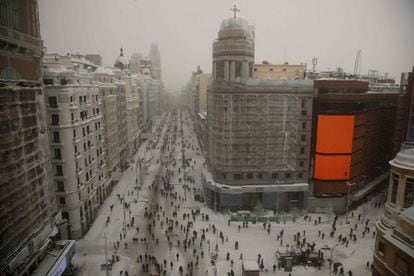 After the worst snowfall seen in half a century in Madrid, due to Storm Filomena, the thermometers will start to fall on Sunday, with Siberian temperatures forecast from Monday onward. An unusual and very harsh cold snap is on its way, and will affect a city that has already been left paralyzed and in a chaotic situation. It will take some time for the Spanish capital to get back to normal.
The conditions left four people dead across Spain, with a couple swept away by a river in Mijas, Málaga, and the body of a 54-year-old man found under the snow in Zarzalejo, Madrid. A homeless person died from the conditions in Calatayud (Zaragoza).
The weather event left Madrid's streets strewn with trees that had snapped under the weight of the snow, and practically all of the city's streets blocked by snow that will turn into ice barring a massive operation to lay down salt. Madrid's hospitals were left practically cut off and the emergency services were unable to move around. This situation is likely to continue as the cold snap takes hold, with the lowest temperatures ever seen in the capital expected to arrive. For now, neither the regional nor municipal authorities have come up with a coordinated plan of action, apart from leaving on the heating in schools ahead of the return of students, which has been delayed from Monday to Wednesday for now. The resources used to combat the snow, which had been expected, were improvised by the region and city councils, with snow plows and fire crews recruited at the last minute.
While the snowfall came to end in Madrid on Saturday, after practically 30 uninterrupted hours, a complicated day will be seen in much of Spain on Sunday, with more snow forecast. Storm Filomena has caused this situation thanks to a mass of cold air that has been over the peninsula for weeks now, and is due to leave more snowfall over the east and north of the country before moving off toward the Mediterranean.
Aragón and the southern inland area of Catalonia will see snow this morning, as well as Navarre, La Rioja, parts of the Basque Country and Cantabria, where as many as 10 centimeters could fall. "In the south of Catalonia, inland Castellón, Bajo Aragón de Teruel and the Ebro in Zaragoza there could be more than 20 centimeters in 24 hours," explained Rubén del Campo, spokesperson for Spain's AEMET state weather agency.
Showers are also expected in the south of the peninsula, with snow likely in the south of Badajoz and the north of Huelva at altitudes of just 300 or 500 meters. Teruel, Zaragoza, Tarragona and Castellón will be on red weather alerts today, the highest of the scale. Another six provinces – Basque Country, Navarre, Burgos and Cantabria – will be on orange alert, the second of a scale of three, with 30 centimeters or more of snow forecast. Ten more will be on yellow alert, the lowest, for snow of up to 12 centimeters: Palencia, Asturias, Lleida, Huelva, Sevilla, Huesca, Barcelona, Girona, Badajoz and La Rioja.
The incoming cold snap could see temperatures as low as -10ºC in Madrid, "something that's really never been seen before and that only happened on one occasion in the last 100 years," explains Del Campo. "On January 16, 1945, it fell to -10, -11ºC." The high in Madrid on Monday could be as low as 0ºC.
Storm Filomena totally paralyzed Madrid on Friday and Saturday. Adolfo Suárez-Barajas Airport was closed, meaning no flights in or out, and trains were unable to leave or enter the capital. Barajas is not due to reopen until at least Sunday evening, and all flights have been cancelled for now. There were 44 diversions to other airports from Madrid. The Cercanías local train service will be interrupted until at least midday on Sunday, and will not be complete when it gets going once more. The Metro has been the only safe method of transport for the five million inhabitants in the city and its metropolitan area.
During the chaos on Saturday, the emergency services had to attend to seven births in the region, one of them in a vehicle. The Municipal Police in Madrid had to intervene in the iconic Gran Vía boulevard and Callao square to stop mass snowball fights that had been going on all day. There were also scenes of hundreds citizens dancing and celebrating together in the Puerta del Sol square in the snow, despite requests from the authorities for people to stay at home.
The situation is so serious in Madrid that the regional premier, Isabel Díaz Ayuso of the conservative Popular Party (PP), called on citizens to help remove the snow before it turned into ice. "All of the administrations have been overwhelmed because it is true that the forecasts said we would have certain levels of snow but in the end the result was triple, but we are still working right now," said Ayuso last night in an interview on the Antena 3 TV network. "We've never seen snow like this in the history of Madrid," added the capital's mayor, José Luis Martínez-Almeida, also of the PP.
The snow that fell in Madrid is not, however, a first. But it is true that it has not been seen since 1971, as meteorologists have been warning. Nor were the forecasts tripled. Around 44 liters of precipitation per square meter fell in Madrid during the episode, and "40 or 50 were expected," AEMET explained. After nearly 30 hours of snowfall, the city was left with "a layer of snow of 25 to 30 centimeters, with even more in neighborhoods on the outskirts of the east and south, where it as 35 to 50."
The red alert had never been activated for the central zone, and the forecast was for more than 20 centimeters plus the five from the day before. Calculating how much precipitation will become snow is impossible, because any variation in the temperature alters the forecast.
As many as 1,500 people had to be rescued from their cars in Madrid alone and 682 freeways and roads were affected by the weather late Saturday, with 133 of them closed. Chains are required for travel on all of Madrid's freeways, as well as the main roads in Huesca, Cuenca, Guadalajara, Toledo, Burgos, Segovia, Soria and Cantabria.
The central government is preparing guided convoys to evacuate the trucks that have taken refuge in winter parking lots to ensure that there are no supply problems. In Guadalajara alone there are 900 trucks waiting to be able to move, with 100 in Segovia and 157 in Arévalo (Ávila). The roughly 20,000 trucks that cross Catalonia every day are waiting for the regional government to give them permission to move and in the three Valencian provinces there are 600 trucks parked and waiting.
English version by Simon Hunter.