Dakhla: the departure point for migrants to Spain's Canary Islands
EL PAÍS travels to this coastal town in Western Sahara where groups of people await their chance to make the journey, despite surveillance by Morocco
A new clandestine immigration route is operating out of Dakhla, a coastal city in the disputed territory of Western Sahara under Moroccan administration. Despite significant police surveillance in the area, growing numbers of migrant boats are departing from Dakhla on their way to Spain's Canary Islands, which have seen a surge in arrivals this year.
Last year the Spanish archipelago witnessed 2,698 sea arrivals from Africa. This year that figure has reached 18,300 undocumented migrants, half of whom are Moroccans. Many depart from Dakhla, which is located 400 kilometers from the Mauritanian border, and 400 kilometers in a straight line by sea to the port of Arguineguín, on the island of Gran Canaria.
Arguineguín is at the heart of a growing humanitarian and political crisis for the Spanish government. The surge in boat landings in the Canaries, especially in the port of Arguineguín, where more than 2,000 people were living in precarious conditions at one point, has evidenced authorities' inability to provide adequate assistance. Many migrants have been relocated in facilities provided by the military and in empty hotels, even as the central government refuses to transfer them to the mainland to prevent a pull effect.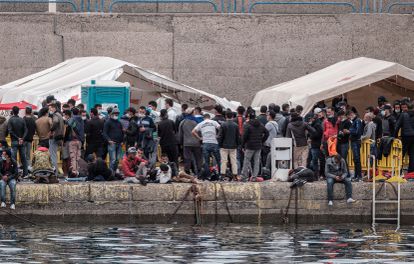 Western Sahara, a former Spanish colony where Moroccan sovereignty is disputed by the Polisario Front, represents a priority zone for Rabat. There is a constant presence there of police, gendarmes and military personnel in uniform, besides numerous secret agents and informers. This begs the question of why nothing is done to stem the flow of illegal migration from its coast.
"It is obvious that they don't want to," says a local resident speaking on condition of anonymity. "Sometimes they'll arrest someone just to show Spain and Brussels that the millions of euros in subsidies they're sending to stem migration are good for something."
Visitors to Dakhla who arrive by plane get tested for coronavirus upon arrival, and are forced to provide contact information to the authorities. Those crossing the land border go through police checks. Dakhla is a narrow strip of land jutting out into the sea with only one access point and no more than four kilometers across at its widest point. This should make it especially easy to control comings and goings. There are two Royal Gendarmerie posts and one police post.
Groups of young people can be seen along Dakhla's seafront promenade at all times, some of them with backpacks. On Saturday, five men in their twenties said that they had come from Beni Melal, a city in the central area of Morocco, and that they were planning on making the journey to the Canaries sometime soon. They said there would be around 30 migrants in the boat.
According to this group, there are many others like them in Dakhla, most of them from the towns of Beni Melal, El Kelaa des Sraghna and Fquih Ben Salah, all of which have been hit by the double crisis of the Covid-19 pandemic and a drought. Asked for an estimate of how many Moroccans might be in Dakhla waiting for their turn to take a boat to the Canaries, they said around a thousand.
Unlike other parts of Morocco, in Dakhla it is easier to find work, either in the fishing industry, refrigerated fish products or in tomato greenhouses. Some migrants work here to earn money and wait for their chance to undertake the journey. Besides Moroccan citizens, many people from sub-Saharan countries including Côte d'Ivoire, Guinea-Conakry and Senegal are also here, waiting for their chance.
"Some of them arrive here and leave for the Canaries the very next day," notes a local resident. "Some of these migrants arrived through the Casablanca airport, then came down to Dakhla. Others came in through Algeria, crossing the border at the Moroccan city of Uchda. But none of them come from Mauritania through Guerguerat [a village near the Moroccan-Mauritanian border]. That one's well under control. I do know one person who tried to get through, but he was shot in the leg.
"When a boat gets caught out at sea, the pilot, whom people here call the raïs [a title used for some leaders in Arabic], tosses the satellite navigation system overboard and mingles with the rest of the passengers, because he knows that pilots end up in prison," adds the same source. "If the others do not tell on him, they all get taken somewhere and pressured until someone ends up telling."
Agreement with Senegal
By José Naranjo


Spain's Foreign Minister, Arancha González Laya, visited Senegal this past weekend to meet with President Macky Sall and discuss the repatriation of Senegalese nationals arriving illegally in the Canary Islands.


The minister said that teams from both countries are working to reactivate repatriation flights that were already underway but were halted due to the coronavirus crisis. "Both governments agree that there will be no routes for criminal activities," said González-Laya. "President Sall has conveyed his desire to cooperate with the repatriations."
English version by Susana Urra.
More information