Switzerland introduces 10-day quarantine for travelers from Spain
The Canary Islands announce free insurance coverage for visitors who test positive for Covid-19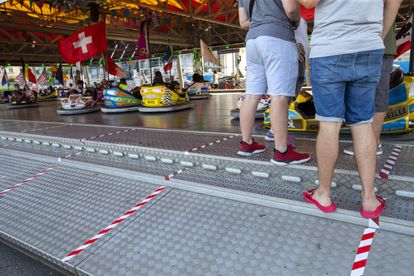 Madrid / Las Palmas de Gran Canaria -
Swiss health authorities on Wednesday said they will impose a 10-day quarantine on travelers from Spain, except those coming from the Canary and Balearic islands. The measure will go into effect this coming Saturday, and health authorities warned that self-isolation will be mandatory even with a negative Covid-19 test.
The Valencia region, Catalonia and Andalusia stand to lose the most from the decision. Switzerland ranks 11th on the list of source countries for tourists visiting Spain. Last year, 1.82 million Swiss citizens – out of a nation of 8.5 million people – went on vacation to Spain.
While statistics show that most Swiss visitors go to the Canary and Balearic islands, which are excluded from the quarantine rule, in August of last year there were 40,138 Swiss visitors in the Valencia region, 27,070 in Catalonia and 25,225 in Andalusia.
Switzerland joins a growing list of countries that have placed travel restrictions on visitors from Spain, and which includes Norway and the United Kingdom.
Health authorities in Hungary on Wednesday removed Spain from a list of countries considered safe destinations. The decision means that from Friday, August 7, travelers from Spain who arrive in Hungary will have to either quarantine for 14 days or show two negative coronavirus tests 48 hours apart taken within the previous five days.
The French government on Thursday recommended against travel to the Spanish region of Aragón, which has seen a sharp spike in Covid-19 cases. Aragón is the second Spanish region to receive a travel warning – on July 24, French authorities also advised against non-essential trips to Catalonia.
Also on Thursday, German authorities announced that as of Saturday it will be mandatory for travelers from Spanish regions of Aragón, Catalonia and Navarre to take a coronavirus test upon entering the country.
And in the Czech Republic, Spanish workers arriving from Spain will have to self-isolate for two weeks or test negative for Covid-19. This requirement will not be imposed on tourists from Spain.
Coverage in the Canaries
In a bid to attract much-needed tourism, the regional government of the Canary Islands has announced that it will cover all coronavirus-related costs of visitors to the archipelago who contract the disease, regardless of whether they are Spaniards or citizens of other countries.
Under the terms of the insurance deal struck by regional authorities with AXA España for €450,000, any tourist who tests positive for Covid-19 during their stay in the Canaries will be eligible for free medical treatment, travel assistance, repatriation and additional accommodation due to mandatory quarantine measures.
Only visitors with no prior knowledge that they were Covid-19 positive will be eligible, and the policy will only be activated if the tourist does not have any personal insurance to cover the costs.
The regional tourism chief, Yaiza Castilla, said in a media release that the Canaries are the first Spanish region to offer this type of coverage.
In the Balearic Islands, regional premier Francina Armengol underscored that 70% of all diagnosed cases in the archipelago are asymptomatic, and she asked people "not to let their guard down."
Spain's tourism industry continues to feel the impact of the coronavirus crisis. According to figures published Monday by the National Statistics Institute (INE), just 204,926 international visitors arrived in Spain in June, a drop of 97.7% from the same month in 2019.
New cases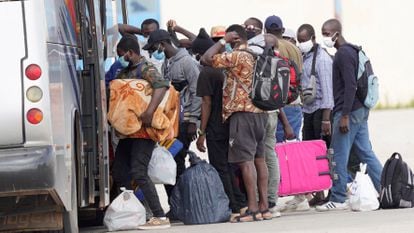 The Health Ministry on Wednesday reported 1.772 new daily cases and one fatality. The region of Aragón recorded 614 infections, Madrid reported 539 and Catalonia 146. On Tuesday, the Spanish Health Ministry had reported 1,178 Covid-19 cases in the previous 24 hours.
In Albacete, local police have cut off a road leading to the city's trade fair center after several seasonal workers who were being housed there fled the premises on Wednesday morning. The center is being used to quarantine around 230 immigrants after a coronavirus outbreak was detected at a makeshift camp in the city outskirts 15 days ago.
The Catalan regional government has shut down a business in Lleida province after a work inspection found that 19 people with Covid-19 were still working there even though it was known they had tested positive for the disease. Coronavirus outbreaks among seasonal fruit pickers has underscored the plight of migrant workers in Spain.
Back to school
The Education Ministry has created a committee to evaluate the impact of Covid-19 on non-university studies and adopt the necessary measures ahead of the new academic year. Andalusian education officials said on Wednesday that schools across the region will offer in-person classes and that the regional government will conduct 143,000 tests on teachers, as well as hand out three million face masks a month.
The issue of whether and how to reopen schools in the fall has proven a divisive issue in a country where powers over education are devolved to the regions. In Madrid, the regional government recently issued instructions for reopening that school principals are describing as "impossible to observe."
English version by Susana Urra.