Spain releases more funds to fight Covid-19 as cases keep mounting
Barcelona reports three times as many infections from one week to the next, while other regions make face masks mandatory and consider introducing stricter rules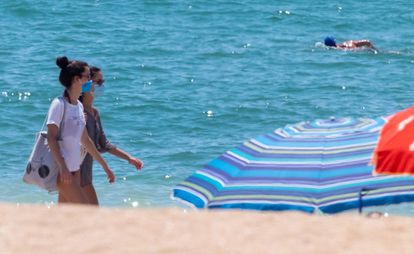 As coronavirus cases continued to mount in Spain, the lower house of parliament on Wednesday approved a €16 billion aid package to help regions cover the health, social and educational expenses of the pandemic.
Economy Minister Nadia Calviño said in Congress that the funds allocated to fight the social and economic crisis triggered by the Covid-19 crisis now total 5% of Spain's gross domestic product (GDP).
Central and regional authorities have also agreed to take steps to protect fruit pickers in Spain, after several coronavirus outbreaks were detected among groups of seasonal workers in Aragón and elsewhere. The cases have underscored the plight of laborers who often live and work in precarious conditions. Health Minister Salvador Illa and Agriculture Minister Luis Planas on Wednesday met with representatives from 11 regional governments to address their situation.
Spanish health authorities on Wednesday reported four deaths from Covid-19 and 390 confirmed cases in the last 24 hours, the worst figures since the end of confinement on June 21. The total official death toll since the beginning of the pandemic is now 28,413.
Surge in Catalonia
After forcing several Catalan municipalities back into partial confinement, the coronavirus is now knocking on the doors of Barcelona.
Mayor Ada Colau was scheduled to meet with regional authorities on Wednesday to discuss the situation in the Catalan capital, where the number of detected cases has tripled in a week. Colau is not ruling out restrictive measures similar to the ones recently reintroduced in parts of the nearby city of L'Hospitalet, where theaters, cinemas and gyms have been closed and capacity reduced at bars.
"We are not talking about total confinement like we had earlier, but I do think that some broader measures must be taken in order to go on with our lives and not have everything stop. Perhaps take a step back and reduce a few activities," said the mayor in a radio interview on SER station, noting that L'Hospitalet and Barcelona are "totally interconnected municipalities."
There were 164 coronavirus cases reported between June 29 and July 5 in Barcelona. Between July 6 and 12, that figure shot up to 496. The accumulated incidence is 959 cases for every 100,000 inhabitants. The Catalan health chief, Alba Vergés, said on Tuesday that there has been a slight rise in Covid-19 admissions to hospitals and other medical centers in Barcelona, where staff are on alert against a potential surge. Catalonia's largest hospital, Vall d'Hebron in Barcelona, has admitted five more cases than a week ago and hospital officials have a contingency plan ready.
Mayor Colau has been critical of the Catalan government for the shortage of contact tracing resources. Lack of foresight and underfunded tracking systems are being blamed for the quick transmission of the coronavirus in places like Segrià, an area of Lleida province that is currently experiencing around 50 coronavirus outbreaks.
Regional authorities have introduced restrictions on mobility in Segriá and L'Hospitalet following a legal wrangle with a judge who said they lacked the authority to curtail fundamental freedoms. On Wednesday, the courts greenlighted most of the restrictions.
Face masks
The Basque Country is joining a growing list of regions to make face masks mandatory in public at all times, regardless of whether a distance of 1.5 meters between people can be observed.
"We cannot let the virus gain ground on us," said Nekane Murga, the Basque health chief, who noted that people are becoming complacent about safety measures and that stricter rules will be introduced if "insalubrious" attitudes persist, particularly outside bars, where there have been cases of botellones, or binge drinking in public spaces by large groups of people. Starting on Thursday, face masks will be compulsory in public spaces across the Basque territory, even during walks on the beach or bicycle rides.
In the southern region of Andalusia, where face masks have also become mandatory, authorities reported 14 active outbreaks on Wednesday.
"It was necessary to make it [face masks] mandatory, otherwise people were not wearing it," said Miguel Moreno, a resident of the Málaga neighborhood of El Palo, who spent a couple of hours on the beach with his wife Marta on Wednesday. "We have seen a lot of people walking in with their masks on, but later they take it off."
Cantabria, Murcia, Aragón, La Rioja, Navarre, Asturias, Extremadura, Catalonia and the Balearic Islands have also made face coverings compulsory in public spaces.
Crackdown on Magaluf
Authorities in the Balearic Islands have shut down food, drink and entertainment venues on two popular streets of Magaluf, a town in Mallorca that has long been a magnet for young tourists drawn by the cheap alcohol.
The regional tourism chief, Iago Negueruela, warned that more establishments will be closed if there are new instances of groups of drunken people on the streets without face masks and failing to observe social distancing, as seen in recent days.
"We don't want uncivilized tourists on our islands; they shouldn't come," said Negueruela. "Such mayhem will not be allowed. We will act forcefully."
("Magaluf. Mallorca. We're doing something wrong when we let tourists behave like this without a face mask in the middle of a pandemic.")
English version by Susana Urra.