Switzerland investigates €3.5m transfer from account held by Spain's emeritus king to The Bahamas
Prosecutors continue to probe allegations of money laundering involving a foundation linked to Juan Carlos I, who abdicated the throne in 2014
A Swiss prosecutor is investigating a €3.5-million transfer from a bank account held by Spain's emeritus king Juan Carlos I to another account in The Bahamas, as part of a wider ongoing probe into alleged financial irregularities involving the father of Spain's reigning monarch Felipe VI.
Swiss prosecutors are not investigating the former king for now, although they have not ruled out doing so in future. Instead, they are focusing on three individuals with ties to Juan Carlos I, who abdicated the throne in 2014 in favor of his son Felipe. King Felipe VI recently announced he is relinquishing any inheritance from his father, after news emerged that he himself was a beneficiary of two foundations named in the Swiss investigation.
The €3.5 million under investigation was sent from an account at the Swiss bank Mirabaud that was opened in the name of Lucum Foundation, a Panama-based entity whose first beneficiary was Juan Carlos I.
The money ended up in The Bahamas, a tax haven, in an account held by Dante Canónica, a lawyer who was also an administrator of Lucum Foundation, along with the fund manager Arturo Fasana.
The Geneva public prosecutor's office is investigating Canónica, Fasana and a businesswoman named Corinna Larsen on suspicion of money laundering in connection with large money transfers, including a $100 million (€88 million) deposit made by the Saudi royal house in Lucum Foundation's Mirabaud account in 2008.
Swiss prosecutors have been investigating this account, which was closed in 2012, over alleged kickback payments for the contract to build the AVE high-speed rail link to Mecca, which was awarded to a Spanish consortium, as EL PAÍS revealed.
In 2012, right before the account was closed, the remainder – around $65 million (€57 million) – was transferred to Corinna Larsen, a German businesswoman described as a former close friend of Juan Carlos. Larsen has told investigators that the money was a donation from the former Spanish monarch. Robin Rathmell, Larsen's lawyer, has said that the money from Juan Carlos I was "an unsolicited gift" and denies any commission payments for the Mecca project. The commission theory has been criticized on the basis that winning companies would be the ones expected to pay kickbacks, not the countries awarding the contracts.
Documents seen by EL PAÍS show that Swiss prosecutor Yves Bertossa has already followed the trail of the nearly $65 million that Juan Carlos I transferred in June 2012 to Larsen's account at a Bahamas bank named Gonet & Cie. Part of this money, $39 million (€34 million), later ended up in another account held by Larsen at New York's FieldPoint Private Bank, while another $11 million (€9.7 million) was sent to her account at a British bank.
But investigators are still trying to determine why, before the Mirabaud account was closed in 2012, a $3.5 million (€3.1 million) transfer was made to an account at The Bahamas-based bank Pictet & Cie. The account was in the name of a society called Dolphin, controlled by the lawyer Dante Canónica, who also handled the Lucum Foundation for the former Spanish king.
Asked about it, Larsen said she knew nothing about this particular transaction. "I have not been informed about that," she told prosecutors in a statement given on December 19, 2018, to which EL PAÍS has had exclusive access.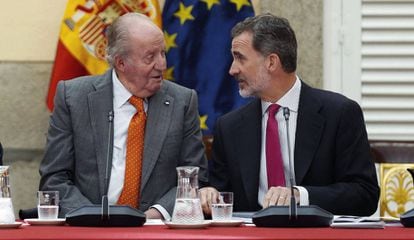 Both Canónica and Fasana received their fees for handling the Lucum Foundation from the Mirabaud account. The former was in charge or managing the entity, while the latter handled its assets. Between 2008 and 2012, both men received work-related fees that are not under investigation. Nor are other expenses financed through this account, such as trips, gifts and purchases made by Juan Carlos I.
Instead, Swiss prosecutors are focusing on multi-million payments made from the former king's account to Larsen. One of these payments, worth £1.5 million (€1.67 million), was used by Larsen to help fund the purchase of a luxury home in London's Eaton Square worth £5 million (€5.4 million). Investigators are also probing another real estate purchase by a Larsen-held company in the north of London.
Juan Carlos I also helped Larsen buy and refurbish two apartments at the exclusive Swiss ski resort of Villars-sur-Ollon. The former monarch put up €1.9 million, half the required amount, in what Larsen has described as "loans" that were repaid.
But the prosecutor is especially interested in a $5 million (€4.4 million) transfer made to Larsen's own account at Mirabaud a few weeks after Juan Carlos I visited Kuwait. Larsen said the payment was a fee for her consulting services and that she justified it with a contract, but bank managers said the document in question was more like a letter than a legal contract.
PROBE IN SPAIN
The former monarch's financial dealings have come under the spotlight in Spain as well. The Supreme Court's public prosecutors last month announced that they are investigating whether there is enough evidence to start proceedings for money laundering and tax crimes against Juan Carlos I over his alleged ties to suspected kickbacks for the contract to build the AVE high-speed rail link to Mecca, a project whose second construction phase was awarded to a consortium of Spanish companies in 2011. But investigators can only focus on his activities starting in 2014, when he abdicated the throne and lost his legal immunity to prosecution.
English version by Susana Urra.