Spain's regions ramp up vaccination drive as coronavirus cases continue to rise
Measures are being implemented to target people who did not get vaccinated when it was their turn, amid warnings that up to 90% of the population will need to be immunized to reach group immunity
Spain's Covid-19 vaccination drive is progressing at a good speed. With more than half the population fully vaccinated, the country has one of the highest coverage rates in the European Union and is on track to meet its goal of immunizing 70% of the population by mid-August.
But the spread of new, more contagious variants of the coronavirus, such as the delta strain, means that this figure will need to be "more than 80% or even close to 90% to reach group immunity," according to Quique Bassat, an epidemiologist and researcher at ISGlobal Institute of Barcelona.
In an effort to increase coverage, Spain's regions – which are in charge of the vaccination drive and controlling the pandemic in their territories – are launching a range of initiatives to ensure that no one misses out on their shot. These measures include mobile units that deliver the single-shot dose of the Janssen vaccine, vaccination days where no appointment is needed, phone calls and messages to those who have not yet been vaccinated and other actions aimed at specific collectives. "Anything you can imagine, all action is good if it means that more people are getting vaccinated," explained José Miguel Cisneros, the head of infectious diseases at Virgen del Rocío Hospital in Seville. "Every shot could save a life and put up a barrier that stops the spread of the virus."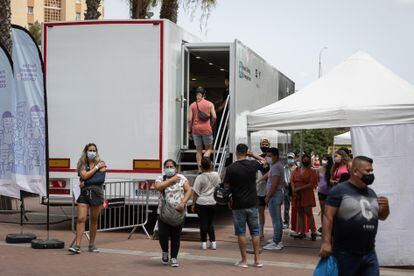 According to the latest figures from the Spanish Health Ministry, released Friday evening, the 14-day cumulative number of cases per 100,000 inhabitants now stands at 677. This data point has been rising since the fifth wave began at the end of June, coinciding with eased restrictions, increased travel and end-of-term student vacations. But the speed of the transmission of the virus in Spain – the R number, which measures on average how many people a person with the coronavirus infects – is falling. Hospitals, however, remain under pressure. According to Friday's report, 7,955 people are in hospital with Covid-19, a figure that has been rising by around 5% every day. In Catalonia, all non-essential healthcare services have been postponed to mitigate the risk of hospitals becoming overwhelmed by a potential surge in Covid-19 patients, reports Josep Catà Figuls.
With cases continuing to rise, Spain's regions are taking action targeting people who did not get vaccinated when it was their turn. Health authorities in Andalusia set up vaccination sites in Órgiva, Motril and Almuñécar on Friday for people in their thirties who for one reason or another had not been immunized. On the day Jessica Martín was scheduled to get her shot, she gave birth to her daughter Ángela. "I have taken a while to get organized, but today I had someone who I could leave the baby with and here I am," she said before getting her first dose in the sports center Río Chico on Friday.
Enrique, a 36-year-old from Torviscón, a mountain village in Granada's Alpujarra region, said he "thought about not coming" because he never got contacted by health authorities for an appointment, but changed his mind. "But there will be lots of people in mountain towns who don't come because if you don't have social media, you don't find out about these extraordinary sessions."
Every shot could save a life and put up a barrier that stops the spread of the virus

José Miguel Cisneros, head of infectious diseases at Virgen del Rocío Hospital in Seville
Extremadura has also organized vaccination days where older age groups can get their shots without an appointment. In Catalonia, trucks have been turned into mobile vaccination points and are traveling to areas where the rollout is slowing. For now, the initiative is aimed at the over-40s, who will receive the Janssen vaccine that only requires one shot.
Other regions, such as Madrid, Galicia and Castilla-La Mancha, are focusing on contacting people who have not been vaccinated when it was their turn. "Every week, we are proactively calling members of vaccinated age groups who have not done it yet," said a spokesperson from the government of Castilla-La Mancha.
Valencia has launched Operation Catch-up to schedule appointments for anyone who did not get vaccinated when the drive was opened to their age group. The goal is to immunize people between the ages of 40 and 59, who will receive the Janssen vaccine, and the unvaccinated in the 60-69 age bracket, who will be given the Oxford-AstraZeneca medication. A total of 125,000 people fall in these categories.
The regional government of La Rioja is also calling up people who have not yet been vaccinated and will offer the Janssen vaccine to citizens in the 60-65 age group who refused to get the AstraZeneca shot.
Navarre is also trying to locate residents who have missed their shots, but said: "Rejection of the vaccination has been low, with only 2.78% of the population" refusing to be immunized.
Murcia is calling the over-40s who have not been vaccinated and is organizing "open door" vaccination days for those "who have difficulty accessing the healthcare system, such as the homeless or people in irregular [immigration] situation." Aragón has also launched an initiative aimed at vaccinating fruit pickers, who do not always have a fixed address.
The Basque Country, Asturias, Cantabria, Castilla y León and the Balearic Islands have not launched any new initiatives apart from the general communication campaigns and calls to inform the public of the importance of being fully vaccinated.
With reporting by Javier Martín Arroyo, Bernat Coll, Guillermo Vega, María Fabra, Silvia R. Pontevedra, Juan Navarro, Mikel Ormazabal and Lucía Bohórquez.
English version by Melissa Kitson.