What do the coronavirus data from August tell us about the new spread of the virus in Spain?
The summer has already seen a second wave of infections, hospitalization and deaths in the country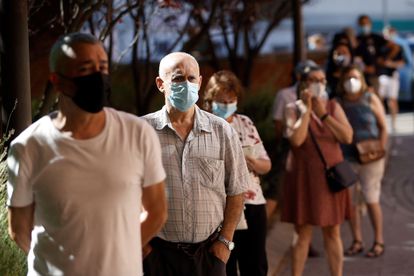 Spain is already immersed in a second wave of the coronavirus. There has been a certain amount of debate as to what to call the current situation, but the discussion is a semantic one: since mid-July, the virus has been spreading once more. It's not doing so with the aggression seen in February and March, but the new spike is there to see in all of the data. Positive cases have been rising for a number of weeks now, with hospitalizations increasing and, unfortunately, deaths too.
1. The number of cases being detected on a daily basis has risen by a factor of 10. At the beginning of June, around 400 were being seen every day. In July that figure had risen to 2,000 and now it is more than 6,000. The worst new outbreaks have been seen in Aragón, Catalonia, the Balearic Islands and Navarre, but the incidence is also high in Almería, Salamanca, Soria and Valencia.
There are, in fact, outbreaks everywhere. In Madrid, for example, positive cases and hospital admissions have grown nearly exponentially since mid-July, doubling every 10 days – albeit with a slower rate of growth currently, according to researcher Saúl Ares, from the CSIC public research institute.
2. This second wave of the coronavirus is being seen in other European countries, but in Spain it is worse (or more advanced). In our country more infections are being confirmed than in any other in the European Union, with around 100 cases a day per million inhabitants, according to data from the Our World in Data project, from Oxford University. Behind Spain are Romania (60 cases) and France (40), but the cumulative incidence is much lower right now in Belgium (27), Sweden (27), Portugal (20), United Kingdom (15), Germany (14), Norway (10) and Italy (nine). All these countries, however, have also recorded a rise in cases.
3. The spike in cases is real. When discussing Covid-19 outbreaks, some members of government have highlighted that Spain is carrying out more PCR tests than it did in March and April. Last week, Fernando Simón, the director of the Health Ministry's Coordination Center for Health Alerts (CCAES), even said that a "large part" of the rise in infections was due to Spain's increased testing capacity. But the data does not support this argument.
Spain is indeed doing more tests now than in March and April. But fewer tests were done in June than in May. Does this mean that Spain's testing capacity had fallen? No, rather that there were fewer sick people. What has happened since July is that more people are falling ill, meaning more tests are needed.
A key figure that demonstrates this is the positivity rate – the percentage of tests that come back positive out of the total. In June, only 2% of coronavirus tests in Spain were positive – a figure that has now risen to 7%. This is a bad sign because it suggests that more tests are being done to confirm infections, rather than to rule them out. According to Our World in Data, Spain has the second highest positivity rate in the European Union, behind only Croatia.
But the definitive sign that Spain is seeing a real spike in cases is sadly reflected in the number of hospitalizations and fatalities.
4. Hospital admissions are rising from week to week. On Friday, the number of people admitted into hospital with coronavirus "in the last seven days" was 1,467, compared to 953 the week before, and 673, 438, 296 and 196 in the previous four weeks. On June 9, there were 150 hospitalizations, barely one-tenth of the figure reported on Friday. We know that the data from the Health Ministry is incomplete, but it highlights a worrying trend. What's more, according to figures from the regions put together by the project Escovid19data, during the first 15 days of August the number of hospitalizations rose from 1,350 to nearly 3,000.
Last week, the ministry reported an important figure that it had not published in six months: hospital occupancy. On Thursday, 4,703 people were in hospital across Spain, and 541 patients were in intensive care (ICU). The percentage of occupied hospital beds was 4.4% nationally, 14% in Aragón, 10% in Madrid and 9% in Basque Country. Between Wednesday and Thursday, there were 1,523 admissions and 1,126 discharges, meaning that in two days 400 beds were occupied with coronavirus cases out of a total of around 108,000.
5. Meanwhile, the fatality rate is also on the rise. In the space of a month, the Health Ministry has gone from reporting between 10 to 15 weekly deaths to 135 last week. And it is likely that this is a significant underestimation.
Another sign that coronavirus deaths are rising can be seen in the number of excess deaths – for whatever cause – in the civil registries. The Mortality Monitoring System (MoMo) run by the Carlos II Health Institute recorded 2,650 excess deaths in Spain between July 20 and August 15, which represents around 10% more fatalities than what would be considered normal at this time of the year.
Could the excess deaths be linked to Spain's summer heat? Perhaps, but there are two reasons why the coronavirus is the more likely cause. Firstly, the regions which have seen the highest rise in excess deaths – the Balearic Islands (53%), Aragón (46%), Castilla-La Mancha (26%) and Madrid (21%) – are also the regions that have seen the worst outbreaks of Covid-19. And secondly, data from the MoMo system in Europe does not show a similar rise in excess deaths in neighboring countries. Belgium has recorded more deaths than usual for the past two weeks, but Spain is the only country that has seen a spike in excess fatalities for four weeks.
It is important to point out that a much lower percentage of Covid-19 cases is now being admitted into hospital or ending in death compared to the first wave of the pandemic. This is due to the fact that during the first wave millions of mild cases were never detected. But it is also important to remember that there is always a delay between the rise in cases and the rise in fatalities. The deaths that have been recently reported are a reflection of infections from three to four weeks ago. This is a bad sign because the figure has tripled since then. And it is almost inevitable that the number of fatalities will continue to rise over the next month.
Compounding this problem is the issue of how the figures are being reported.
6. There continue to be problems with the public data on the coronavirus crisis. Since mid-July, we know that the number of hospitalizations reported by the Health Ministry has come with a delay and does not match those recorded by regional health authorities. The ministry explained that the regions were not "consistently" updating the system, but the problems go back a month earlier. In Catalonia, for example, the regional government reported nearly triple the number of hospital admissions than the ministry. According to the regional figures, 898 people were hospitalized in the two weeks leading up to August 20. The central Health Ministry, however, put this figure at just 319.
These discrepancies are also seen in the number of coronavirus fatalities. Since June 1, the ministry has reported a total of 717 deaths, but this is less than half the figure recorded by Spain's 17 regions, according to calculations from the Spanish newspaper El Confidencial. This is despite the fact that the ministry introduced a new reporting system in June to help with the "early detection" of cases.
The difficulties with reporting data have been a constant problem. Fifteen days ago, a group of experts called for a review of Spain's management of the pandemic and listed the shortcomings with the country's "health information systems" as one of the main concerns. In Spain, we have used outdated data methods to address a 21st-century pandemic. Some systems have improved in recent months, giving regional authorities better indicators of the health crisis. But the information published by the Health Ministry's CCAES continues to be slow, scarce and hard to access. It is impossible to know how many people have died in the last 15 days (due to the delay) or how many patients were hospitalized in July and August (because this series does not exist). Hardly any data is provided on a province by province basis, and no information is broken down by city or neighborhood.
It is understandable that the focus is on achieving data that is the most useful to controlling the pandemic, but this information must on the whole be public and transparent. It is a natural exercise in accountability and a good in of itself: most people want to know the reality and do not want to blindly trust anyone.
English version by Simon Hunter and Melissa Kitson.