Deescalation gets even more complex in town split between Spain and France
In Le Perthus, enforcing security measures is complicated by the fact that coronavirus lockdown rules are being relaxed at different speeds in the two countries
At the border checkpoint in Le Perthus, the letters on the police signs are faded. An "L" is missing in one, an "E" and an "I" on another. There had been no daily police presence here since 1995, when the Schengen Agreement allowed for freedom of movement in Europe. But the coronavirus crisis has thrown up the barriers again and only authorized workers, freight truck drivers and individuals with written authorization are now allowed through.
Aziz Essadek, 39, lives in Figueres, in the Catalan city of Girona, and he runs a store on the Spanish side of the French commune of Le Perthus, which straddles both countries. Although the village is in France, the southeast part, formally known as Els Límits, depends administratively on the nearby Catalan municipality of La Jonquera. There is a main road dividing both sides; buildings on the western side of the road are located in France, while those on the eastern side are in Spain.
When France began the de-escalation, we were faced with a flood of people we weren't banking on

Alonso Caballero, head of police in La Jonquera
Since the state of alarm went into effect in Spain in mid-March, showing the police his documentation has become part of Essadek's daily routine. "It's a 50-kilometer round trip more or less," he says, sitting in his car in a long line of vehicles. "We work with French clients and a bit with tourists in the summer."
Le Perthus, known in Spanish as El Pertús, is located in a mountain pass in the eastern Pyrenees, and can be reached by a winding road on the French side and by an exit from the AP-7 highway if you are coming from Spain.
On the village's main road, one sidewalk comes under Spanish jurisdiction and is known as Avinguda de Catalunya, while the road itself and the other sidewalk are French and referred to as Avenue de France. Every day, hundreds of French citizens drive up to an hour to buy tobacco and alcohol in the Spanish zone, as the taxes are lower than in France.
A French voice at the end of Avinguda de Catalunya shouts, "Hey, mister, get in line!" Behind, a sign in Spanish says: "Keep a safe distance." There are three tobacconists here on a strip scarcely 700 meters long where people come and go with bags bulging with cartons of cigarettes.
On the same side of the road there are a couple of supermarkets, Essadek's clothing store, several perfume shops and a Spanish souvenir shop selling knives and other souvenirs emblazoned with the Spanish flag. These businesses capitalize on customers from the cigarette kiosks.
But the look of this part of town has changed recently, not only because of the ubiquitous face masks, but also because local police from La Jonquera and officers from the Catalan police force Mossos d'Esquadra have had to cordon off the area so that the French will observe the Spanish security measures and maintain a distance of two meters between people.
French shoppers seeking cheap cigarettes and alcohol in the Spanish side of town had never been a problem until now. But with the different deescalation measures adopted by France and Spain, the situation has grown complicated. For example, premises of less than 400 square meters on the Spanish sidewalk could only serve customers by appointment until Phase 1 began in Girona on May 18. Meanwhile, the French were out of lockdown and once again coming to Le Perthus for their tobacco as they were allowed to travel up to 100 kilometers within their département.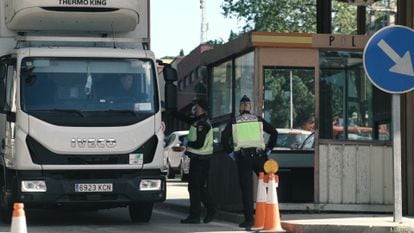 "When France began the deescalation, we were faced with a flood of people we weren't banking on," says Alonso Caballero, head of the local police force in La Jonquera, which has a population of around 3,200. "And it was all very sudden and chaotic because there were between 1,500 and 2,000 people in a street that is 700 meters long."
From the screens in the police precinct, Caballero's officers keep an eye on both the town of La Jonquera and the Spanish zone of Le Perthus, where they now also have to enforce the use of face masks for people over the age of six in crowded areas where it is not possible to keep a safety distance of two meters. In France, the mask is recommended but not mandatory in public spaces, although it is mandatory on public transportation and at the discretion of store owners.
On Avinguda de Catalunya, the solution to the quandary has been to create a security perimeter with plastic fencing. The rules can be read in French and will be maintained "until necessary."
It's not like having a business in Madrid or Barcelona. We depend a lot on the differences in taxes between countries

Josep Biurrun, supermarket owner
Within the space of just a few meters, there are five different security forces in operation – the French Gendarmerie, which is in control of French customs and checks on people coming into France from Spain; the French local force, which polices the French side of Le Perthus; the Spanish National Police, which mans the Spanish border checkpoint, and the Mossos d'Esquadra and the Spanish local police, who ensure that the Spanish deescalation rules are respected in the Spanish side of Le Perthus. "Sometimes there are more officers than citizens," jokes Caballero, who heads a team of 18.
A monolith marks the physical spot where the Spanish sidewalk on Avinguda de Catalunya begins. Next to it is the Biurrun supermarket, open since 1945. "Let's see if the pandemic will allow us to move forward or what," says Josep Biurrun, 53, who was born in Le Perthus and who took the business over from his father, who in turn inherited it from his own father. "We don't know what the border is going to look like. It's not like having a business in Madrid or Barcelona. We depend a lot on the differences in taxes between countries."
The French town practically lives off the businesses that are set up on its Spanish territory as well as from the parking meters, which charge €1.50 the hour. "The security fences have taken up some of the parking space," complains town councilor Fernando Santos, 65, as he leaves the supermarket.
About 500 meters from the supermarket, Laurence Bonenfant, 51, triumphantly sips her coffee at a sidewalk cafe and smokes a cigarette while the Spanish singer Vanessa Martin's voice floats out from a couple of loudspeakers. "It's the first coffee I've had at a sidewalk cafe in two months," says Bonenfant; unlike Spain under Phase 1, France is only allowing bars and restaurants to serve take-away food. Meanwhile, 70-year-old Jules Bolz has made the half-hour journey by car from Perpignan in France for cigarettes, although his shopping cart also contains beer and cooking oil, for a total of about €170 in goods. "I used to go to La Jonquera, which is even cheaper than here, but now you can't because the borders are closed," he says.
Border controls
At the checkpoint in Le Perthus, a French citizen tries to enter Spain in order to buy meat in Figueres, Girona. A member of the Spanish National Police asks him for authorization and tells him to turn around when he can't produce any. This happens to about six cars on the same morning.
On the French road going to Spain from Le Perthus, traffic is being controlled at the old border checkpoint, which was in operation until 1995, when the Schengen Agreement went into effect. When entering France on this road, the Gendarmerie is in charge, while entry into Spain is controlled by the Spanish National Police. Freight trucks use a separate lane and rarely have to show identification since their license plates are already registered.
José Moreno, 53, is among those free from checks. He switched from transporting fruit and vegetables to carrying Amazon packages at the start of the crisis: "I've been loading in Germany at the Amazon depot in Dortmund, and taking [the boxes] to the Amazon depot in Sabadell [Barcelona]," he says. "I haven't stopped working and I don't usually have problems." Between 7,000 and 8,000 trucks cross the border at La Jonquera every day, according to local police figures compiled before the coronavirus crisis.
On May 25, France began to apply a mandatory 14-day quarantine to people coming from Spain in response to the Spanish government's decision to quarantine international arrivals, a measure which does not affect those arriving by land and which will be lifted on July 1. The following day, Tourism Minister Reyes Maroto announced that Spain would ask the European Union to open up travel corridors between regions of other EU member states with a similar level of control over the coronavirus epidemic.
English version by Heather Galloway.