La Luz del Mundo leader Naasón Joaquín: 'There is nothing sadder than a sinner, all because of carnal desire'
Sentenced to 17 years in prison for child sexual abuse, the disgraced pastor participates in the Lord's Supper by phone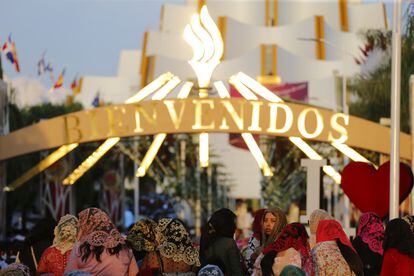 Thousands of emotional congregants bowed their heads, shedding tears, and raising their voices in exaltation, unaware of what lay ahead. "I sense the majesty of God's spirit among us — my soul overflows with joy," boomed the voice of Naasón Joaquín García, leader of Mexico's La Luz del Mundo (LLDM) church, who was sentenced to nearly 17 years in prison last year on charges of sexual abuse in California. The crowd erupted with thunderous applause upon hearing the man they revere as the earthly apostle of Jesus Christ, even as he languishes in prison. The event marked the much-awaited comeback of the Lord's Supper for the congregation, celebrated in person for the first time since the Covid-19 pandemic began. It also marks the church leader's first participation after his conviction on pedophilia, human trafficking, rape and the production of child pornography. The congregation still regards Naasón Joaquín with reverence, but the rest of the world sees him as a confessed sexual predator. Dissidents and cult survivors are now making louder demands of justice for his victims.
Naasón Joaquín's message lasted only about 15 minutes. As in all Christian denominations, the Lord's Supper is celebrated in commemoration of the last supper of Jesus Christ. But at LLLDM, it's only celebrated once a year on August 14 — the birthday of Aarón Joaquín, Naasón's grandfather who started the church in the 1920s. It's a sacred date for the hundreds of thousands of LLDM faithful, who each year fill the streets of Guadalajara (Mexico) to receive the apostle's blessing. For the last four years, the so-called servant of God has been conspicuously absent from the annual event. "I'm not physically present, but I'm here with all of you. You may not see me, but you can definitely feel my presence in this wonderful gathering," said the voice over the phone from Chino — the California Institution for Men (CIM) state prison in the city of Chino, California. The religious leader, who agreed to a plea deal to avoid trial and a potential life sentence, justifies his absence as if it were a divine mandate, comparing it to Christ's earthly absence. "There is no one like our God... we don't see him, but we feel his beautiful caress," he cried out.
La Luz del Mundo characterized the phone call as an "apostolic intercession" asking God to forgive the sins of his flock. Joaquín's followers claim to be God's new chosen people, and believe that he is the anointed one, the only living man who has direct communication with the Lord. In his brief sermon, Naasón Joaquín said Jesus also faced temptations of the flesh and understands our weaknesses. "I've often found myself crying out to my Lord Jesus Christ, asking Him to bless my brothers with His grace and truth," he said tearfully.
Then his sermon wanders, and the distinction between the forgiveness he seeks for the congregation's sins and his own becomes blurry, at least to an external observer. "There is nothing sadder and more pitiful than the sinner, mired in guilt and sadistic malice, all because of carnal desire and vagaries of the flesh, the diseased and sly deceit that brought the worst kind of evil," said Joaquín in a sorrowful voice. "Indulging in fleeting pleasures, they unknowingly consumed the poison from the golden chalice offered by Satan. In return, they were met with the piercing thorns of everlasting remorse."
"With utmost humility, I come to your blessed presence seeking your boundless mercy and forgiveness," he said. LLDM continues to dismiss the testimony of his victims, and says those who have abandoned the church are driven by "guilt and malice" — they are the true transgressors. "I humbly seek guidance, O Lord, on behalf of my people who have strayed from Your love and mercy. They have been misled and lost, misguided by the notion that there is something better than You," said the voice over the loudspeakers. Suddenly, an automated recording interrupts — "The time is 6:00 p.m." It's obvious that Joaquín is in jail, although he never says so.
"Let us give thanks to God for the abundant blessings bestowed upon us today through the intercessory prayer of the Apostle of the Lord. We have been purified and sanctified, a testament to the glory, honor and praise that belongs to God alone," shouts another pastor from the pulpit. The choir begins singing a hymn to honor the sacrifice of Jesus Christ and their own apostle. Tears and heart-rending cries begin to flow again. LLDM says over a million people attended the week-long celebration, though Mexican census data indicates LLDM has only 170,000 followers nationwide.
There were also tears outside the congregation — tears of indignation, courage and rage. Lety, a 44-year-old woman from the United States, first spoke to the media after leaving the church two years ago. "Waking up was very hard and painful for me. La Luz del Mundo has been my whole life since I was born," she said, asking for anonymity. Lety is afraid. Every member of LLDM is acutely aware of the repercussions and risks associated with leaving the church.
Dozens of former members have reported instances of harassment on social media. They are shunned by their families and some even received death threats. Two out of Lety's four children are still LLDM members and have severed all contact with her. She is concerned about how her decision may affect them. "It takes a lot of courage to acknowledge that you were wrong and that the only ones who really benefited from our work and money were the royal family [the Joaquín family] and their privileged ministers," she said.
"We were told that evil spirits had possessed the accusers, that it was all a sinister plot to destroy the church and undermine the apostle," said Lety. After learning the real accusations against their leader and fearing community repercussions, one follower chose to leave. Abisaí, who grew up in a devout family, made this decision after his wife shared her own experience of being "chosen" to serve the apostle Samuel, Naasón's father. Samuel Joaquín also faced sexual abuse allegations in the 1990s, but no charges were filed, even though one of Samuel's accusers went into hiding after being violently stabbed over 60 times.
Abisaí's wife was instructed to massage Samuel's feet and wear revealing clothing prohibited in public by the church, all to serve her "father in faith." The chosen were groomed for sex by church leaders, and Abisaí's wife later alleged sexual abuse by Naasón. She belonged to the "Unconditional" group within the church that pledged unwavering loyalty and complete submission to the leadership's desires. The church publicly denies the existence of such groups. "My world completely fell apart. But I was such a fanatic that, honestly, I didn't believe it at first. She really fought for me to open my eyes," said Abisaí, who also uses a pseudonym out of fear. Most of his family remains inside, forbidden by the cult from communicating with him. Within a few months, he went from being a devoted member to an "enemy of the church," facing attacks for divulging personal aspects of his life and business.
"The ministers make it seem like the apostle is some kind of holy man, saying things like 'we know him, we know who we believe in,'" said Abisaí. "But that's just a big lie. All we really know is the guy who talks for two hours from the pulpit," he adds. He changed his mind after watching a video of Naasón Joaquín with his lawyer Alan Jackson. Jackson had previously defended actor Kevin Spacey and billionaire Harvey Weinstein in other sexual abuse cases. In the video, the apostle admitted to having had sex with one of his secretaries. "I realized that the holiest and purest man in the world was actually an adulterer," he said. "I feel outraged but also empowered when I see these videos [of the Lord's Supper celebration] because I used to be just like them."
The verdict in California concluded the criminal case, but the controversy persists. Claiming they were never consulted by prosecutors about Naasón Joaquín's plea bargain, several anonymous sexual abuse victims and Sochil Martin, the first woman to publicly accuse Joaquín, filed civil charges. New allegations against other church members have emerged, raising the possibility that Joaquín will face a new trial in a U.S. federal court. Kaleb Lemus, the church's choir director in Houston, was arrested last week for abusing his partner's granddaughter for six years. He was released after posting a $75,000 bail bond.
"We know that a judicial authority made a decision about the Lord's apostle. However, we have chosen to move ahead in pursuit of our freedoms," an LLDM spokesperson told the EFE news agency. The spokesperson also asserts that church membership remains stable, with new locations in Japan and Denmark. They claim to operate in 64 countries and have a dedicated following of seven million people. They consistently say they are victims of "religious persecution," a claim they have maintained since the beginning.
But Lety and Abisaí say they are finding more and more people who have left the congregation, and others who have lost faith but hesitate to formally disassociate. There is also a growing number of complaints and protests against the organization's leadership. Thousands have joined a social media protest coinciding with LLDM's religious celebrations, sharing testimonies by former members about sexual, spiritual and financial victimization. Those who left the faith and were once alone after venturing into the world, as the church calls it, are organizing in pursuit of justice. The LLDM's Lord's Supper is the latest episode of a story that is far from over. "We'll keep fighting to make people open their eyes and see what's really happening," said Lety.
Sign up for our weekly newsletter to get more English-language news coverage from EL PAÍS USA Edition