'The Marlboro Man': The Colombian drug trafficker who wants to be mayor
Samuel Santander Lopesierra, the former smuggler who was extradited to the United States, is back and wants to rule his city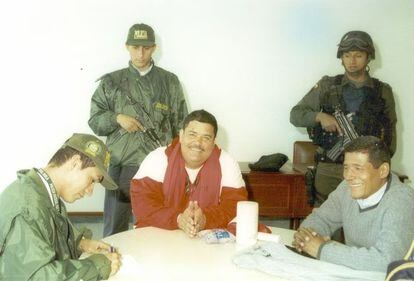 Samuel Santander Lopesierra, 63, has been a politician, a drug trafficker and a smuggler. Journalistic investigations, testimonies, evidence and even a sentence that he served in a United States prison weigh on him. However, his extensive criminal record (including accusations of illegally financing the electoral campaign of President Gustavo Petro, money suspected to have been kept by his son, Nicolás) matters little or nothing in Colombia, where he aspires to become a mayor after the upcoming regional elections.
In Maicao, in the department of La Guajira, Lopesierra is a political phenomenon worthy of study. He officially registered his candidacy on July 10, when he presented 63,825 signatures to the National Registry — more than half of the people registered to vote in Maicao — with hundreds of his followers there to support him. If he manages to overcome the legal obstacles that would prevent him from competing in the elections, victory is practically ensured.
His parents, Samuel Lopesierra Bernier and Guillermina Gutiérrez, owned a commercial warehouse in Maicao, a municipality near the border with Venezuela and whose economy moves, to a large extent, through smuggling. In keeping with the plans for greatness they had for their four children, they gave Santa — as his relatives still call him — an elite education. He graduated from the Liceo Cervantes in Barranquilla and traveled to study economics at Southern Illinois University, returning in 1984 to work in the family business. His parents wanted him to venture into a multinational corporation in the private sector, but they gave in to his insistence and hired him as an ordinary worker in the warehouse.
Lopesierra's fame grew along with his visibility. He set up his own warehouse after raising money with several partners, and pursued his electoral efforts hand in hand with the Liberal Party, with which his father sympathized. He was elected councilman for Maicao in 1986 and representative for La Guajira in 1988. Two years later he withdrew temporarily from the political arena, but in 1994 he rose to national stardom when he became the senator from the Atlantic coast who received the most votes outside that region. The 40,000 votes he garnered aroused suspicion and distrust among the ruling class, which frowned upon a merchant reaching Congress with such giant leaps.
From that moment on, the name of Samuel Santander Lopesierra became widely recognized, and many started to inquire about his origins. In the world of informal trade he was a notorious figure; he was the main smuggler in the country. A spokesman for the Colombian Association of Importers of Liquors and Wine (ACODIL) told Semana magazine that Lopesierra sold 200,000 packs of cigarettes and 400,000 cases of whiskey a year without paying a single peso in taxes. Soon, he became known as "The Marlboro Man."
The most prominent scandal of that decade was Process 8,000, which was opened after it was discovered that the campaign of President Ernesto Samper had been financed with drug trafficking money. Lopesierra got mixed up after a telephone conversation between Samper and Elizabeth Montoya (a liaison between the Liberal Party and the drug lords), in which they coordinated apparent financial contributions to the campaign from Phillip Morris, became known. An investigation by the Miami Herald revealed that the mention of the tobacco company was in fact a reference to Lopesierra, who by then was already known for illicitly dealing in cigarettes. The American newspaper added that The Marlboro Man, according to testimonies collected by the FBI, was in charge of laundering money for some members of the Mansur family, accused of having ties to drug trafficking and injecting money into Samper's candidacy.
Around the same time, he was also linked to the murder of opposition leader Álvaro Gómez Hurtado, who was assassinated in November 1995 as the investigations into Process 8,000 progressed. The Samper administration was held responsible from the start, and that was the most accepted theory, albeit without conclusive evidence for it to prosper in court, until the FARC claimed responsibility for the crime in October 2020. Gómez's family, however, claims that the guerrilla group wanted to cover for the real perpetrators, and insists that Lopesierra has information about what happened, as he once declared that other drug traffickers asked him for $500,000 to carry out the assassination.
His capture marked the downfall of his emporium. On October 7, 2002, in a joint operation between Colombian authorities and the DEA, Lopesierra and 14 other people were apprehended. He spent ten months in the prison of Combita, Boyaca, until his extradition request materialized in August 2003. He was sentenced to 25 years, but was released after 18. While he was imprisoned abroad, his assets were seized in Colombia: 106 properties valued at more than 25 billion pesos (around $6.2 million) were identified.
He regained his freedom in August 2021 and immediately returned to Colombia. In May 2022, with a few weeks to go until the first round of presidential elections, he was interviewed on a local radio station, where he invited the people of Maicao to vote for Petro. The fact went unnoticed, but it came to light a year later after Semana published some WhatsApp conversations between Nicolás, Petro's son, and his then partner, Day Vásquez. The article mentioned that Lopesierra had given Nicolás 600 million pesos for his father's campaign. The Prosecutor's Office began the corresponding investigations, but no progress has been announced.
However, the controversy failed to affect him, and now he is aiming to be elected mayor of Maicao. Despite having spent the last three decades making headlines for his illegal actions, only a legal disability could obstruct his political aspirations. It is not yet clear if the conviction and the extradition are enough to put him out of the game, but as long as that question is not settled, he is likely to continue with his campaign. The Marlboro Man wants to don the mayor's sash.
Sign up for our weekly newsletter to get more English-language news coverage from EL PAÍS USA Edition