Pablo Escobar: Unseen portraits of a drug lord
EL PAÍS talks to Edgar Jiménez about what it was like being the personal photographer of the notorious cartel boss during his war against the Colombian state in the 1980s
The man seems absorbed, lost in his own thoughts. Steam rises from a blue cocktail on the table in front of him. To his right sits his mother, doña Hermilda, wearing a blue polka-dot dress. In this photograph, Pablo Escobar Gaviria is secretly attending his son Juan Pablo's 12th birthday. There are few guests, only his most trusted inner circle. Escobar had been in hiding for five years, challenging the authority of the state by assassinating a minister of justice. While living under the radar, he ate badly and didn't exercise, exacerbating his portly frame. His famous mustache has been shaved off. In that year, 1989, he still managed to assassinate a presidential candidate, Luis Carlos Galán Sarmiento, and an army colonel, as well as blowing up the headquarters of the intelligence service in Bogotá and bringing down a passenger airplane, Avianca Flight 203, with the loss of 110 lives. The Colombian government wanted him dead at any cost, as did the numerous enemies he had made over the years. But Escobar wasn't going to make it easy: he was full of rage and wanted to watch the world burn.
"He had been at the table like that for 15 minutes, his mind completely elsewhere. It's the portrait of a downbeat man, with a lot of problems. It's one of the few photos, if not the only one, in which he looks worried. I went over to him and took it. Pablo didn't even notice," says Edgar Jiménez, who was the personal photographer for the most notorious drug-trafficker in history. On his computer, he has never-before-seen images of Escobar. "El Chino," as he was nicknamed in his youth, was at Escobar's side from the time they met in 1980 at his Hacienda Nápoles ranch, where the drug lord would host politicians, military officers, journalists and beauty queens.
It wasn't the first time they had met. They had been classmates at the Liceo Antioqueño school, in Medellín. Escobar was nicknamed "the Little Bear," a name also bestowed on his older brother, Roberto, who was a popular professional cyclist at the time. El Chino got his name because he suffered from the speech disorder rhotacism. People thought he was speaking another language. They were at school together for three years but were separated when Escobar was held back a year. They didn't see each other for 15 years until a friend of the photographer said he wanted him to meet the owner of this amazing ranch with all the exotic animals. When he recognized him, Escobar greeted him like an old friend. "Chino! It's been a while."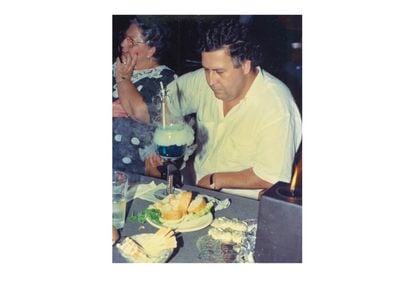 From that day on, Chino worked for Escobar, with no fixed salary. His first job was to photograph the hippos, zebras, giraffes and birds Escobar had brought in from Africa. He has a photo of his assistant offering a cigarette to an ostrich. His arrival led to the departure of all the photographers who had previously been employed by Escobar. He was installed as the trafficker's sole trusted cameraman.
Shortly after Chino arrived, Escobar held a party at the ranch. It was the day before his birthday. Exhausted, the host went to bed at 3am. Guests were still arriving. "We were in the spirit and more friends and family arrived with guitars. It was past midnight and we said: 'Hey, it's Pablo's birthday! Let's go wake him up'," Chino recalls. That was when he captured perhaps the most famous photo of Escobar, asleep in bed, shirtless, with a bottle on the floor.
His sister-in-law is sitting on the edge of the bed. At the door, friends gather to catch a glimpse. Escobar had just turned 31. He was the king.
His death, 13 years later, brought the most exciting period of Chino's life to an end. He remained in the photography business, but never again felt those adrenalin rushes of being at the side of an icon of evil. It is estimated that Escobar is responsible for the deaths of over 4,000 people. Chino still has mixed feelings about his relationship with him. In the Medellín neighborhood where he lives, Aranjuez, the cradle of many of the assassins of the armed wing of the cartel, Chino was and remains untouchable. Everybody knows he was the boss's close friend. However, for many years he didn't say a word about those days, and he has hardly said anything to people he has met since.
Chino is now 72 and enjoys a drink at his local bar, Maracaibo. "If I get drunk, the young kids take me home, everyone knows where I live." Not many know about his past, though this is about to change. A few years ago, reporter Jon Lee Anderson sought him out for a story in The New Yorker. He located Chino through a local reporter, Alfonso Buitrago. Chino is mentioned briefly in Anderson's story. Buitrago, an instinctive type, knew he had a great story on his hands and since then he has spent countless hours fishing in Chino's archives for a book that will be published soon. They work when Buitrago, a local newspaper editor, has some free time and when Chino isn't hungover. It will be called El Chino and on the front cover is the photographer, sitting on the trunk of an elephant at Hacienda Nápoles.
"Pablo was a car and tombstone thief, an assassin, a smuggler, a drug trafficker and, at the peak of his career, a parliamentarian," says Chino with a chuckle, as though he has repeated that phrase many times. He is looking over photos from Escobar's Congressional campaign. They visited the poorest neighborhoods in Medellín, such as Morabia, which was an open-air landfill. Escobar built homes for 500 families who were living in poverty. At rallies, he handed out money, food and promises of a better life. He was so confident with a microphone in his hands that he even dreamed of the presidency. Those close to him, his brother Roberto and his cousin Gustavo Gaviria, his right-hand man, warned him that this public exposure would be the end of him. Escobar didn't listen to any of them.
Chino has photos of Escobar on stage during a rally, of Escobar inaugurating a soccer pitch for kids, of his press conferences. Those that attended these events were people from poor neighborhoods who saw Escobar as a Robin Hood figure. His election as an alternate member of the Chamber of Representatives, however, was the beginning of the end of his empire. The Bogotá political elite were jealous of his popularity and the press began to investigate his business dealings. The editor of El Espectador, Guillermo Cano, and his reporters found the evidence that thwarted Escobar's political aspirations: an old police mug shot, with a prisoner number, taken after he had been arrested for drug trafficking in 1976.
Later, Minister of Justice Rodrigo Lara Bonilla decided to go after Escobar and publicly expose him as a criminal. Escobar's dreams of leaving his illicit past behind him and being embraced by the hermetic Colombian high society were dashed in a single stroke. The possibility of extradition to the US weighed heavily on him. During that time, he ordered the assassination of judges, police officers who could not be bribed, military personnel and politicians. He was obsessed with silencing Lara Bonilla. His allies advised him against it, saying the force of the state would come down on his head. His wife, Victoria Eugenia, was eight months pregnant. "And he still killed Lara Bonilla. That's how big Pablo was," says Chino.
During meetings at Escobar's ranch, these topics were never touched upon. Colombia was in flames while they played soccer, on a floodlit pitch, with a small stand on one side. They drank imported whisky and smoked Marlboros in bars where they were never handed a check. "We only talked about unimportant, stupid stuff. Pablo said I was a really dirty soccer player. I used to kick people a lot. I've always been bony, but my bones are pretty tough," remembers El Chino.
Escobar became a fugitive. He preferred death over a prison sentence in the US. The Colombian government set up a special commando unit to hunt him down, a paramilitary group called Los Pepes, while his rivals in the Cali Cartel also sought to bring him down. Chino then worked for the rest of the Escobar family. In his archives are dozens of photos of weddings, baptisms and communions, all in the absence of Escobar. Some of them, published now by EL PAÍS, have never been seen before. In one, his daughter Manuela sits atop a horse that was gifted to her by Gonzalo Rodríguez Gacha, better known as "El Mexicano," one of the bosses of the Medellín Cartel and a horse lover. Escobar asked Chino to immortalize the moment.
It is a sinister family album, full of ghosts, people executed on Escobar's orders or by Escobar himself. Some of his most feared assassins feature in it: Pinina, El Negro Pavón, El Arete, Otto. In the background of many photos Yuca, one of his first hired killers, appears. Yuca gradually gained power of his own and had a dedicated bodyguard. It reached Escobar's attention that Yuca had been complaining about El Patrón's cut, that he was a slacker who didn't do anything. Yuca was called to Escobar's office, where three hitmen lay in wait. They emptied 70 bullets into him. In other photos, Héctor Barrientos can be seen smiling with his family. Barrientos was a guard at the Hacienda Nápoles. When he started to export cocaine himself using Escobar's hidden runways, "Pablo caught him and, of course, ordered him to be killed. They ran over him several times with a truck," says Chino.
The photographer bore witness to a brutal era. Medellín in the 1980s was awash in a culture of consumerism, partying and death. Chino believes Escobar was the link between the old world and the new. The peaceful, patriarchal city of daily Mass had given way to one of youths on motorbikes who knew no law other than that of the revolver. Children from rundown neighborhoods developed a sense of belonging, and of adoration for El Patrón, the man who offered them something when life offered them nothing. On the way they drank, won respect and lovers and killed without scruples. At some stage, someone would put a bullet in their back.
Chino did not only make a living from Escobar's private parties. He was also the photographer for Colombia's first pornographic magazine, edited by a friend of Escobar and financed by El Patrón, naturally. He worked at local newspaper Medellín Cívico, which was edited by one of Escobar's uncles. He also received work from other notorious cartel bosses. One day he received a call at home: "Chino? It's Carlos Lehder." "Hi," Chino replied. "In an hour bring your gear to the site."
Chino was worried. Lehder had a reputation as one of the least-hinged of all the drug lords. An ally of Escobar, he had formed his own armed group in his home region of Quindío. His movement's rhetoric was based on a fascist-Communist fantasy that aspired to take control of the country, in a Fidel Castro-type revolution. That day he took Chino to the Olaya Herrera airport in Medellín, where celebrated singer and actor Carlos Gardel had died in a crash half a century earlier. He greeted the photographer in military fatigues, with a sub-machine gun and a pistol holstered on his belt. That was how he moved around Medellín, without a care in the world. While he smoked a cigar, he explained to Chino that he wanted photos of a garbage dump and other areas of the city.
"The fucking helicopter didn't have a door, they had taken it off so I could take photos," Chino recalls of the aircraft that awaited him. They flew over the city with Lehder at the controls and Chino holding his camera with one hand while preventing himself from falling out with the other.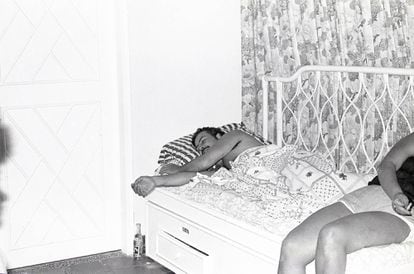 A little while later, he and the messianic Lehder coincided at the Hacienda Nápoles. Lehder arrived in the company of a beautiful young woman whose attention landed on Rollo, a handsome employee of Escobar. In a fit of jealousy, Lehder killed Rollo on the soccer pitch, in front of everybody. A week later, he was arrested and extradited to the US by the Drug Enforcement Agency (DEA). The most common version of events, which Chino shares, is that Escobar turned him in for killing someone he considered a friend.
Chino still lives at home with his 96-year-old mother. He has a girlfriend he has been with for more than 50 years and with whom he has a daughter, but he has never taken the next step. "Living together kills love," he says. He is an austere man, who never made a fortune despite being in the inner circle of a man estimated at the time to be the richest in the world by Forbes magazine.
When Escobar sent him money, which was always a decent amount but not excessive, the intermediaries would take their cut. One of them later asked Chino to loan him a book that Escobar had put together, which followed his life story through press cuttings and cartoons. It was a limited edition, gold-plated, signed by Escobar and with his fingerprint added as a mark of authenticity. El Patrón had made a gift of them to his closest friends. "I was an idiot and I lent it to him. I never got it back," Chino says.
Thousands of Chino's negatives have been lost over time. The paramilitaries torched the cellar of one of Escobar's houses, where he kept many boxes of material. More have been lost due to Chino's own neglect. Documentary moviemakers from all over the world have visited his house to scour the archive. Buitrago, author of the book that carries Chino's name, has made him understand this an extraordinary hoard. Buitrago is always amazed by the size of the archive. "That one is new to me, Chino," he often says. "We'll stick that in the second volume then," the photographer chuckles in reply.
What remains, more than anything, are memories. He has a date imprinted on his memory: December 2, 1993. On that day he was in a dark room developing a roll of film. Suddenly, the radio interrupted the broadcast with breaking news: Pablo Escobar had been killed by the authorities while he was trying to escape across a rooftop in Medellín. Chino didn't know exactly what to think: "I felt a sense of relief because society had been freed from an outlaw and a terrorist. But I also felt sad; Pablo was my friend," he says with tears in his eyes.