Andorra alleges Peña Nieto's lawyer bought three Miami apartments for ex-leader of Mexico's PRI party
Besides his work for Roberto Madrazo, the attorney Juan Ramón Collado allegedly also paid for former President Carlos Salinas de Gortari's stay at a luxury hotel in 2011
An investigation into transactions made by Juan Ramón Collado, a lawyer for former Mexican President Enrique Peña Nieto, with the defunct Banca Privada d'Andorra (BPA) bank, has revealed his extensive connections with the Institutional Revolutionary Party (PRI). Collado was arrested and jailed in 2019 by Mexican authorities for money laundering.
According to a confidential police report from the tiny European principality of Andorra and obtained by EL PAÍS, between 2002 and 2005, Collado bought three luxury apartments in Miami for Roberto Madrazo, the former PRI president and former governor of Tabasco (southern Mexico). In 2011, Collado also paid for former President Carlos Salinas de Gortari to stay at an exclusive hotel in Spain. According to investigators, Collado moved $111 million through 20 BPA accounts to benefit Madrazo and Salinas.
The lawyer bought three apartments in the St. Regis Bal Harbour complex in Miami with funds drawn on his BPA accounts. Designed in 2011 by luxury building architect Sieger Suárez, this ocean-view development is a smart-technology residential building with two heated pools, a spa and health center. An apartment in this 125-unit, 26-story building can cost $2.9-$14.9 million, according to the Miami Condo Lifestyle real estate company.
An unpublished June 2022 report from Andorra's Economic and Financial Investigation Unit indicates that former PRI party president Madrazo was the "beneficiary owner" of three properties in Miami purchased by Collado. Andorran police based this conclusion on an "exchange of information with foreign counterparts," referring to law enforcement from other countries.
Madrazo told EL PAÍS that the apartments are in his brother Sergio's name, and were payment for $7 million in engineering services owed to his brother. "I have nothing to do with those apartments. The contract was between my brother and Collado," said Madrazo.
To purchase the three Miami properties, Peña Nieto's lawyer used the services of a Florida attorney named Gustavo García Montes. Between January 2010 and December 2014, Collado authorized 25 transfers totaling $7.4 million to two of García's accounts at Suntrust Bank. EL PAÍS found that he used shell corporations without active operations to pay at least $2 million for deposits on the properties.
According to investigators, the BPA concealed Collado's identity in the 2012 transaction by requesting that only a company name be used and not the attorney's name.
Madrazo, who ran for the presidency of Mexico in 2006 as the PRI candidate and lost to Felipe Calderón, acknowledged that he occasionally used the Miami properties.
When EL PAÍS called Gustavo García Montes to ask about his role in the properties, he said, "He's [Collado] a client, so I won't answer any of your questions," and hung up the phone.
According to investigators, Collado also hired García Montes to handle the purchase and maintenance contracts for two aircraft (a 1995 Cessna Citation 650 and a Bombardier Challenger 601) valued at $5.2 million. These planes were registered in the U.S. and the transaction is currently being investigated by Mexican authorities in a money laundering case. The Andorran police have urged the Mexican judge presiding over this case to seek information from the US about Peña Nieto's travel on these planes in American airspace.
A luxury vacation in Spain for Salinas
An analysis of Collado's BPA transactions also revealed that the lawyer used an Andorran company to pay for a two-night stay by former President Salinas de Gortari in a luxury hotel located in the tourist city of Marbella (southern Spain). In January 2011, Collado paid the €2,300 ($2,472) bill for a suite at the Marbella Club Hotel using a shell company account at BPA, according to the documents reviewed.
Touting its discretion and private villas, the 5-star resort advertises one its website as an oasis of serenity "inspired by the Acapulco of the 1950s," and was built in 1954 by Prince Alfonso of Hohenlohe-Langenburg as his private residence.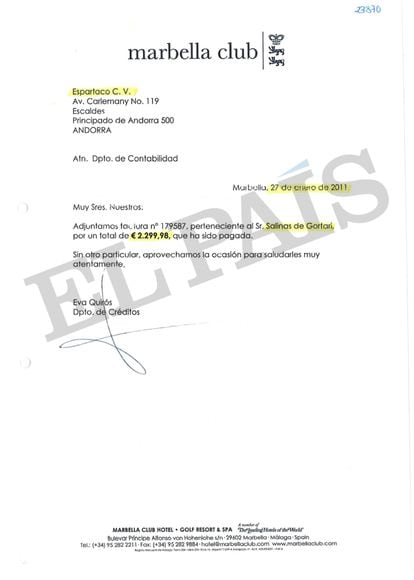 A travel agency in Mexico City made the reservation in Salinas' name and the suite was paid for with a gold Visa credit card owned by Espartaco C.V., one of the shell companies in Collado's murky BPA financial network.
EL PAÍS has unsuccessfully tried to obtain Salinas' version of these events. The former president's term in office was plagued by corruption scandals and launched a spate of privatizations of large state enterprises. In 2021, the former president obtained Spanish citizenship through the country's naturalization process for Sephardic Jews who are descendents of those expelled from Spain in the 15th century.
Collado's lawyer in Andorra, Antoni Riestra, has declined to explain why his client paid for a stay in Spain for Salinas. However, he rejects the Andorran police's theory that his client funded luxury purchases for Mexican politicians. "Except for some occasional acts of generosity towards friends and clients, Collado used his cards and bank accounts to pay for his own expenses. He denies the allegations by the Andorran police that you conveyed to us."
The report that implicates Collado in the purchase of three Miami apartments for Madrazo and luxury hotel stays for Salinas has been key evidence in Operation Jet, a money laundering case that an Andorran judge has been investigating since 2016. This investigation has found that Peña Nieto's lawyer cannot prove the origin of funds deposited with BPA, and disproves Collado's sworn statements to the judge that he earned his fortune by practicing law and from the Prenda Oro pawn shop chain started by his father in 1999.
The investigations reveal Collado's alleged role as a front for Mexican executives in Andorra. From 2006 to 2015, he moved a staggering $111 million through a convoluted network of companies. Authorities suspect that the lawyer's 10 credit cards (with monthly spending limits ranging between $16,000-$65,000) paid for $10.5 million in luxury purchases by Mexican executives in Spain, France, Italy, Switzerland, and the US. EL PAÍS found that between 2008 and 2015, charges to those credit cards amounted to $855,000 on hotels, $213,000 on jewelry and $80,840 on anti-aging treatments in Swiss clinics.
Collado, who recently suffered a "transient ischemic attack" (similar to a stroke), is known as the go-to lawyer for powerful people. His clients include prominent Mexicans like the former Governor of Quintana Roo, Mario Villanueva (PRI); former Pemex union leader, Carlos Romero Deschamps; and Raul Salinas de Gortari, the former president's brother.
Madrazo: "Those apartments belong to my brother"
Former PRI President Roberto Madrazo said in a phone conversation with EL PAÍS that he has no connection to the three Miami apartments bought by attorney Juan Ramón Collado, currently in jail on money laundering charges. "I've known Collado for 50 years. Our families are friends, and despite the age difference, I was very close to his father. Those apartments belong to my brother, Sergio, and were transferred to him to settle a bill for unpaid professional services. My brother is an engineer who has owned major construction companies. In 2001, he signed a notarized contract with Collado in Mexico City and his services were not paid, so the interest on the debt kept growing."
The ex-governor of Tabasco told us that the original service contract was for $3,120,000. By 2005, this had risen to $5,107,785 and in December 2009, Sergio Madrazo agreed to take one of the three Miami apartments as collateral. Madrazo added that Collado also gave them the right to use the apartment. He also said a promissory note for the unpaid debt was signed at that time. The debt rose to $6,535,392 in 2013 and then to $7,181,350. On June 6, 2017, a "termination agreement" was executed to settle the debt by transferring ownership of two other apartments in the same Miami complex. "I am disclosing this information in the interest of transparency," said Madrazo. "We have nothing to hide, despite all the security problems in Mexico."
Madrazo acknowledges a relationship with Miami lawyer Gustavo García Montes, who received money from Collado in Andorra to purchase the three apartments. "Seven or eight years ago, I asked him to create a financial trust. I'm the insured and my children are the beneficiaries. I later passed the management of the trust to another company. My brother Sergio doesn't know him." He also said that he doesn't know why Collado, who moved $111 million through BPA, took 16 years to pay off a $3 million debt that ultimately skyrocketed to over $7 million.
Sign up for our weekly newsletter to get more English-language news coverage from EL PAÍS USA Edition