India's deadly train crash renews questions over safety as government pushes railway upgrade
Multiple factors including track defects, maintenance issues, outdated signaling equipment, and human errors are the main causes of the recurrent derailments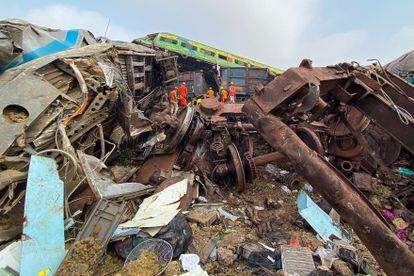 India's prime minister had been scheduled to inaugurate an electrical semi-high-speed train equipped with a safety feature — another step in the modernization of an antiquated railway that is the lifeline of the world's most populous nation.
Instead on Saturday, Narendra Modi traveled to eastern Odisha state to deal with one of the country's worst train disasters that left over 280 dead and hundreds injured. The massive derailment on Friday night involving two passenger trains is a stark reminder of safety issues that continue to challenge the vast railway system that transports nearly 22 million passengers each day.
India, a country of 1.42 billion people, has one of the world's most extensive and complicated railways built during the British colonial era: more than 40,000 miles (64,000 kilometers) of tracks, 14,000 passenger trains and 8,000 stations. Spread across the country from the Himalayas in the north to the beaches in the south, it is also a system that is weakened by decades of mismanagement and neglect. Despite efforts to improve safety, several hundred accidents happen every year.
From 2017 to 2021, there were more than 100,000 train-related deaths in India, according to a 2022 report published by the National Crime Records Bureau. That figure includes cases in which passengers fell from the trains, collisions, and people being mowed by speeding trains on the tracks.
Official data also suggests derailments are the most common form of rail accidents in India, but have been on a decline in recent years.
According to India's Comptroller and Auditor General, Indian Railways recorded 2,017 accidents from 2017 to 2021. Derailments accounted for 69% of the accidents, resulting in 293 deaths.
The report found multiple factors including track defects, maintenance issues, outdated signaling equipment, and human errors as main causes of the derailments. It also said lack of money or non-utilization of available funds for track restorations led to 26% of the accidents.
Even though the railway safety in India has improved compared to earlier years when serious crashes and accidents near unmanned crossings were more frequent, scores have still died and hundreds have been injured.
In 2016, a passenger train slid off the tracks between the cities of Indore and Patna, killing 146 people. A year later, a derailment in southern India killed at least 36 passengers.
The Modi government, in power for nine years, has invested tens of billions of dollars in the railways. The money has been spent on renovating or replacing the old tracks laid by the British in the 19th century, introducing new trains and removing thousands of unmanned railway crossings.
The train Modi was supposed to inaugurate Saturday was India's 19th Vande Bharat Express, connecting the western city of Mumbai and the southern state of Goa.
The modern trains are designed to help reduce the risk of crashes and derailments. They will be paired with a countrywide automatic train collision protection system, a technology that will make travel safe, according to Railway Minister Ashwini Vaishnaw.
But the system was not yet installed on the track where Friday's crash took place. It wasn't clear what caused the trains to derail and an investigation has started.
Experts suggest that the country's railway system needs to prioritize safe tracks and collision protection.
"India has achieved some success in making train journeys safer over the years, but a lot more needs to be done. The entire system needs a realignment and distributed development. We can't just focus on modern trains and have tracks that aren't safe," said Swapnil Garg, a former officer of the Indian Railway Service of Mechanical Engineers.
Garg said the crash should "shake up the whole railway system" and prompt authorities to look at the "lax safety culture."
"I don't expect authorities to turn the key and fix things quickly. The Indian railway system is huge and it will take time to make it more safer. But there needs to be a will," he said.
Sign up for our weekly newsletter to get more English-language news coverage from EL PAÍS USA Edition