Russia constructs 800 km of defensive lines to head off Ukrainian counteroffensive
Kyiv's NATO allies are speeding up the delivery of specialized vehicles to overcome a chain of obstacles not seen in Europe since World War II
Nothing like it has been seen in Europe since 1945. The closest thing can only be found in history books or on tourist trips to visit the legendary Siegfried Line or the Gothic Line in Italy, both constructed by German forces before and during World War II: 800 kilometers (just under 500 miles) of trenches, anti-tank ditches, dragon's teeth (reinforced concrete obstacles to hinder armored vehicles), concrete machine-gun nests and bunkers today form a defensive line protecting the territory occupied by Russia in Ukraine. Since last summer, the invading forces have been constructing a massive defensive barrier to hold off the expected Ukrainian counteroffensive. Meanwhile, Kyiv's allies have been speeding up delivery of heavy armor designed precisely to overcome these defensive measures.
The Armed Forces of Ukraine face a titanic struggle to reconquer the territory gained by Russia since the start of the invasion in February 2022. The operation will require considerably more troops, tanks and air support than was deployed last summer and autumn when Kyiv launched successful counteroffensives in the provinces of Kharkiv and Kherson. At that time, the Russian army was retreating and had not had time to dig in along solid defensive lines. It was enough for Ukrainian forces to stage attacks with small infantry units supported by light armored vehicles that used hit-and-run tactics to break through Russian positions. Kyiv's strategy in those counterattacks was based on NATO military doctrine, handing autonomy to battalion commanders on the ground and accompanied by high-precision artillery pounding the Russian rearguard and supply lines.
The panorama now facing Ukraine's military is considerably more complicated. Throughout the occupied territories — on the front lines but also in municipalities behind them — Russia has erected defensive barriers not seen in Europe since the fall of Hitler's Third Reich. Javier Jordán, professor of political science at the University of Granada in Spain and director of the defense analysis group Global Strategy, and Stephen Biddle, a professor at Columbia University, made the comparison in a study published last November. "There are no qualitative differences in these defensive structures with respect to World War II," Jordán says in a conversation with EL PAÍS.
This modern version of the Siegfried Line stretches from Russia's border with Ukraine in the province of Luhansk in the northeast through the occupied territories of Donetsk and Zaporizhzhia, following the course of the Dnipro River as it passes the liberated city of Kherson and ends at the gateway to the Crimean Peninsula. According to John Helin, a Finnish historian and military analyst, Russian forces have also fortified municipalities to turn them into strongholds behind the lines, which Ukrainian forces will have to take one by one to avoid leaving enemy units in their own rearguard.
The defensive obstacles being thrown up by Russia are similar to those deployed 80 years ago, says Helin, although easier to overcome. As an example, the dragon's teeth being deployed are not dug into the ground as they were during WWII but placed on the surface and can be easily removed with an excavator. The bunkers constructed are also similarly designed, with no subterranean foundations or fortified walls: they are prefabricated and have been placed mainly along roads to provide cover for snipers.
However, the Russian defensive line remains "formidable," as noted on April 12 by U.K. intelligence, above all on the Zaporizhzhia front, where a Ukrainian counteroffensive toward Melitopol and the Azov Sea is anticipated. In Zaporizhzhia and the occupied area of Kherson province, Russia has constructed three parallel defensive lines of 120 km (75 miles) in length, each about 15 kilometers apart and all following the same system: a first line of combat trenches with barbed wire, preceded by minefields; then dragon's teeth, anti-tank ditches and more trenches with additional positions for dug-in tanks to act as artillery.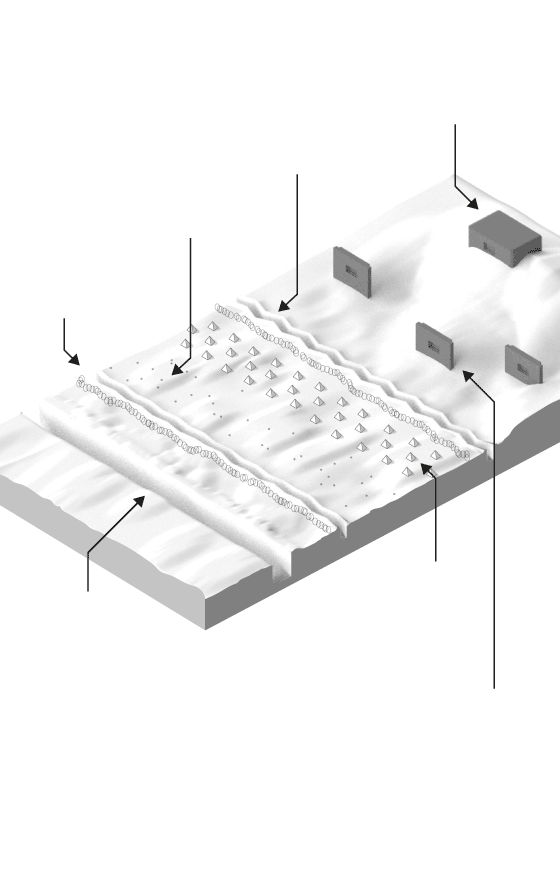 Concrete parapets for snipers
machine-gunners and tanks
Source: in-house production
NACHO CATALÁN / EL PAÍS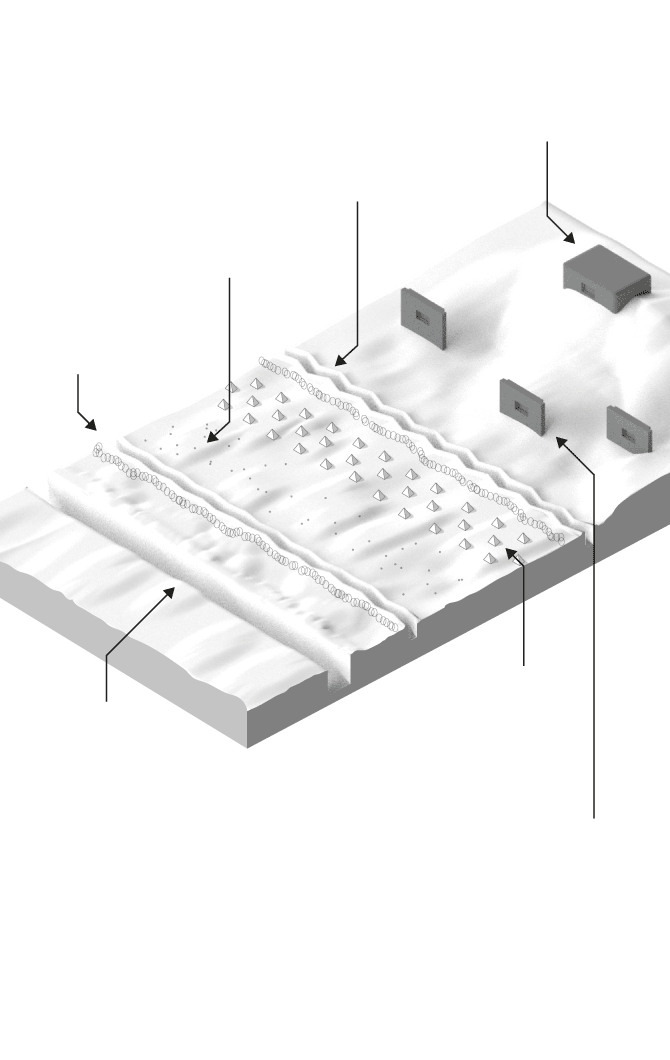 Concrete parapets for snipers,
machine-gunners and tanks
Source: in-house production
NACHO CATALÁN / EL PAÍS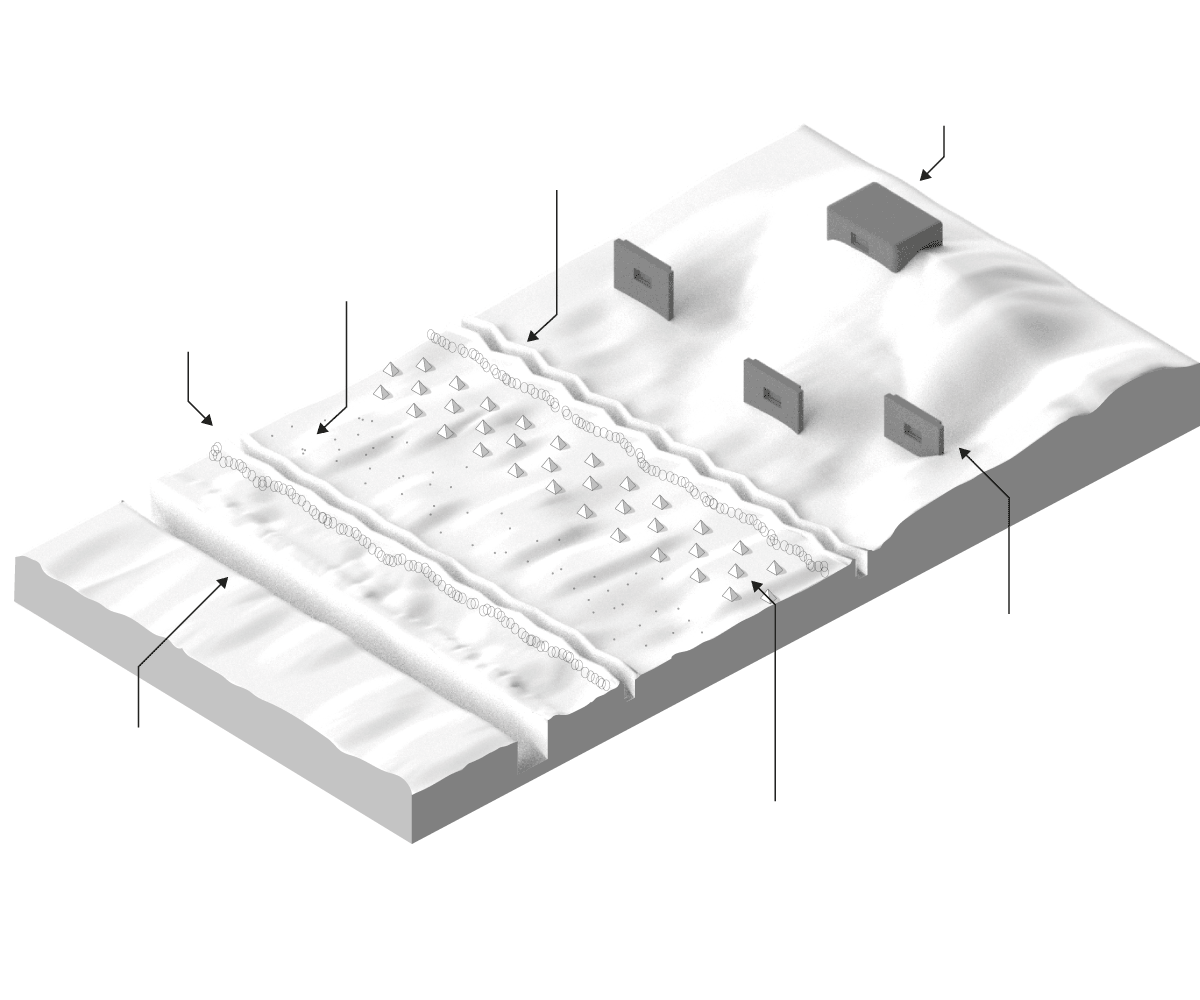 Concrete parapets for
snipers, machine-gunners
and tanks
Source: in-house production
NACHO CATALÁN / EL PAÍS
Concrete parapets
for snipers,
machine-gunners
and tanks
Source: in-house production
NACHO CATALÁN / EL PAÍS
NATO steps up armored deliveries
On April 4, Australian Major-General Mick Ryan noted a significant change in the materiel being provided to Ukraine by its NATO allies in one of his periodic analyses of the war: for the first time since the conflict began, vehicles specifically designed to overcome anti-armor obstacles have been given priority, as has equipment for sappers and engineers, such as C-4 plastic explosives to pen routes through the concrete blocks. Washington has provided MRAPs, which are built to withstand mine explosions; tanks with mine-detonating shovels; tracked vehicles with M-58 explosive charges, which horizontally detonate mines and destroy dragon's teeth, and M-60 armored vehicles with deployable bridges to overcome trenches and anti-tank ditches. Germany has sent Biber mobile armored deployable bridges and Wisent-1 mine-clearing vehicles. Lithuania has provided armored all-terrain mine-resistant vehicles and Finland, Leopard tanks adapted to open routes through minefields while the Netherlands has sent Bradley bridges and M-3 pontoons for river landings and France has provided AMX-10P amphibious armored infantry carriers.
Kyiv is mulling the option of attempting an amphibious assault on the southern front, crossing the Dnipro River, an option that most of the analysts consulted by this newspaper consider a practically impossible feat: the Dnipro's riverbed as it traverses Kherson is more than two kilometers long. The Moscow-installed governor in the annexed territories of Kherson, Vladimir Saldo, has stated Kyiv is amassing amphibious forces on the western bank of the river.
Attempting an offensive against multiple trench lines, minefields and obstacles with machine gun nests is not effective without sufficient artillery support, notes Jordan and Helin. The director of Global Strategy stresses that the morale of the defending soldiers is also an important factor. In the Kharkiv offensive, eliminating Russian commanders was decisive because of the strict hierarchical structure of the Russian army. When the chain of command was destroyed, the rank and file abandoned their positions.
"There is no more difficult mission than planning and executing a combined attack against a line of obstacles," General Ryan wrote. Jordan concurs, highlighting the extraordinary level of professionalism required to coordinate all branches of the military involved in an assault such as the Ukrainian counteroffensive. The analyst believes that the Ukrainian army may currently exceed the three-to-one superiority in troop numbers that military theory prescribes as necessary in offensive operations. In any case, Jordan adds, the number of casualties and material losses will be vast.
'Slow progress at great cost'
In the essay published in analytical journal War on the Rocks last November, Biddle stated that the even balance of the opposing forces witnessed so far during the war augured that a counteroffensive would achieve modest gains: "Where defenses have been deep, supported by operational reserves and a well-prepared front line, successful blitzkriegs have been virtually impossible after more than a century of technological change. Well-trained and shrewdly directed attackers with numerical superiority," the Columbia professor notes, "can achieve progress on the ground, but slowly and at great cost."
When opposing forces are not evenly matched, no amount of defensive preparation is sufficient. Helin cites the example of the first Gulf War (1990-1991), when, following the invasion of Kuwait, the United States-led coalition attacked Iraq. The Finnish expert points out that Saddam Hussein's military constructed hundreds of kilometers of fortified trenches that were wiped out in a matter of hours by U.S. air superiority. And, Helin warns, this is Ukraine's primary problem: Kyiv does not possess the air superiority to destroy Russian supply lines, artillery, and tanks. However, as Jordan notes, Kyiv does have an advantage in terms of precision missiles, such as the HIMARS, which its armed forces have proven very effective in using to disrupt supply lines and hit fuel dumps and weapons depots behind Russian lines.
According to the experts consulted, the victor will be the side that best manages to coordinate the different branches of their armed forces. The counteroffensive is crucial to Ukraine because if the assault falters on Russia's defensive lines, where the elite of Kyiv's military will be concentrated, it will potentially provide a golden opportunity for Russia to counterattack and gain ground for the first time since the beginning of the invasion. If that happens, Helin believes that the more than 30 MiG-29 fighters being delivered to Kyiv from Poland and Slovakia will be reserved to rescue the situation and perhaps the fate of Ukraine itself.
Sign up for our weekly newsletter to get more English-language news coverage from EL PAÍS USA Edition