Russia plans to build 25 prisons and three forced labor camps in occupied areas of Ukraine
The Russian prime minister has ordered the construction of a large network of prisons to control the population in the illegally annexed territories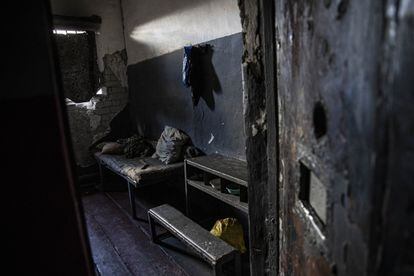 The Kremlin is aiming to deepen its control of Russian-occupied zones in Ukraine by building a large prison network. The Russian government is planning to build 25 prisons and three forced labor camps in the four territories it illegally annexed last year: Zaporizhzhia, Kherson, Donetsk and Luhansk. The main goal of the plan is to control the population in these areas. To achieve this objective, Moscow has also officially created a new department of the federal security service (FSB) in the eastern region of Donetsk.
Under the decree, signed by Russian Prime Minister Mikhail Mishustin, 12 penal colonies (as general regime prisons are known in Russia) will be set up in Donetsk, seven in Luhansk, three in Kherson and another three in Zaporizhzhia. The order also includes the construction of four medical prisons, one for each territory, as well as three forced labor camps: two in Luhansk and one in Donetsk. Moscow has not provided details on many inmates can be housed in these facilities.
The decree states that the new prisons will be built without additional budget, under changes made to Russia's prison system plan, which runs until 2030. It is a tenuous plan, given the already serious problems facing prisons in Russia. In 2020, the Council of Europe denounced conditions in Russian detention centers, which suffer from overcrowding and lack of resources: Moscow spends less per inmate than other countries in Europe.
The Russian government ordered the Federal Penitentiary System to have all the legal documents for the new prisons ready within three months.
The move comes just days after Kremlin-imposed authorities in Donetsk announced the creation of a new FSB department in the area. Russia's secret service had been operated in the territory in a de facto manner since the 2014 Donbas war between the Ukrainian army and Moscow-backed separatists broke out, but it did not have official representation until now.
The FSB in Donetsk will be led by General Oleg Bolomozhnov, a senior Russian commander who has served in the secret service since 1991. When the Donbas war began, he was director of the FSB in Tuva, a Russian republic in Siberia. He later took command of the Magadan provinces in the far eastern part of Russia, and of the city of Saratov, which is a major port on the Volga River.
When Russian President Vladimir Putin announced the Russian offensive in Ukraine on February 24, he said: "Our plans do not include the occupation of Ukrainian territories. We are not going to impose anything on anyone by force." Now, almost a year later, he is planning a massive expansion of the prison network that already existed in the Ukrainian territories. This is despite the fact that, while Russian troops control most of Luhansk, they only partially control the other three regions.
Sign up for our weekly newsletter to get more English-language news coverage from EL PAÍS USA Edition