Russia launches large-scale missile attacks against energy infrastructure in Ukraine
In one of the biggest coordinated air strikes of the war, Moscow sent a barrage of missiles and drones against civilian targets, cutting power to 90% of Lviv and 40% of Kyiv
On the eve of celebrations to see in the New Year in Ukraine, Russia launched one of its largest missile attacks of the war against energy infrastructure. Shortly after dawn, the sound of explosions reverberated in towns and cities across the country as 69 cruise missiles and armed drones were sent against civilian targets in what Kyiv described as one of the heaviest days of air strikes since the Kremlin initiated a campaign against Ukraine's water, electricity and heating supply systems, which as temperatures started to drop with the onset of winter have concentrated on power plants. Thursday's strikes were the 10th large-scale bombardment of Ukraine's power grid since September.
Russian President Vladimir Putin has employed the tactic to break the will to resist among Ukraine's civilian population by casting non-combatants into darkness and cold in sub-zero temperatures as the war enters its 10th month. According to Kyiv, air defense units of the Ukrainian military brought down 54 of the 69 cruise missiles launched by Russian forces. However, the latest wave of strikes left 90% of the city of Lviv in western Ukraine without electricity, according to local authorities, with water supply also seriously affected. In Kyiv, 40% of residential buildings were left without electricity, the mayor of the capital, Vitali Klitschko, said.
A Ukrainian anti-aircraft missile fell on Belarusian territory, according to BelTA, the state news agency, which added no casualties had been reported. The Belarusian Defense Ministry is investigating whether it was shot down by its own air defense systems or whether it missed its intended target.
As dawn broke over Kiev, the buzz of missiles and gray trails swept across the sky. Air raid sirens had earlier provided warning that the capital, like the whole country, was under alert for a missile attack. In Thursday's attacks, 16 of the projectiles fired by Moscow targeted the Ukrainian capital, all were intercepted by anti-aircraft defenses, according to the Kyiv authorities. However, shell fragments hit two houses, a children's playground and a factory, injuring three people including a 14-year-old, according to the mayor's office.
Russian strikes also damaged infrastructure in the port city of Odesa and the northern cities of Zhytomyr and Kharkiv. Several buildings, a power line and a gas pipeline were damaged in shelling on the outskirts of the southern-central city of Zaporizhzhia, according to the governor of the region, Oleksandr Staruj. In Kherson, which was liberated by Ukrainian forces in November and has been the target of heavy shelling over the past few days, a missile hit a medical center, according to local authorities, injuring two people. "They dream that Ukrainians will celebrate the New Year in darkness and cold. But they cannot defeat the Ukrainian people," Kyiv's Defense Ministry said on social media.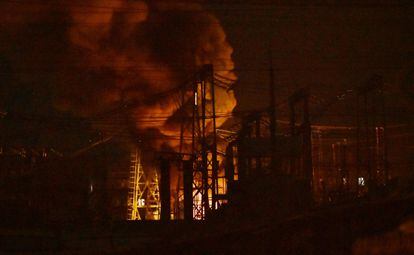 The latest wave of air strikes was carried out by at least two warships and 13 strategic bombers carrying cruise missiles, according to the Ukrainian Air Force. Shortly before the missiles began to rain down, Moscow sent waves of Iranian-made Shahed suicide drones, which are deployed by Russian forces in an attempt to distract Ukrainian air defense units ahead of subsequent missile strikes. A squadron of 13 of these drones were sent against Kharkiv, with 11 shot down, according to local authorities. In Dnipro, a strategic city in the center of the country and a logistics and communications hub, five drones were downed before a wave of missiles were launched. The Ukrainian Army's southern command has reported that three Russian missile-carrying warships have taken up combat positions in the Black Sea.
Ukrainian President Volodymyr Zelenskiy had warned several days ago that Russia was planning large-scale strikes during the Christmas vacation. "With the approaching holiday season, Russian terrorists may become active again," he said. "They despise Christian values and any values in general."
Thursday's strikes came days after a drone attack on a Russian strategic bomber base, from where Moscow has launched raids against vital Ukrainian infrastructure. At least three Russian soldiers were killed in an attack that exposed cracks in Moscow's anti-aircraft defenses. It was the second drone raid executed the Engels airbase in the Saratov region, hundreds of miles from the Ukrainian border. As it had done after previous attacks on bases in Russian territory, the Ukrainian government employed cryptic language, falling short of attributing the strikes to its own military while also making clear they are a direct consequence of the Kremlin's war.