Queen Elizabeth II's death comes at a tenuous time for the United Kingdom
Charles III will be compared to his much more popular mother, while the new PM, Liz Truss, must lead a skeptical country on the brink of economic recession
As she enumerated the strengths of Elizabeth II, the UK's new prime minister, Liz Truss, inadvertently described the exact opposite of the country left behind by the late monarch. "She was the rock on which modern Britain was built. Our country has grown and flourished under her reign," said Truss as she stood outside the door of 10 Downing Street, which she had first entered as prime minister barely 48 hours earlier. "Through thick and thin, Queen Elizabeth II gave us the stability and strength we needed," said the Conservative politician.
Shakespeare wrote, "Some are born great, some achieve greatness, and some have greatness thrust upon them." Truss assumed the responsibility of leading 67 million UK citizens by winning a slim majority of Conservative Party voters after Boris Johnson stepped down. Truss now has the privilege or misfortune of being the prime minister who ushers out the second Elizabethan era and begins a new Caroline era [so named after the monarchs named Charles] that augurs another economic recession, a major energy crisis, galloping inflation, and the mistrust of 78% of the country, according to YouGov, a UK-based market research and data analytics firm.
Fortunately for Truss, the nation will be focusing in the days ahead on the man who has been preparing to be king all his life, yet who has never managed to dispel his countrymen's doubts.
Charles III has finally ascended to the throne with a 42% popularity rating, according to YouGov. This is well below the 75% rating that Elizabeth II enjoyed. Even his son, William, is more popular (66% rating). But the incessant speculation by many British tabloids that William would ascend to the throne ahead of Charles has finally been silenced.
The new monarch, often controversial and provocative, must overcome the skepticism of many citizens who still fault him for the embarrassing quarrels with Lady Di. And many are unhappy that Camilla Parker-Bowles, the apple of discord in that unhappy marriage, has become queen consort, even though Elizabeth II explicitly confirmed that she wanted her daughter-in-law to receive the title.
Charles III, who has been substituting for his mother over the last few months in most of the institutional and ceremonial tasks of the crown, knows that as king he will have to exercise a strict impartiality that did not constrain him as prince. But his concern about climate change and the deterioration of urban centers is well known, so Charles III can certainly be helpful to a government trying to avert a winter of hardship and discontent.
"I am confident that Elizabeth II's values will be upheld by her beloved son Charles, our new king," said Labor Party opposition leader, Keir Starmer. It was just one sentence in a long speech praising the deceased queen, and a subtle way of expressing support for the new king while juxtaposing him with his mother, Elizabeth II.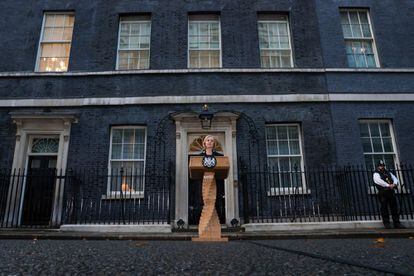 Andrew Marr, political editor for the New Statesman weekly magazine, wrote, "We're talking about a woman who is absolutely central in Britain to our sense of ourselves, who we are." The queen is gone at a time when the UK has irreparably severed ties with the European Union, the specter of secession simmers in Scotland, Ireland may become united again, the Commonwealth countries feel less and less attached to an ineffective political construct, and many painful colonial legacies remain vividly unforgotten.
Liz Truss, like all new prime ministers, took office with bold promises of rescuing a faltering economy and restoring the country to the Conservative Party's vision of greatness. Paradoxically, a non-political event of historical dimensions — the death of Elizabeth II — is ushering the United Kingdom into a new era, and millions will be focused on the new king instead of the new prime minister.