Orlando Jorge Mera: The Dominican environment minister shot dead in his office
The politician, who was killed by a childhood friend, is remembered for his unwavering commitment to upholding the laws that protect environmental rights
Those who knew Orlando Jorge Mera, the Dominican environment minister killed in his office, define him as a kind and energetic person who did not hesitate when it came to enforcing the country's environmental laws. He is also remembered as level-headed and conciliatory, someone who was not afraid to talk directly with his opponents. It's a trait he showed until the end, when was killed in his office in Santo Domingo, the capital of the Dominican Republic, on Monday morning. That day the 55-year-old received a visit from Miguel Cruz, a childhood friend who he had studied with. It was this same friend who shot him several times in his office, ending his life.
Cruz – who has since been arrested – fled the crime scene to a church where he confessed to a priest and handed over his gun. Authorities have not determined an official motive for the killing, but it is known that the 56-year-old owned two companies: Miguel Gun Shop Armory and Construction Company Cruz de la Mota and Associates. According to local media, the businessman wanted to extract material for his cement factory from a river in the Cibao region, in the north of the country, but had to suspend the operation because it did not comply with environmental regulations. It is believed that this led him first to argue with Jorge Mera and then to shoot him with a gun that he had hidden when entering the ministry headquarters. In the wake of the killing, many have criticized the security failings that allowed an armed attacker to enter the ministry.
For environmental defenders, Jorge Mera's murder is yet another example of the dangers faced by environmental activists in Latin America, which, according to the international organization Global Witness, is the most dangerous region in the world for environmentalists. "If something like this can happen to someone like a minister, then where does that leave us, the ordinary citizens, who deal with many of the same issues, people and interests?" asks Maximiliano Bello, from the not-for-profit Blue Mission, which works to provide water to underdeveloped communities in the country.
Bello had been working with the minister for months on an environmental project that they planned to announce soon. "We were working on several fronts and he was very excited about everything we were doing. He was very approachable," he recalls in a telephone conversation with EL PAÍS. "He was super friendly, kind, interested in protecting the environment, with a lot of ambition and no resentment."
Milagros De Camps, deputy minister of International Cooperation at the Environment Ministry, has the same vision of Jorge Mera. "He was a very peaceful, conciliatory person, with great, superhuman patience, who always tried to do good, he was very committed and extremely hardworking," she says in statements to EL PAÍS. Although their families were lifelong friends, it was not until they began working together at the ministry, in August 2020, that she really got to know Jorge Mera and saw him transform "from a politician in a tie" to a committed environment minister who enjoyed going out into the field and defending nature. "He didn't come from the environmental sector. But as soon as he arrived [at the ministry] he became very interested in the issue," she says. "I felt that he had found something he was passionate about even though he had not come from that area."
A lover of sports, racing and beekeeping, Jorge Mera came from a family with a long political tradition in the Dominican Republic. His father was former president Jorge Blanco, who governed the country between 1982 and 1986; his wife is the ambassador of the Dominican Republic in Brazil; his sister is the vice minister of Innovation, Transparency and Citizen Attention; and one of his sons is a lawmaker.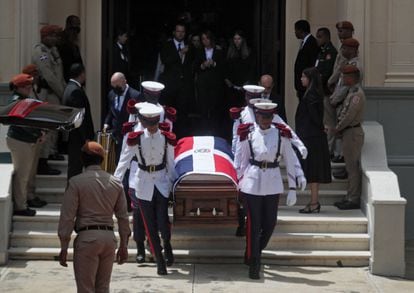 Jorge Mera was born in Santiago de los Caballeros and trained as a lawyer. He was also one of the founders of the Modern Revolutionary Party (PRM) and presided over the Dominican Institute of Telecommunications between 2000 and 2004. In his multifaceted career, he was a professor, as well as a TV producer and presenter.
In August 2020, he was appointed as environment minister by President Luis Abinader and began, without knowing it, what would be his last assignment. According to Bello, Jorge Mera was widely respected both in his country and among his peers in the region. If something defined him, it was his unwavering commitment to uphold the law. "If someone was breaking the law, he did everything he could to ensure that they would comply with it. He opened an innumerable number of cases, he put a lot of people in jail for not complying with the rules and he had a very clear position, which I imagine sparked a lot of backlash from some of the people who were not complying."
De Camps claims that he had brought more than 2,000 people and companies to justice for not complying with environmental laws – which put him at odds with powerful interests. However, neither she nor Bello say he ever feared for his safety. "He was not afraid, he always said that everything could be solved through dialogue and that he acted within the law. In fact, as a lawyer, that was what he told us the first day: 'We are going to defend the law.' And the truth is that, for the first time in a long time, we had a committed minister," says De Camps, who adds that he had no personal security detail. "He was a very simple person and he thought well of everyone," she adds.
On Tuesday, a Mass in honor of Jorge Mera was celebrated in the San Rafael Chapel of the National Palace in honor of the late minister. Speaking at the tribute, President Abinader also spoke of the minister's courage. "The changes that have taken place in recent years entail many challenges and dangers that Orlando has never feared," he said.
As the country observes three days of mourning for Jorge Mera, his colleagues hope to honor his memory by continuing his legacy. "A large part of his team are young experts with amazing abilities. He was a person who trusted a lot in his expert team, in the youth whom he allowed to carve out their own space within the public service and the fight for the environment," said De Camps. "We will miss him very much."