Spanish evacuation effort in Afghanistan: 'We never thought so many lives would depend on us'
Captain Javier Escorihuela recounts the harrowing scenes at Kabul airport and the difficulties involved in getting people out safely
On the afternoon of August 18, Captain Javier Escorihuela received a WhatsApp message from his superiors. The 29-year-old military official from Seville was being "activated" along with his team in the Air Deployment Support Squadron (EADA) to fly to Kabul and assist the Spanish army with the evacuation effort in Afghanistan. At that point, Escorihuela could not imagine that the instant messaging service would help save "around 1,200 people" who were extracted from a crushing crowd of thousands of Afghans desperately attempting to flee Taliban rule.
The day after getting the message, he and 19 other service members took off from the military base in Zaragoza to take part in the most complicated mission of their lives, as Spain joined the international evacuation effort in Afghanistan. "I'd never done anything like this before. We are prepared to defend Spain and its allies by identifying the threat and neutralizing the bad guys, but in this case, it was about saving people, about removing them from hell."
Escorihuela, who already had experience with missions in Africa's Sahel region, quickly packed his duffel bag with "strictly essential" items such as weapons, ammunition and communication devices. He had received instructions to travel light as they might have to leave things behind in the event of a rushed exit.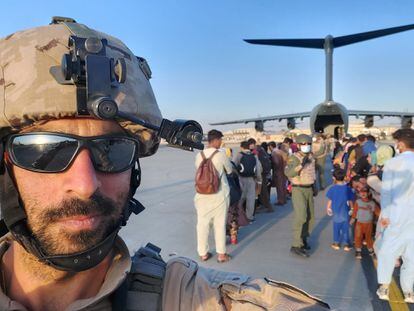 As it turned out, once on the ground "radio communications failed depending on the distance," and the Spanish captain ultimately relied on two cellphones to rescue hundreds of people – "mothers, fathers, children, entire families, journalists, movie directors, activists..." – from the hell of human despair surrounding Kabul's international airport and the nearby NATO military base. "I think none of us had imagined that so many lives would depend on us."
The team landed at 6am on August 19 and quickly realized that things were not going to be like anything they'd ever experienced before. "Nobody came out to greet us, there was nobody [from the armed forces] there. I thought: 'They must be really busy.' At the same time, I could see dozens of refugees going by, lots of tired-looking children. They were walking towards the planes, even climbing inside our own, there were so many people everywhere..."
Not long after that, Escorihuela's subordinates returned from the airport's access gates and briefed him on the situation. He quickly set up a team to go in search of Afghan nationals who had worked with Spanish authorities and armed forces during the nearly two decades that Western forces were present in the country. At that point, there were still three open access points and Spain was able to operate in two of them. But the next day, "with over 16,000 refugees inside the base extracted by different countries, and due to the impossibility of keeping control, the US army decided to leave only one entrance open," he recalls. Abbey Gate became the only way out of Afghanistan by air.
The procedure for "extracting" people required many steps: "checking people's identity, patdowns, explosive detection dogs..." The captain formed two 14-member groups and put them on six-hour shifts that worked 24/7. Meanwhile, there were four to six team members outside at all times searching for evacuees included on their list.
"We barely got any sleep," says Escorihuela, whose loose uniform reflects the weight loss of those intense days. The calls came at all hours of the day or night. "We have to get X out now," he would be told at 4am.
The rescue effort largely depended on the arrival times of the Spanish A400M planes and on access to the entrance gate, controlled by British soldiers. Escorihuela says they had to tell evacuees to first jump into a filthy sewage ditch running around the airport's perimeter in order to reach the safe zone. In another area, the crowds were so large that he saw people crushed to death against a wall.
Much of the success of the rescue mission, besides luck, rested on the fact that evacuees managed to wait – "sometimes for days" – for the piece of cloth waving at the agreed site, following instructions sent via WhatsApp. "We had a list of 900 people, but sometimes the names did not match because they were written in a different way. We checked that they had received the email with the travel document from the Spanish embassy and we also looked at their ID, but some of them were showing up with nothing at all, ready to start over with just the clothes on their backs," notes Escorihuela with amazement.
Some of the evacuees helped by acting as interpreters for the Spanish troops. Meanwhile, the captain's phone was filled with requests for assistance. "Many colleagues who had been stationed in Kabul were writing to me with the names of individuals who had helped them in the past and who were now desperately trying to flee, but I had to stick to the list." His team was in charge of the first screening, but successful candidates still had to undergo further questioning by police officers and diplomatic personnel.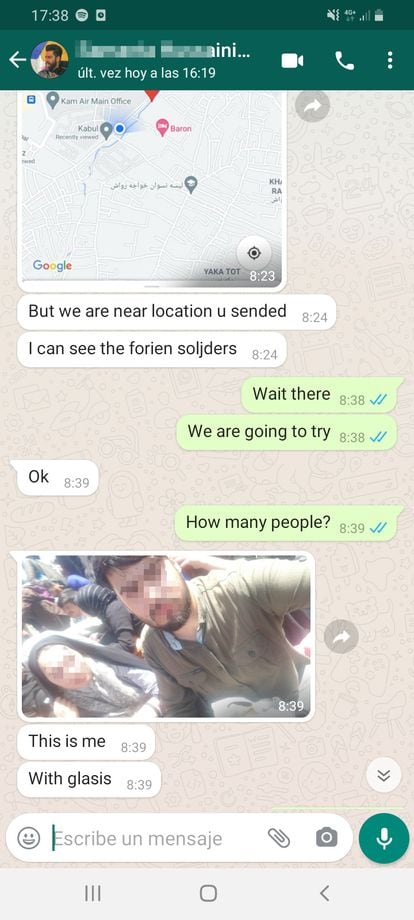 The days blended into the nights, but there is one moment that stands out clearly: the minutes right before suicide bombings killed over 100 people. "A half-hour earlier I had my people there; I'd sent them over because there was a window of opportunity to collect a family who had been waiting outside for two days. We had retreated earlier because the gate was closed due to the threat of an attack. When it reopened, I sent six people out."
A few minutes later, he received a new call warning about an imminent bomb threat. "The radio communications were no longer working, they were too far away. I got in the car and got as close as possible to the gate entrance until I was able to make contact. I said 'you have to get out now!'" The explosion took place 30 minutes after that. The family they were meant to extract was never heard of again.
With each passing day, the team's physical exhaustion increased and morale declined due to the realization that "we could not get them all out" despite their best efforts. Escorihuela continually reminded his troops about the hundreds of individuals they had already saved. He particularly remembers a family with a baby who are now living in Orense, in Spain's northwest region of Galicia.
"They had to try twice. The first time we failed, and they went back home because the baby seemed to be dying of the heat and strain. But the second time they did it, they crossed the ditch, even the father with his crippled leg, and we pulled them out," he recalls with a hint of satisfaction. "And there were also the journalists, with whom I've spoken this morning."
The Spanish contingent – the military troops, around 20 police officers and diplomatic personnel, including the acting ambassador Gabriel Ferrán – flew out of Kabul on August 27, when the Spanish government officially concluded its airlift operation. "We hadn't been able to follow the news and we were unaware of the repercussion. Nobody was expecting to be received by the prime minister," he says. During the flight home, Escorihuela began seeing images of Afghan men, women and children in his mind again: "All the people who we left behind."
English version by Susana Urra.