The traumatic birth that reached the UN: A fight waged by two women against obstetric violence
In her memoir — 'My Stolen Birth' — Nahia Alkorta narrates how she was a victim of obstetric violence 11 years ago, during the birth of her first child. With the support of her attorney — Francisca Fernández — she waged a legal battle that made it to the United Nations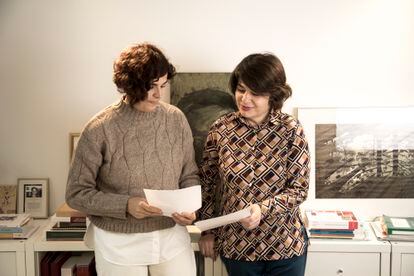 Nahia Alkorta recalls the mountains and fields of the Spanish village of Riglos, a natural gate of the Pyrenees, from July 2012. The Spaniard — who was 25 at the time — had decided to go to Riglos to spend the weekend with some friends and her husband. She recalls that, while they were playing sports, she took pictures with the camera she had bought to document her new life: she was 38 weeks pregnant.
Just a few days later, upon returning home, she began to feel her first contractions. With the excitement of a woman who is about to have her first child, she and her partner went to a hospital in the Basque Country. And that was when her nightmare began.
In her recently-published memoir, My Stolen Birth, the woman — now 37-years-old — recounts how, in the hospital, she was the victim of obstetric violence during the birth of the first of her three children. It's been 11 years since she went through this terrible episode.
Alkorta is the woman behind the second of the three U.N. condemnations against Spain for obstetric violence. This type of aggression — which occurs in both the public and private health systems — consists of any actions by healthcare personnel that cause physical or psychological harm to women during pregnancy, childbirth and the postpartum period. Despite the time that has passed, Alkorta relives the aggression she was subjected to on a daily basis.
Eleven years ago, she went to the hospital at dawn. A few weeks earlier, she had sent a birth plan to her referral center. "Nothing I wrote was taken into account," she laments. She remembers every detail from those days in July 2012, discussing what happened to her without hesitation. They took her up to the ward and they infantilized her: several residents then proceeded to examine her without her consent. Subsequently, they ended up performing a C-section — they treated her "like an animal," stapling her up after she gave birth to her son. She remembers the burning smell from the C-section and how they separated her from her son for more than four hours as soon as he was born. She never signed a single document to give her consent.
"I was unable to walk for several weeks. I needed help from my family, I wasn't autonomous. But the psychological damage was greater. I still, in a way, carry it with me. I can't bear to smell something burning. Years ago, [the incident debilitated me]. Now, I can move on… but my guts churn when I remember everything that happened," Alkorta explains. But, for her, the worst thing was the guilt. "I blamed myself, my husband and even my son." The writer ended up being diagnosed with post-traumatic stress disorder.
Nahia Alkorta waits in her lawyer's office. Francisca Fernández has her office in the San Lorenzo de El Escorial, about 30 miles from Madrid. Clouds cover every corner of the sky: it doesn't take long for the first drops of rain to fall. The landscape is very different from what she encountered back in 2012, when it was warm and sunny. Her first appointment with Fernández took place on an October morning, a few months after she gave birth.
Today, Alkorta has come to tell her lawyer and friend about how the system broke her and she has tried to rebuild herself. And how she ended up writing a story about what she and her son went through.
When she explained her case to her lawyer for the first time, Francisca Fernández nodded constantly. She was also a victim of obstetric violence, nine years before Alkorta's incident took place. They performed the Kristeller maneuver on Fernández, which consists of pressing the bottom of the uterus when the baby's head is wedged in the birth canal, in order to speed up the process. Her daughter suffered asphyxiation and had to be resuscitated. Fernández, meanwhile, suffered physical and psychological problems (she was diagnosed with PTSD, like Alkorta) that she still carries with her. This practice is discouraged by the World Health Organization (WHO) and the Spanish Society of Gynecology and Obstetrics (SEGO), due to the damage it can cause to the mother and baby.
After that first birth, Fernández decided to specialize in health law. The lawyer doesn't dare estimate the number of cases she has handled since she began practicing in this area, although, she does mention that she handles about 60 cases a year.
Alkorta's message came to her through an email forum dealing with C-section support in 2012, where several women recounted their experiences with obstetric violence. "There are terrible testimonies. 20 years ago [which was when Fernández joined the forum to tell her story], every week, 10 or 12 mothers would join. It's outrageous," she fumes. In 2022, Alkorta and Fernández received the second U.N. ruling condemning Spain for obstetric violence. They share a fierce criticism of their country.
The author of My Stolen Birth laughs when asked if there has ever been any apology from her health center. "The only thing I've received is a press release in which they [affirmed] their excellence," she emphasizes.
Nahia Alkorta became pregnant again. Her daughter was born in the middle of the pandemic lockdowns. She was paralyzed, she says, by "the terror of going through the same thing again. Luckily, everything went well. I didn't have to live through another nightmare." She's attentive to the gaze of her children, who accompany her to the interview with EL PAÍS.
While the little ones carefully observe as photographs are taken of the two women for this report, Alkorta looks at Fernández. The photographer tells them to get closer together. As the flash goes off, a "thank you" can be heard from Nahia Alkorta.
Sign up for our weekly newsletter to get more English-language news coverage from EL PAÍS USA Edition