The couple who cared for orphaned baby elephants in Kenya
An independent non-profit now carries on the work of Daphne and David Sheldrick, whose wildlife trust is a haven for young orphaned animals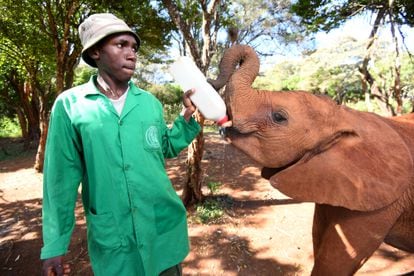 It's 10:30 a.m. and a small convoy of cars has formed in the driveway of Sheldrick Wildlife Trust, in the Karen neighborhood of Nairobi. It's a haven for orphaned and young elephants who have been rescued after falling prey to victims of human violence or simply losing their mothers. Workers in green coats order giant baby bottles (containing about 10 liters of milk each). At 11 a.m. a bell rings and, in single file, like children in a kindergarten before recess, a group of 1.5 meter-tall elephants come out of their rooms, screaming with excitement. They only care about a finding their favorite monitor, who they surround with their trunks so that the bottle is fitted into their mouths. Finally, it's breakfast time. It takes no more than half a minute to empty the first bottle, and another half to empty the second. That's it. Once satiated, they look for their friends and play together, coating themselves in mud before searching the area for foliage, which they continue to eat, only now without so much hunger, like someone who greedily eats a bit of chocolate after dessert. The tourists who have arrived first take the best photos.
For more than 25 years, Daphne Sheldrick lived and worked with her husband, David Sheldrick, the founding naturalist of Tsavo Oriental National Park. The two began to successfully breed and rehabilitate many species of wild animals. Daphne was the first person to perfect the formula needed for suckling elephants, and the first Kenyan to be appointed a Dame Commander of the Order of the British Empire upon the East African nation's independence in 1963.
Upon her husband's death in 1977, the David Sheldrick Memorial Appeal became an independent non-profit organization and Daphne Sheldrick continued rehabilitating young animals until her own death in 2018. To date, more than 244 orphaned elephants have been raised by the Sheldrick Wildlife Trust and, importantly, have been returned to the wild — the real success of the project.
As the elephants are petted by the tourists, one of the refuge's volunteers holds a microphone and discusses the fight against poaching, protecting the natural environment, community awareness and providing veterinary assistance to animals in need. Then, the volunteer introduces the elephants one by one, sharing each of their stories. For example, little Taabu, who was born in 2020, was found dehydrated due to the drought in the mountains of Taitá. Salt Lick Lodge staff watched it rummaging through the scorched grass, ignored by passing herds and vulnerable to predators. During its rescue, Taabu never seemed agitated or overwhelmed. "Taabu," says the volunteer, "has an always cheerful character, he is very sociable, he always wants to be in the thick of all the action." And indeed it is Taabu who approaches me with his fun-loving spirit when I call his name and start recording him. To welcome me, he bumps me to the ground, sending my cellphone flying and the people next to me screaming. It was his way of giving a hug.
"Family is everything to elephants," adds the volunteer before taking the animals back to the refuge. "While every orphan hears the call of the wild in due time, the bonds that bind them to their human-elephant family at the Sheldrick Wildlife Trust last a lifetime. Orphans often set out in the wild alongside those they grew up with, and many revisit our reserves from time to time. Almost all orphans released into the wild who share this joy with their human family usually do so immediately after giving birth."
Sign up for our weekly newsletter to get more English-language news coverage from EL PAÍS USA Edition