Spanish court upholds nine-year jail sentence for 'La Manada' gang
Deputy prime minister says it is likely that all five men will go back to prison shortly
A Spanish appeals court has upheld a nine-year prison conviction against five men found guilty of sexually abusing an 18-year-old woman at the 2016 Running of the Bulls festival in Pamplona.
The case became known as La Manada (the Wolf Pack) after the Whatsapp chat group that the men used to boast about their sexual exploits, and the original court decision triggered nationwide protests in April of this year after judges found the men guilty of abuse but not of rape.
Women are being told that if they don't kick and scream and risk their lives, then they're not being raped
Podemos leader Pablo Iglesias
That decision also sparked a public debate about the definition of sexual violence, and about whether the Spanish justice system is addressing it adequately.
Now, the High Court of Navarre has ratified the conviction in a 3-2 vote. Two members of the five-judge panel entered a dissenting opinion, asking for the prison sentence to be raised to 14 years. The panel's decision may be appealed before the Supreme Court.
In their dissenting opinion, the judges Joaquín Galve and Miguel Ángel Abárzuza said that the acts committed by the members of La Manada "must be penally classified as a crime of sexual aggression," a category that includes rape, rather than sexual abuse. This is so because the Manada members "set a trap for the victim," who had "practically no possibility of fleeing and/or escaping," meaning that intimidation and coercion were used.
Reaction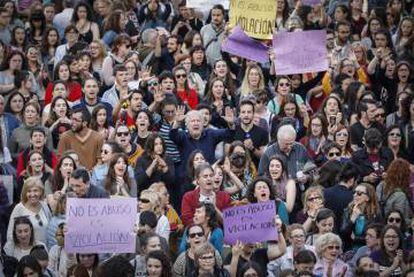 There was reaction to the ruling throughout Wednesday.
"Women are being told that if they don't kick and scream and risk their lives, then they're not being raped. We're going to introduce a bill stating that only yes means yes," said Podemos leader Pablo Iglesias in the TVE morning show Los Desayunos.
Spain's Deputy Prime Minister Carmen Calvo, whose own background is in law, said that this new ruling "awards credibility to the victim" and that it is likely that all five Manada members will immediately go back to prison, after being released on bail last June.
The main judge associations have asked authorities for a reform of the criminal code to clarify the various types of sex crimes, given "the fine line" that creates doubt in cases such as this one.
Original ruling
In April, a lower court found that the victim's consent was compromised when she was led into a building lobby by the men, who took turns having sex with her and making cellphone recordings. Even though the judges described the woman as "stunned and unable to react," they concluded that there had been no violence or intimidation, two necessary requirements for rape under Spanish law.
In its ruling, the lower court said that according to Supreme Court case law, there can only be violence if physical aggression is used against a victim – an act the judges believe did not occur.
In September of this year, four members of La Manada returned to court in a separate case, accused of sexually abusing a 21-year-old woman in a moving vehicle while she was asleep, and also capturing their actions on a cellphone and then sharing the recordings via WhatsApp. The incident took place just two months before the Running of the Bulls fiestas.
English version  by Susana Urra.