Spain and UK must cooperate on Gibraltar under Brexit agreement
The deal creates new bilateral framework to address relations between the Rock and the surrounding territory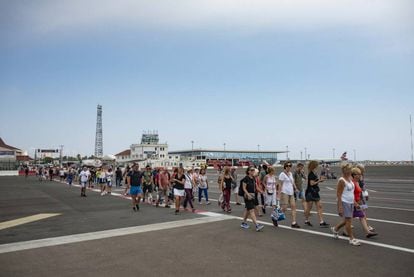 The draft Brexit withdrawal agreement contains a protocol on Gibraltar that creates a brand new cooperation framework between London and Madrid to address relations between the Rock and the surrounding Spanish territory known as Campo de Gibraltar.
In six articles, the protocol creates three Spanish-British committees that will be tasked with addressing issues of concern such as the rights of cross-border workers, the fight against smuggling, environmental protection, and cooperation on law enforcement and border control. The document does not mention the presence of representatives from Gibraltar, but London has always included them in its delegation.
The protocol recognizes the approximately 10,000 Spaniards who work in Gibraltar as cross-border workers
These bilateral committees will report to a special committee made up of UK and EU representatives who will deal with any arising discrepancies. In this sense, the EU will supervise progress on Spanish-British cooperation.
The protocol recognizes the approximately 10,000 Spaniards who work in Gibraltar as cross-border workers with the right to free entry and exit across the border, and says that they may not be discriminated against in terms of wages, working conditions and social rights compared to the local workers. The relevant authorities from Spain and Britain will create a committee to coordinate labor issues, and to exchange updated information about cross-border workers every three months.
There will also be a joint committee to deal with environmental issues such as waste treatment, air quality, fishing and scientific research. A third committee will consider ways to improve police and border cooperation. Both of these groups may ask EU representatives to be present.
As expected, the protocol sidesteps the matter of joint use of Gibraltar airport, which was built on a piece of land that Spain claims as its own, The protocol merely notes that EU air transportation regulations that do not apply to Gibraltar airport before March 30, 2019 – the UK withdrawal date – will only affect it afterwards when London and Madrid "reach a satisfactory agreement over use of the airport."
On the even thornier issue of taxes, the protocol states that Spain and Britain will seek forms of cooperation to achieve "total transparency" on tax matters, to "fight fraud, smuggling and money laundering," and to resolve tax residence disputes.
The agreement forces Gibraltar to meet G-20 and OECD standards on transparency and good tax practices, and gets the UK involved in ensuring that in June 2020 the overseas territory will incorporate World Health Organization conventions on tobacco controls and tobacco smuggling; a cigarette traceability system must also be implemented. In order to fight the smuggling of products with special taxes, the UK will introduce taxes on alcohol and petroleum in the Rock.
Besides the protocol, which is the only legally binding document, Spain and Britain have also agreed on four Memorandums of Understanding (MOUs) that provide greater detail about citizens' rights, tobacco and other products, environmental cooperation, and cooperation on law enforcement and border control. There is also a commitment to negotiate a treaty on taxes and the protection of financial interests.
The preamble to the protocol expressly says that its contents do not affect "the respective positions of Britain and Spain on the sovereignty and jurisdiction of Gibraltar."
English version by Susana Urra.