Spain's transsexual Miss Universe candidate hounded by press and on social media
Twitter users and Latin American media outlets have been mocking Ángela Ponce and questioning her right to participate in the competition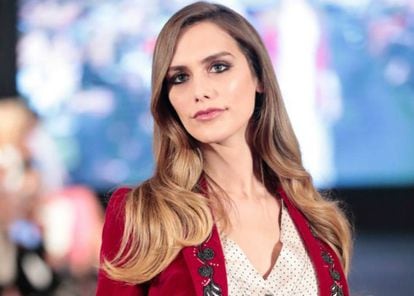 The life of Spanish transsexual model Ángela Ponce has not been the same since she was named Spain's Miss Universe candidate on June 29. In Spain, the decision to give a transsexual woman the title caused little controversy, particularly given that the beauty contest changed its rules in 2012 to allow transgender women to participate, as long as their country of origin legally recognizes their name change.
But outside of Spain, the reaction has not been so positive. Instead of being applauded for bringing greater visibility and awareness to the transgender community, Ponce has been bullied for being different.
"I have to win not just for me but for all the people in Spain and around the world so the situation changes. Not just for the LGBTI collective but for all of humanity ... I'm not just another Miss Universe candidate who wants world peace; I have a very powerful message of tolerance, hope, respect, love for oneself and others. I want to do all this under the Spanish flag," Ponce told EL PAÍS fashion magazine S Moda, just hours after winning the title. At that time, however, she had no idea about the onslaught of transphobic comments she would receive in the weeks and months to come.
I'm not just another Miss Universe candidate who wants world peace; I have a very powerful message of tolerance, hope, respect Spanish beauty queen Ángela Ponce
Day after day, for weeks on end, Ponce has been the subject of spurious media reports in Latin America. These media outlets have published everything from photos of Ponce as a child to her without makeup, turning the Spanish beauty queen into one of the most searched-for figures in Latin America, where Miss Universe is the source of much more fervor. Television programs in Mexico, Argentina and Venezuela have spent hours of prime time debating her case.
Spanish model Gabriel Rodríguez has even been dragged into the rumor mill with Latin America press suggesting he had a romantic relationship with Ponce. Rodríguez appeared on the Mexican television show Ventaneando on TV Azteca to deny the relationship and defend his friend before the cameras: "She has won, she is the winner of her own life, and despite what some people say, she is a woman."
Twitter users outside of Spain have added to the furor, sharing memes that question Ponce's femininity and right to compete in the Miss Universe Pageant – proof, as the model has said, that "much more needs to be done" for transgender people to be able to live freely.
Former and current Miss Universe contestants have also made comments about Spain's beauty queen. A few days ago, Vivian Sleiman, who was named Miss Venezuela in 2001, said: "They may call me old fashioned but I think there should be a competition, which already exists, for transgender people and another for girls." This sentiment was shared by Miss Peru 2018 Lucía Arellano, former Miss Mexico and Miss Universe Lupita Jones, and Miss Colombia Valeria Morales, who will compete against Ponce at the Miss Universe Pageant on December 17 in Bangkok.
After being crowned Miss Colombia, Morales told TV cameras, "I believe that a beauty pageant like Miss Universe is for women who are born women. And I believe that for her it will also be a disadvantage, and so we'll have to respect it but not agree with it."
Ponce's response to the criticism took everyone by surprise. "I respect her [Morales] and I respect that that is her opinion, but I don't want to go to Miss Universe with any prejudice against her or any other colleague," she wrote on Instagram. "My goal is to make people aware of my reality and to talk a little to the world about the lack of education on diversity, an important factor that without doubt leads to so much bullying, prejudice and violence. I ask for respect for both my fellow competitor Valeria Morales and for myself."
Ponce is not the first transsexual to have entered the Miss Universe Pageant. In 2012, Jenna Talckova broke that barrier as Miss Canada, but she was disqualified when the organizers discovered that she was born a man. Talckova started a campaign to protest against the discrimination, and managed to get back in, eventually finishing 12th. The day when transgender women can participate in the beauty contest without it being news, is the day when Ponce will have achieved her goal.
English version by Melissa Kitson.