PROSTITUTION
Study: Prostitutes in Spain punished more than their clients
A report by the Autonomous University of Barcelona has revealed how victims of sex trafficking are being hurt by municipal rules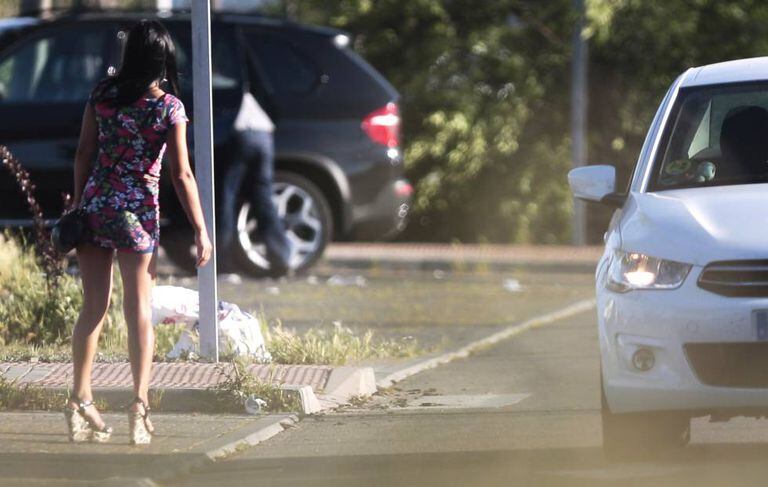 It's 4am in Barcelona's popular La Rambla street. Three African women are ready to go home. They have collected €500 to €600 between them. They hide the money in their vaginas to avoid the plainclothes officers who stop them under the city's public peace regulations. María, another prostitute who works in the same area, says the police "stop them just for carrying condoms."
More than 50 Spanish cities have specific municipal rules to curb prostitution. Some punish the prostitute and the client, others only the client. The regulations aim to protect women, keep residents happy and clean up the streets but, according to a new report by the Autonomous University of Barcelona (UAB), they end up hurting the women who are most vulnerable: the victims of sex trafficking.
Encarna Bodelón, lead investigator of Antígona
This is the first time a report has looked at the effects of these regulations, some of which were approved more than a decade ago. The university research group Antígona, which studies women and rights from a gender perspective, analyzed the regulations in nine Spanish cities: Barcelona, Madrid, Seville, Zaragoza, San Sebastián, Bilbao, La Jonquera, Lleida and Castelldefels. In some cities, like Madrid, where there are no specific municipal rules on the issue, clients and prostitutes are fined under the Public Safety Law, popularly known as the "gag law."
According to the preliminary report, seen by EL PAÍS, women in cities like Barcelona have been fined up to twice as often than their clients over the course of a decade. This conclusion was backed up by 32 interviews with female prostitutes, organizations that work with them, politicians, experts and police officers.
In Spain, prostitution is unregulated. The Socialist Party (PSOE) government, which supports the abolitionist model, has promised to introduce a law against trafficking and sexual exploitation. "The rules are supposedly an instrument against trafficking, but we have seen that it is these women who are most affected by them," explains Encarna Bodelón, lead investigator of Antígona. Prostitutes can be fined between €100 and €3,000. "There are women who accumulate €40,000 that they have to pay later," one of the prostitutes interviewed in the study added. "Right now, a colleague is paying €1,200 a month."
Prostitutes in Seville have access to services like shelters, social work centers and psychological help
There were 10 times more women fined than clients (480) in Lleida and five times more in La Jonquera (632). Organizations interviewed in the study argued that women in Madrid were also being persecuted by the laws. The Interior Ministry however does not separate data on fines issued under the gag law. In Seville, where rules target clients and consider women as victims of gender violence, 230 fines had been issued to date.
The report argues the sanctions increase the stigmatization of female prostitutes, forcing them from the city center to the outskirts where it is less safe.
In Seville, street prostitution has disappeared from central areas like La Alameda but remains in the periphery, "where it already was before," says Miriam Díaz, the deputy mayor of Seville. The city supports the abolitionist model, meaning prostitution is not considered work and prostitutes are seen as victims of gender violence. Like victims of domestic abuse, prostitutes in the city have access to services like shelters, social work centers and psychological help.
Barcelona
Barcelona began to fine clients and prostitutes in 2006, but it stopped issuing fines to women in 2015. When Ada Colau was named mayor of the Catalan capital, the city changed its focus to providing women with social assistance. But unlike Seville, Barcelona City Hall supports regulating prostitution and views it as a personal choice in some cases. "The rules were passed with the promise of reducing the number of women in the streets, but there continue to be around 350 between the Raval neighborhood, the marina area and the Camp Nou soccer stadium," says Laura Pérez Castaño, the councilor for Feminism and LGBTQ issues.
"The EU regulations say that trafficked women cannot be fined, but they are the most penalized," she adds. Although the data does not show how many victims of trafficking are fined, Castaño believes "they are most heavily punished because they need to spend more time on the streets to earn more money." "We want them to have rights but not paternalistic attitudes towards them," she adds.
English version by Melissa Kitson.