Galician asylum under review for mistreating patients
Some inmates have been kept at the regional state-run psychiatric hospital for over 50 years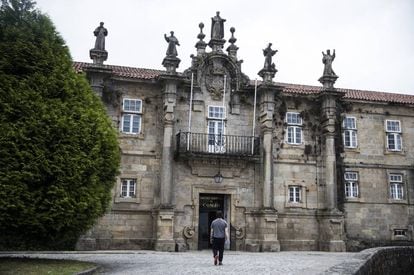 The Conxo psychiatric hospital in Santiago de Compostela has inmates who have languished in its impersonal rooms for over 50 years. Rehabilitation is not something on their minds. Opened in 1885 by the Church, which admitted two priests as its first patients, Conxo is a throwback to the era when patients were sectioned for life, a practice Spain tried to end 30 years ago.
Conxo is a human rights sinkhole
Mental health spokesperson Miguel Anxo García
An official inspection carried out by the National Preventative Mechanism against Torture has determined that the regional government hospital is guilty of extreme treatments, irregular admissions and failing to give proper medical attention to patients' progress, with almost half deprived of any hope of ever getting out. And now the District Attorney has opened a new investigation in response to a complaint filed by an association acting in defense of a patient.
"Conxo is a human rights sinkhole," says Miguel Anxo García, spokesman for the Galician Movement for the Defense of Mental Health, which works alongside 20-odd syndicates, social collectives and scientific entities. A clinical psychologist at Santiago University's Hospital Complex, which is associated with the mental hospital, he explains that Conxo has more than 100 patients long-term residents, 42 patients who are in the process of rehabilitation and another 42 who suffer from acute distress in the special care wing. "Reforms were continually being proposed in Conxo but were only realized in part. They never made the necessary investment," he says.
A team consisting of two experts, two external experts and a consultant turned up unannounced at Conxo's doors late last November and interviewed the management, the medical team and other members of staff. They also inspected the archives for medical histories and met in private with a number of the hospital's 221 patients.
The team concluded that the hospital, which once treated 1,500 people, had a long way to go before it could meet the criteria of a modern psychiatric unit. In fact, it continues to be more of a mental health infirmary for long-term patients.
Neuroleptic drugs are used to sedate severely disturbed patients
The lives of the patients have been untouched by the mental health reform bill passed in Spain in 1986. Some of the longest standing residents are unaware of the outside world, their bodies damaged by years of strong medication and their mental capacity reduced to that of a child. According to the ombudsman's inspection, patients' progress is not monitored. Worse still, the inmates do not have access to mentally stimulating activities that could help them improve.
"This kind of unit is illegal; it shouldn't exist because it allows for the systematic violation of the rights of disabled people who are vulnerable in the extreme," says Xosé Ramón Girón, president of the Federation of the Associations of Families and People with Mental Illness of Galicia (Feafes). Despite the observation that the staff at Conxo treat the patients with respect and affection, the center itself is said to be without sufficient resources to provide proper outpatient care and attention, with obsolete infrastructure and bedrooms where the patients were not even able to surround themselves with their own belongings.
In response, the Galician Health Service (Sergas) has said that outpatient and rehabilitation resources do exist and that refurbishments on the center have been carried out. "People who are in the long stay wings have a wide range of activities, although at times their own physical or mental limitations make it difficult for them to take part," said a spokesman.
The National Preventative Mechanism against Torture is an independent entity that inspects institutions accommodating people deprived of their liberty with a view to preventing "torture and other cruel, inhumane or degrading treatments or punishments." In recent years, they have visited a number of mental health units around Spain, but none have had the serious irregularities evident at Conxo. According to the inspector's report, apart from the lack of monitoring of patients' progress, there is no official control of the administrative and medical records of the patients, something the health authorities deny.
Another observation is that Conxo has no doctor to sign the admission of voluntary patients, which means there is no proof that the patient is sufficiently capable of giving valid consent. This is something the regional government promises to rectify.
It shouldn't exist because it allows for the systematic violation of the rights of disabled people who are vulnerable in the extreme
Xosé Ramón Girón, president of family advocacy group
Cases of over-medicating difficult patients have also been detected. Sergas has responded to this by saying that it is the doctors' responsibility to adjust the medication, though it does concede that neuroleptic drugs are used to sedate severely disturbed patients, but only in extreme cases and for brief periods.
There are no cameras in the wings where the long-term patients reside, nor in the rooms where patients are restrained. Some patients have complained that they have been subjected to methods of restraint as punishment, which is an illegal practice. When under restraint, patients are locked in inadequate spaces leading the ombudsman service to recommend the installation of room with at least a bed in it and an interphone through which the patient can communicate with the care workers. Sergas has promised to install video cameras and improve the restraining areas, but denies the nurses restrain the patients as a form of punishment. This, it implies, could simply be a patient's subjective interpretation.
Finally, the inspectors flagged up a lack of staff in general, which the regional government also rejects. There is just one clinical psychologist and one internal doctor while the social workers are over-stretched as they try to plug the gaps.
The Galician Movement in Defense of Mental Health believes three more psychiatrists, seven clinical psychologists, 23 nurses, four occupational therapists and two social workers are needed. Referring to one of the slogans of the psychiatric reform bill, the spokesman said that he championed the idea of shutting the front door of mental asylums and opening the back. "The front door has to be shut," he said, "and resources found to rehabilitate the people there so they can leave."
Humanizing the lives of the mentally ill
S.V.
Conxo has always been inaccessible to organizations run by the families of the mentally ill and the ombudsman's report has caused "enormous alarm." The asylum in Santiago became the last psychiatric center of its kind in Galicia following the closure of Castro de Rei in Vigo, Toén in Ourense and O Rebullón in Lugo, which was closed just two years ago. The Department of Health reports that in order to close these units, they were required to refer 69 long-term patients to alternative nursing homes.
Feafes, the federation that acts as an umbrella for Galicia's associations of the families of the mentally ill, points out that the centers they were referred to were all private establishments. It is now calling on the regional government to be more transparent and guarantee that they are being offered adequate alternative accommodation. "We are demanding a dignified solution for them, one that will humanize their lives. Their cases should be analyzed individually, using professional and transparent criteria," says Xosé Ramón Girón.
The families are also asking that it be made clear who is to pay for these residences. The Galician Movement for the Defense of Mental Health points out that they are subsidized centers and that the patients pay according to their means. The movement states that they are familiar with cases of residents from Conxo who were referred to private psychiatric units during the crisis when demand was low but made to return to Conxo when demand returned.
English version by Heather Galloway.