Migrant arrivals push shelters to breaking point in southern Spain
Refugee centers are unable to keep up with the soaring numbers, with 1,300 people arriving in the past three days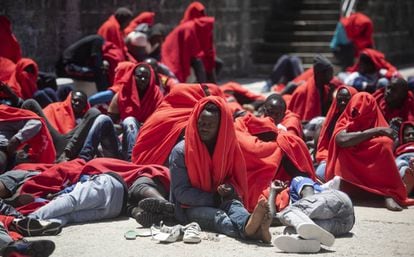 Shelters in the south of Spain are struggling to deal with a huge influx of migrants, many of whom are being left without a proper place to sleep. The arrivals – 1,300 in the past three days – have stretched services to their breaking point with the strain felt particularly hard in Algeciras as well as other municipalities along the coast of Andalusia.
The number of undocumented migrants arriving in Spain has doubled since last year. Spain is now the main entry point into Europe, above Italy or Greece. But shelter services have been unable to keep up with the demand, leaving many migrants to sleep in overcrowded centers.
Up to 260 migrants spent the past two nights on the deck of a Maritime Rescue ship, more than 50 huddled together on a small courtyard of a police station in Algeciras, and 90 more jostled for a spot in the port of Barbate. Many more are left to wander the streets of towns like Medina Sidonia and Chiclana after spending the maximum legal 72-hour period in police custody.
Immigration officials have traveled to Cádiz to look for a solution to what the Spanish government describes as a "collapse" of services. In a press release, the government said that 400 migrants had nowhere to go and blamed the problem on the former administration of Mariano Rajoy for its "lack of foresight."
"The number of arrivals has not stopped rising since 2017 but despite this nothing was done," said a spokesperson for the Interior Ministry.
According to the Interior Ministry, 15,686 migrants arrived in Spain between the beginning of the year and July 15. The European agency Frontex puts the number at 18,016 – 114% more than 2017, which had already seen a 170% rise from 2016.
Susana Díaz, the leader of the regional Andalusian government, has called on the national government to "distribute the immigration effort" among all the regions, particularly in the case of unaccompanied minors. "This is a collective and shared responsibility," she said.
Support network
In the Strait of Gibraltar, shelters reached capacity on Monday after Maritime Rescue services rescued 1,000 people over the weekend and another 265 that day. On Tuesday, 334 more people arrived.
The situation shows no sign of improving as the number of arrivals continues to soar. On Thursday, another 300 people were rescued from the Strait of Gibraltar. Interior Minister Fernando Grande-Marlaska said that an Emergency Military Unit with beds for 500 people was being made available to the migrants.
English version by Melissa Kitson.