CATALONIA
Newly appointed Catalan minister also posted anti-Spanish social media messages
Jordi Puigneró, the regional digital policy and public administration chief, described Spanish intellectuals as "abusive husbands" and compared Spain to Turkey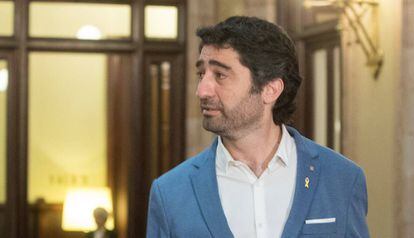 The new premier of Catalonia, Quim Torra, is not the only member of the Catalan regional government to have posted offensive messages toward Spaniards on Twitter. Jordi Puigneró, now in charge of the region's digital policy and public administration, has also shared controversial posts on social media.
In 2012, Puigneró wrote on Twitter: "A Spanish intellectual speaking about federalism is like an abusive and alcoholic husband screaming 'I will change' the day his wife packs her bags." That same year, during the London Olympic Games, he posted: "What's the difference between a Spaniard and a Mongolian? … A medal."
His Twitter feed also includes the oft-repeated messages by supporters of the Catalan separatist drive, such as "Spain is robbing us" (in reference to the so-called fiscal deficit) and "Spain is Turkey" (in reference to an alleged lack of freedom).
"What's the difference between a Spaniard and a Mongolian? … A medal" Catalan counselor Jordi Puigneró
Puigneró, an active member of the former Democratic Convergence of Catalonia (CDC), has been a counselor in Sant Cugat del Vallès, a historic stronghold of the CDC, since 2015. In 2016, he joined the regional Catalan government as secretary of telecommunications, cyber security and digital society. His department oversees Catalonia's Telecommunications and Information Technology Center (CTTI), which played a key role in the technical organization of the illegal independence referendum on October 1 last year.
Catalan premier Torra, a hard-line separatist, has been widely criticized for his comments against Spanish people and is under investigation for allegedly inciting hate speech. 
On Twitter, Torra has posted polemical messages such as: "Evidently we have been living under Spanish occupation since 1714;" "Spaniards only know how to plunder;" and: "Shame is a word the Spaniards long ago deleted from their vocabulary." Many of his messages were recently deleted but screenshots remain.
Other controversial tweets include: "It was a joke. Gentlemen, if we continue here for more years we run the risk of going crazy like the Spanish," "The Spanish in Catalonia are like energy: they don't disappear, they transform;" "Above all, what is surprising is the tone, poor education, Spanish snobbery, sense of filth. Horrible."
English version by Melissa Kitson.