Podemos leader Pablo Iglesias buys Madrid country house for €600,000
Head of anti-austerity party will move with his pregnant partner to Galapagar in the capital's outskirts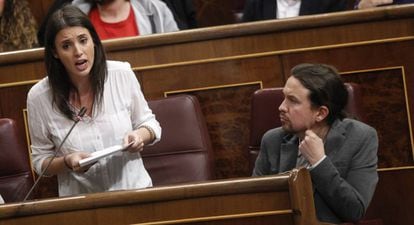 The leader of left-wing anti-austerity party Podemos, Pablo Iglesias, and his partner and colleague Irene Montero, have bought a €600,000 house in Galapagar, a town northwest of Madrid. To make the purchase, Iglesias and Montero, who is the spokesperson in Congress for Podemos, took out a mortgage of €540,000, which will be paid off over 30 years. The couple currently rent a property in the Madrid suburb of Rivas-Vaciamadrid and decided to move as Montero is pregnant with twins and set to give birth after the summer.
The property is on a  2,000 square-meter lot and has a swimming pool
The mortgage on the home has been divided between the two, meaning the couple will be responsible for paying back €270,000 each. Podemos said that Iglesias and Montero – both deputies in Spain's lower house, Congress – will add the new property to the parliament transparency website and the Podemos website in coming days.
As well as expecting twins, the couple have three dogs and said they were seeking a family home with a garden. The property was also chosen for its proximity to a public school known for an alternative learning method that allows children to study at their own pace. On March 31, Montero, 30, and Iglesias, 39, announced they were going to be parents. At that point, Montero was almost 13 weeks pregnant.
The house in Galapagar counts on 250 square meters and is built on a 2,000-square-meter lot with a swimming pool, according to Spanish newspaper OK Diario. Its purchase by the anti-austerity leader became one of the most talked about issues on Twitter in Spain on Thursday, receiving more than 35,000 comments. Twitter users have dug up an old tweet from Iglesias from August 2012 that criticizes Luis de Guindos, the former economy minister, for buying a luxury penthouse for €600,000. Sources from Podemos say the two cases cannot be compared, arguing Iglesias and Montero bought the property to be their future family home while Guindos made the purchase as an investment.
Another clip of Iglesias in 2015 criticizing politicians who "go to live in houses and isolate themselves" has also resurfaced on social networks.
The purchase by the anti-austerity leader has become one of the most talked about issues on Twitter in Spain
Iglesias and Montero will pay "a little more" than €1,600 a month on their mortgage, according to a message posted on Facebook by the latter in the wake of the controversy the news has caused. "We know that many Spanish families, including those with two salaries, can't allow themselves a mortgage like this, and that is why we understand it to be so important to defend dignified salaries for all men and women. Iglesias and I have spent time working on a family project and part of that consists of seeking a house," her statement continued. "We wanted to go and live in the country, with the salaries that we have we considered it and we have given all the relevant explanations."
In 2016, Iglesias had almost €123,000 saved in various ING Direct accounts, according to filings on  the Podemos transparency site. The leader of Podemos also owns a country house in Ávila, which is listed in his declaration of heritage assets to Congress. The property was bought in 2013 and has a current value of €13,814.12. In May last year, Iglesias had €19,000 in savings, as well as a car, which had been previously declared in 2008.